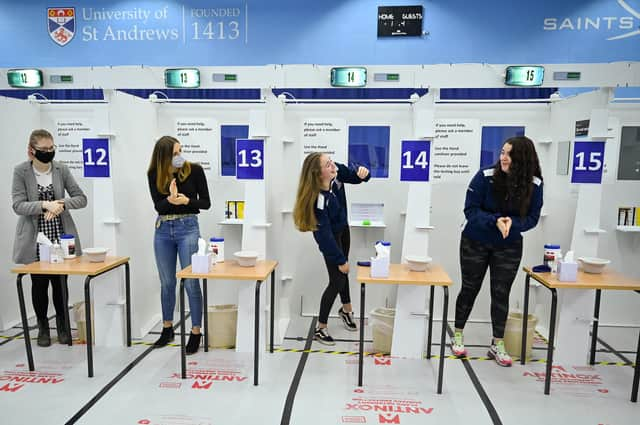 Students at St Andrew's taking Covid tests in November; this week, unnamed students tested positive for the virus after parties (Picture: Jeff J Mitchell/Getty)
That section of the community is meant to have more intelligence than other parts of society and therefore having "get-togethers" or parties must be construed as wilful breaking of current Covid regulations.
The question arises, therefore, as to what punishment might be applied to prevent others from following their shocking example.
Obviously the police must have to consider their position, but quite apart from that, the university authorities must also recognise their responsibilities.
Would it be too much for those students, known to have attended those parties to be banned from their university for one year and allowed to return after that time to continue their studies?
Archibald A Lawrie, Church Wynd, Kingskettle, Fife
Several times every day my wife and I drive our 14-year- old severely autistic son around our small town.
Even before Covid there were and are no services and very little support to meet our son's needs. It is so difficult to know what is going on in the mind of my non- verbal son. We have fought losing battles for his rights for a decade and we're often tired and near breaking.
Both he and we have been let down, strung along and used by a succession of people , politicians, governments and policymakers.
The political events of the last months have been truly awful in Scotland. Dreams of a better country that respects it's citizens and ensures those who require help do not fall through the net, raised, then dashed on an angry , bitter sea of division and self interest.
Last night I innocently tried to engage my son by counting the flags in gardens across our town. Long after my son had lost even a glimmer of interest I had counted 20- plus flags (a notable increase from the norm). There were a dozen Saltires and eight Union flags, many recently and hastily erected. I felt so sad and empty as I looked at my son, locked into his closed-off world.
As a previously vocal supporter of independence, I felt ashamed. Ashamed of what we have become and ashamed of those we fail.
Duncan F MacGillivray, Victoria Road, Dunoon
In February First Minister Nicola Sturgeon said publicly about Alex Salmond that he was innocent of criminal behaviour but that didn't mean the " behaviour complained of didn't happen and I think it's important that we don't lose sight of that ."
Indeed, Ms Sturgeon. You were cleared by the Hamilton report of the charges against you but your own words should haunt you – if you haven't conveniently forgotten them, of course!
Bill Cooper, Highfield Circle, Kinross
Victor Clements (Letters, 24 March) states that the "proper oversight [of the Scottish Parliament] has to be external, but to have democratic accountability; it can only come from a UK level".
Presumably he means that the oversight should be carried out by the UK Prime Minister who unilaterally cleared his Home Secretary of breaching the Ministerial Code when an independent enquiry had found that she had breached it.
This seems to be a clear case of "politicians judging themselves", something Victor Clements believes should not happen.
(Dr) Francis Roberts, Duddingston Square West, Edinburgh
With all the repeated calls by the SNP for a second referendum, I am rather confused.
If they want a second referendum, what exactly was the point of having a first one? I remember that it was called for by them to settle the issue – and it did. They called for it. They got it. They decided when it would be. They decided the question. They decided who would be allowed to vote. They decided who would not be allowed to vote. They lost. That is all there is to say.
Peter Hopkins, Morningside Road, Edinburgh
What an embarrassing spectacle watching First Minister Nicola Sturgeon seemingly so pleased with herself that the so-called independent inquiry did not find against her in any single area where her and her Government's failures were clear. James Hamilton SC gave her the benefit of any doubt in all areas, including that it was not impossible that the First Minister "forgot" about a meeting four days before she met Alex Salmond!
Further, we have the report from the Parliamentary enquiry that on the face it it would seem to have heard an entirely different set of facts, with no overlap to the Hamilton enquiry? Consequently the Parliamentary report paints a very different picture, detailing a litany of failures both in procedures and behaviours.
Following the Parliamentary report, and indeed, before its release, we have the SNP "pack dogs" in full aggressive mode, attacking its credibility. Real and trustworthy " D evolution" at its best!
However, the First Minster is hugely generous in showering one and all with apologies and yet still no one has taken any responsibility and "fallen on their sword". One can only hope that the electorate will express their displeasure and distaste of this rotten and utterly discredited administration in the polling booths.
Anyone thinking that this coterie of self-interested and self-indulgent charlatans could run an "independent" Scotland are living in a parallel universe and not in the real world. The consequences of an SNP majority at the election is terrifying.
Richard Allison, Braehead Loan, Edinburgh
Isn't it astonishing that the Scottish Green Party wants to separate Scotland from England when pollution knows no frontiers? The only reason there could be a climate conference in Glasgow later this year is because Scotland is part of the world's fifth- largest economy.
Economic growth is essential to improve environmental standards. Only countries which are rich enough can afford the technology to eliminate air, water, noise, and visual pollution. I remember in Communist times looking into the River Mulde in Colditz, Saxony, East Germany and seeing it running black. The East German authorities could not afford to clean it up. As economic growth developed under capitalism the water was returned to its natural state.
The trouble with the Greens is that they want economic development to stop. They want people out of private cars. They want international trade to be curtailed. They are opposed to the consumer society which has made life so comfortable for so many. They want to replace individual choice with state-directed edicts.
I'm in favour of clean air, clean water, and environmental protection. I'm not in favour of making Scotland poorer, which would most certainly happen in the event of Scottish independence. Even now the Greens support replacing gas central heating with electricity or heat pumps which would cause heating bills to sky-rocket, plunging most of the country into fuel poverty.
A vote for the Scottish Greens at the May election is not only a vote for a second divisive independence referendum, it's a vote for eco-socialism to bring down our current economic model under the camouflage of green virtue signalling.
Their slogan is "vote like our future depends on it". Well put. To protect our future, vote for the Union.
William Loneskie, Justice Park, Oxton, Lauder
I totally support former First Minister Henry McLeish's call for a new Holyrood electoral system. The present hybrid system attempts to produce proportionality by means of a constituency vote and a list system.
In practice the list system is a version of the 18th and 19th-century "rotten boroughs". Parties, not voters, decide who stands where on that list. Thus people the electors have never voted for can get into Parliament. The Greens, who are supported by almost nobody, thus get seats in Parliament and an influence out of proportion to their vote. Other minority groups are now jumping on this bandwagon. Thus we get dictatorship of the minority.
The best way to have a proportionate voting system is by Single Transferable Vote. If there are three candidates for a seat, the bottom candidate is eliminated and their second preference transferred until a majority is obtained.
This produces an equality of all votes cast, and a tendency to centrist and consensus views
Colin McAllister, South Street, St Andrews
While the cloud over the behaviour and probity of the First Minister darkens and lingers; while yet another proposal to hold yet another referendum is put in place as we stagger from the effects of the pandemic; while at the very least questionable acts by some elected SNP members continue to surface; while we wait for a vital report on the state of our Education that has been cynically held back until after the election; while we have the worst drug deaths in Europe; while all this and more goes on, there appears to be so far only a minor dent in the nationalist polling numbers.
My hope has always been that there was a non-zealot, thinking sector among nationalists in Scotland with some intellect and the ability to reason.
It looks like that hope has also been dashed. They now appear to be a party almost entirely made up of believe-anything zealots and a cult of the blindly faithful.
Alexander McKay, New Cut Rigg, Edinburgh
We welcome your thoughts. Write to [email protected] including name, address and phone number. Keep letters under 300 words, with no attachments, and avoid Letters to the Editor in your subject line.
A message from the Editor
Thank you for reading this article. We're more reliant on your support than ever as the shift in consumer habits brought about by coronavirus impacts our advertisers.
If you haven't already, please consider supporting our trusted, fact-checked journalism by taking out a digital subscription.