Readers Letters: Don't believe tales about wasted foreign aid
As a Scottish aid worker I despair of the fairy tales in your letter columns about the UK Government's decision to cut aid to 0.5 per cent of GNI (gross national income).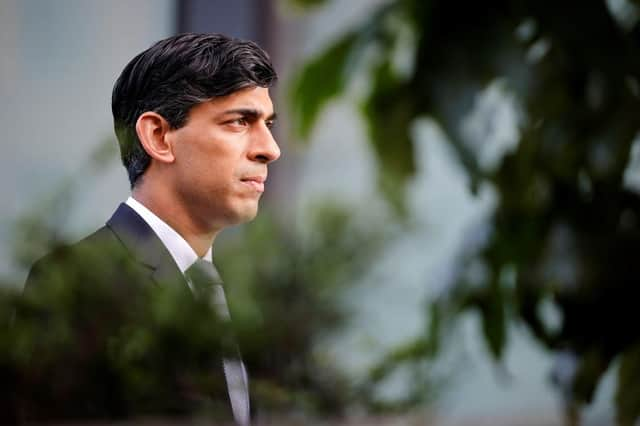 Life in war zones and human catastrophes is hard, but as a veteran of 30 years' aid work, I can attest that I have never seen UK money left unaccounted for and available for transfer to Swiss bank accounts, nor a single warlord driving a UK-funded BMW. Decisions about sending money to India and China, and tracking "elite capture of funds" are jobs for Governments, financial regulators and the police and by definition have absolutely nothing to do with aid work on the ground or its real-world needs.
I have been privileged to assist as a volunteer in life-saving UK-funded projects that have led the world in terms of both humanitarian achievement and investment – from the Balkans to East Africa to the Middle East. This was something for the UK to be hugely proud of.
And the leadership of the leadership has often come from Scottish aid workers. It took us years to build up the necessary trust and belief to lead the European aid effort. This evaporated with Brexit. Now Westminster has degraded the UK's hard-won status in the wider world effort – and left us with less than half of our capacity, counting Rishi Sunak's cut and fall in GNI, to help the people who need us (and I'm sorry, they really do need us).
I fear that all of this is a sop to the baying of heartless populist dogs – and to the frivolous campaigns and outright misinformation of the likes of Rees Mogg the Younger, the Daily Mail and The Times. I believe 100,000 victims of this cruellest and most arrogant of Westminster follies is a dramatic underestimate. I am afraid there will be millions.
Nigel Osborne MBE, Cockburnspath, Scottish Borders
So Nicola Sturgeon has committed to spending 0.7 per cent of the tax revenue on foreign aid when independent. This is the same SNP who had to raise taxes in order to meet the everyday needs of the country as we had massive debts pre-Covid. Now we have even greater debts as we have Covid money to pay back. We will also have high rates of unemployment. So where will the SNP find this extra money as our country has many people in poverty but lacks many millionaires?
Elizabeth Hands, Etna Court, Armadale
It would appear Andrew Marr has at last discovered the reason for Nicola Sturgeon's popularity and apparent rise in support for the SNP. He stated on Sunday's BBC1 show: " It seems to me that there is a gap between presentation, very, very good presentation and the reality. When it comes to Coronavirus data, when it comes to education, when it comes to the Alex Salmond issue, there is a gap between how you present yourself – very, very effectively – and what's really been going on in Scotland."
It seems so many people are taken in with Ms Sturgeon's daily bluster but fail to admit that, as a prominent Scottish businessman recently stated about the SNP, "everything they touch is a mess". Ms Sturgeon appeared visibly rattled and uncomfortable at the sort of grilling she should be subjected to more often – well done Mr Neill.
By May, "the people of Scotland" will have been well reminded of this regime's substantial shortcomings and any talk of a divisive referendum will have gone.
Douglas Cowe, Alexander Avenue, Newmachar, Aberdeenshire
Pro-UK think tank These Islands published results of a focus group of mostly 2014 "no" voters" now leaning to "yes". It demonstrates just how dominant Boris Johnson hatred, Brexit dismay and Nicola Sturgeon's Covid leadership and aura of competence are in the debate.
It also unearthed an astounding lack of knowledge of key economic facts, which led These Islands to conclude "as participants struggled to overcome their scepticism and unwillingness to accept the data, it became clear that – to these indy-curious voters, at any rate – the fiscal reality really does matter". In other words, if only people were made aware the situation would be a lot different.On Sunday Andrew Marr confronted Nicola Sturgeon with the facts on the three other pivotal topics.
The first was her government's poor management of Covid, in particular care homes, where Scottish deaths, 47 per cent of the total, are 60 per cent higher than rUK's 30 per cent and according to the ONS, Scotland's Covid death rate per million in the last four weeks has been consistently 25 per cent higher than England's. Last week, for example, it was 40 per million in England and 50 in Scotland
Then he reminded the FM that in October 2018 she told his 2 million viewers she first knew about the Salmond issue in April of that year, but told the Salmond inquiry she was first aware in November 2017, six months earlier. And before pointing out the impossibility of holding a referendum in 2021, he rubbed her nose in the shameful slump in Scottish education on her watch.
All of the above mirrors my own experience with people I speak to: the vast majority of Scots are not so much blissfully, as shockingly, unaware of what is going on in this country, thereby fuelling a bogus movement and case for independence.
Allan Sutherland, Willow Row, Stonehaven
Contrary to Brian Monteith's view (Scotsman, 30 November), Andrew Marr's aggressive and misleading use of Covid figures shows how worried the British Establishment is over the prospect of Scottish self-government.
Rather than using a very short snapshot period when England went into full lockdown but Scotland didn't, Mr Marr should have referred to the official UK government's coronavirus data website, which shows that since the pandemic began the number of Covid deaths within 28 days of testing per 100,000 population is England 89.6, Wales 79.1 and Scotland 67.3.
This site also tells us that over the last seven days until Friday the number of cases by nation per 100,000 was England 200, Wales 198, Northern Ireland 157 and Scotland 126. By any measurement, Nicola Sturgeon's handling is clearly better than in England or Wales. The reason Scotland has a high mortality rate is that we have a porous border with the country with the highest number of deaths in Europe and suffered badly when Boris Johnson failed to lock down when advised to do so at the start of the pandemic as we had no powers to close our borders or the borrowing powers required to compensate businesses and employees
If the BBC were to broadcast the daily Covid figures for each of the four home nations then Andrew Marr and Brian Monteith would not be so misinformed.
Mary Thomas, Watson Crescent, Edinburgh
You have to hand it to Nicola Surgeon for brass neck. Having spent many months lecturing (or hectoring) us on how much better she (and therefore Scotland) handled the pandemic than those people in Westminster, when the numbers now show that more people in Scotland died per million of the population than the deaths per million in England, she declares that's it's too early to be passing judgement.As Burns wrote, "Facts are chiels that winna ding".
Brian Barbour, The Old Waverley Hotel, Princes Street
"I don't think it should be seen as a competition, but since you've asked me, we have a lower death rate than England and Wales." Our First Minister really did say that to Andrew Marr and tried to keep a straight face while saying it.
This is the person who was rebuked by the UK's chief statistician in July for falsely claiming that the coronavirus was five times less prevalent in Scotland than in England. She seems to have recently lost her competitiveness as she has been very keen to be ahead of "England" throughout lockdown, seeking to gain political advantage at every opportunity.
Her defence this weekend was in the face of damning statistics that showed Scotland to be faring "considerably worse" than England "week after week after week". Her earlier pronouncement of being five times better was not based on comparable or published data, but she is willing to make such false claims in the face of hard facts.
Trump may soon be gone from office, but the FM is ensuring that his spirit lives on.
Ken Currie, Liberton Drive, Edinburgh
At the SNP conference, Nicola Sturgeon and Ian Blackford claim that, by refusing another independence referendum, Boris Johnson is a "democracy denier".
What? Since the day they lost the "once in a generation" (Sturgeon's own words) September 2014 vote, when 85 per cent of us turned out, they've campaigned ceaselessly for a rerun, desperate to overthrow the result.
Before questioning Downing Street's democratic credentials, how about this pair of separatist obsessives take a long hard look in a mirror?
Martin Redfern, Melrose Roxburghshire
I suggest that manufacturer Golden Wonder would be very interested in the crisp packet reported on in your "Golden oldie" article (November 27) as it would appear that between the penning of the headline and the body of the article, the 50-year old crisp packet developed Hydra-like qualities.
In the headline it was a 50-year-old crisp packet, but in the article it had refilled itself to become "a packet of Golden Wonder crisps".
Neil Robertson, Gracemount Road, Liberton, Edinburgh
We welcome your thoughts. Write to [email protected] including name, address and phone number. Keep letters under 300 words, with no attachments, and avoid Letters to the Editor in your subject line.
A message from the Editor
Thank you for reading this article. We're more reliant on your support than ever as the shift in consumer habits brought about by coronavirus impacts our advertisers.
If you haven't already, please consider supporting our trusted, fact-checked journalism by taking out a digital subscription.
Comments
 0 comments
Want to join the conversation? Please or to comment on this article.