Passions: Why student journalism must be protected at all costs
Student papers are a great training ground and punch above their weight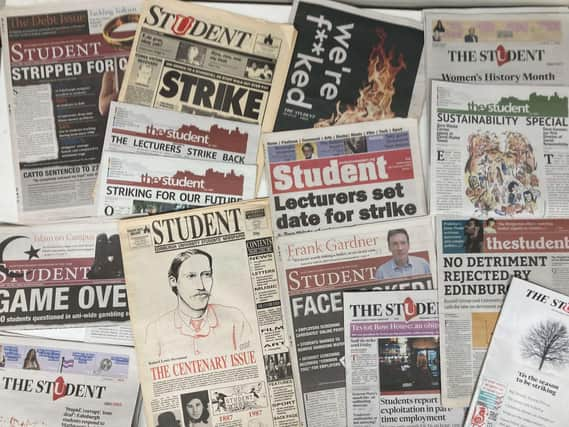 News Edinburgh's student newspaper, The Student, is facing financial troubles fills me with dread.
When I first told my mother I wanted to become a journalist the response was one of simultaneous horror and disappointment.
Horror at the suggestion that I wasn't planning on becoming a doctor, and disappointment that her years of warnings about low pay, long hours, and unsociable assignments hadn't dissuaded me from heading into the industry.
The truth is that what I really fancied was a job involving watching, talking, and thinking about football and sport, which was pretty much all I did anyway as a teenager.
It wasn't until I went to Edinburgh University that I actually decided to make journalism a career and began to fight my way towards a job – as difficult now as it has ever been as the number and quality of journalism roles continue their slide.
I remember being at the student societies fair in my fresher's week a decade ago (almost to the day, frighteningly enough) and knowing there were two I was certain to join.
One was the student radio station, FreshAir, and the other was the student newspaper, The Student.
From then on I dedicated an unhealthy number of hours to both, working significantly harder on developing their sports coverage than I ever did on my actual Philosophy degree.
In my final years of running the sports sections I had the privilege of covering Hibernian FC week-in-week-out (forever grateful to the press officer who let me in as if a member of the *actual press*), interviewed the likes of Mo Farah and twice had the opportunity to commentate live from Murrayfield.
Let me tell you, I was in dreamland.
Student media regularly punches above its weight (see stories such as the Warwick University WhatsApp rape chat scandal, coverage of conditions in student halls during Covid-19, and a sex-for-rent scandal in Canterbury) and is a vital part of the news eco-system.
Edinburgh's The Student in particular is an institution that deserves protection.
It has for decades published news holding the powers at the university to account, pushing those associated to do better despite Covid and the decline of print resulting in significant challenges and ever declining resources.
Any permanent demise would be a desperate shame, and one that hopefully will be avoided through crowdfunded campaign efforts.
As journalism remains an overwhelmingly white, middle class game, opportunities to try it out without fear of mistakes or losing your job are rare and precious.
Without that chance I would probably never had discovered how much I enjoyed this job and would have found something more, well, sensible as a career, something I am sure many Scotsman readers may well have preferred.
Conor Matchett is Deputy Political Editor at The Scotsman
Comments
 0 comments
Want to join the conversation? Please or to comment on this article.