Passions: Move over meditation, playing guitar is the ultimate stress relief
I was 11 years old when I first learned a guitar chord, and despite being a painful experience for my untrained hands, it instantly had me hooked, says Sarah Devine.
A very patient uncle taught me E major on a huge classical guitar that seemed to mirror my own size, with harsh steel strings, rather than the delicate nylon alternative, and a price tag from the second-hand shop he had purchased from in 1974.
Through blistered fingers, I continued to strum that tiresome E note until my suffering parents eventually bought me a beginner's songbook.
I belted out the usual suspects such as Wonderwall, Californication and House of the Rising Sun, and before long, I was yearning for the screaming solos of classic rock.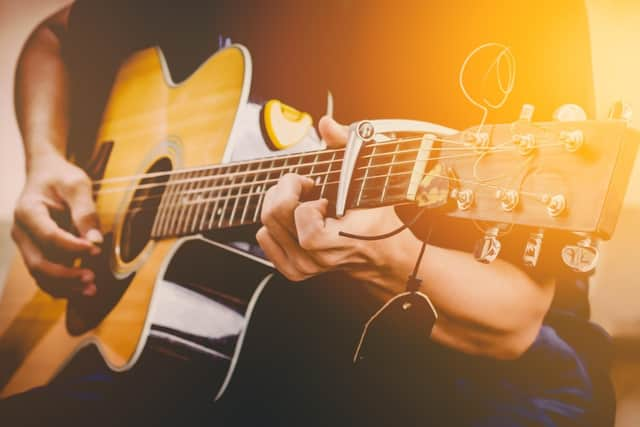 An electric Dean bought from a quaint rural Aberdeenshire music shop unlocked a whole new world of distortion, much to the dismay of everyone else in the house, and I spent hours attempting solos by greats including Jimi Hendrix, Keith Richards and John Frusciante.
I finally lived out my rockstar dreams when I joined a group and performed at festivals including Wickerman and The Insider Festival.
It was both exhilarating and unreal to watch crowds dance and bop to our efforts, before later joining their number to watch other acts.
At one point, our 35-strong collective was offered a meagre one-off payment or the opportunity to each bring a plus-one – the festival organisers clearly hadn't researched us beforehand.
But as I embarked on a media career, I had less time to play.
I hadn't plucked a chord for years until Mr Me bought a stunning vintage-style guitar as a gift for my most recent birthday.
My newly rekindled passion for music demonstrated that, much like exercise, a few minutes spent playing guitar quickly soothes any anxieties or stresses.
I recently relearned Pink Floyd's Comfortably Numb and Led Zeppelin's Stairway to Heaven, and with all thoughts purely on the instrument, hours blissfully went by.
For anyone who has yet to try their hand at strumming a few chords, I say go for it.
Back when I began, music shops were the go-to place for a wealth of songbooks that simplified music by transcribing it into tabs.
Now, there are many dedicated websites and free online videos from which to easily learn.
A new guitar can be bought for less than £100 and there are many bargains – with appropriate strings – to be found in charity shops.
Whether learning a whole song or simply noodling out a short riff, playing a musical instrument is, undoubtedly, therapeutic and liberating.
And, as Radiohead famously once sang, anyone can play guitar.
Sarah Devine is a Special Reports writer for The Scotsman