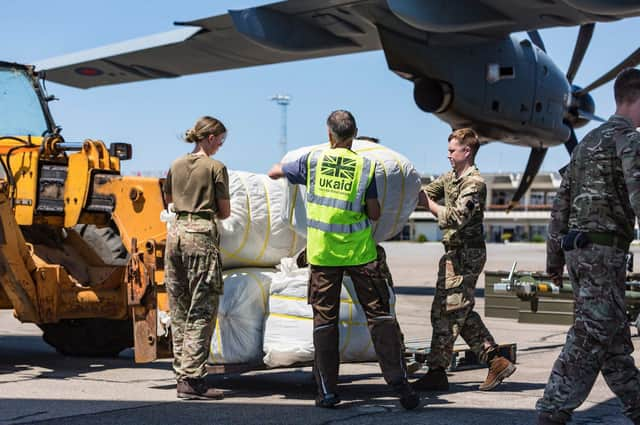 DFID - UK Department for International Development UK aid shelter kits being unloaded from a Royal Air Force A400M flight at Beira airport, Mozambique, for people affected by Cyclone Idai, 26 March 2019 UK aid shelter kits being unloaded from a Royal Air Force A400M flight at Beira airport, Mozambique, for people affected by Cyclone Idai, 26 March 2019. Picture: IOM
If, for some reason or other, Rees Mogg has not opined on the matter at hand, you will find that reading the views of his fellow Tory MP, Andrea Jenkyns, provides an equally efficient way of discovering the value of a policy or proposal.
This pair of Little Englanders personify the inward-looking pettiness of the Brexiteer. And, so, it was hardly surprising that they were so thoroughly enthusiastic about Chancellor Rishi Sunak's decision, last week, to slash the UK's foreign aid budget. Sunak proposes cutting the amount we spend on overseas aid from 0.7 per cent to 0.5 per cent of gross national income. Though 0.2 per cent might seems little more than a sliver, it will mean a drop in spending of more than £10 billion in 2020-21.
Back when Rees Mogg (Christopher Robin if he'd been written by Bret Easton Ellis) was a backbencher, he was obsessed with the idea that the UK should spend less helping others and, instead, invest the money in defence. Well, the Chancellor answered his prayers; not only can Johnny Foreigner whistle for much of the money we once gave, the UK's defences can look forward to a £16bn annual boost. Jenkyns greeted Sunak's decision with glee. She tweeted her wholehearted agreement with the cut which came at "difficult times when so many people are losing their jobs".
Undated UK Parliament handout photo of Foreign Office minister Baroness Sugg who has resigned in protest at the cut in overseas aid announced by Chancellor Rishi Sunak, branding it "fundamentally wrong".
Neither Rees Mogg nor Jenkyns or any of their Eurosceptic fellow travellers seemed to care about the prospect of job losses when they campaigned for an economically damaging Brexit. But there you go.
Prime Minister Boris Johnson says this cut in overseas aid is temporary. His line goes that the previous level of spending will be restored as soon as possible. That might be more reassuring if Johnson wasn't the most colossal liar.
Overseas aid is an easy thing for the cynical politician to attack. Why should the UK send money abroad when it could be better used at home? The problem is that those most enthusiastic about cutting aid budgets tend not to have the most impressive track records when it comes to caring about those in need in the UK.
The truth, of course, is that overseas aid spending is in the UK's interests. It ensures a degree of influence, internationally, and speaks of a Global Britain, a key player on the international stage.
Chancellor of the Exchequer Rishi Sunak outside No 11 Downing Street, London, before heading for the House of Commons to give MPs details of his Winter Economy Plan. PA Photo. Picture date: Thursday September 24, 2020. See PA story HEALTH Coronavirus . Photo credit should read: Dominic Lipinski/PA Wire
But self-interest cannot – should not – be the sole driver of aid spending. The moral case for investing in the poorest parts of the world is compelling. Justin Welby, the Archbishop of Canterbury, branding this proposed cut in spending as "shameful and wrong" and anyone who thinks that the UK should be a force for good would surely agree.
The charlatans who campaigned for Brexit spin a fanciful tale of a United Kingdom free of European restrictions and able to forge strong new relationships around the globe. They claimed that Brexit would make the UK stronger rather than weaker. This plan to cut overseas aid will make us weaker still.
Responding to Sunak's announcement, former cabinet minister Andrew Mitchell said the cut would "be the cause of 100,000 preventable deaths, mainly among children". These were not the words of some left-wing firebrand but of an old-fashioned Tory. Some on the right can still see when something's wrong.
Former Prime Minister David Cameron legislated to ensure overseas aid spending remained at the 0.7 per cent rate and so Johnson will have to create another law allowing this cut to go ahead. There may be some Tory rebels but I expect he'll muster the numbers required.
Andrea Jenkyns MP speaks to media at Westminster, London, as MPs are expected to consider and vote on a Government motion on the EU withdrawal on Friday evening.
And once the cut is made, the matter will cease to be a government priority and we'll have to live with the consequences.
There's been a lot of blather, recently, about Johnson's desire to reset his Government. The departure of his chief adviser, Dominic Cummings, from Downing Street will – we're invited to believe – see a return to a more liberal, consensual Johnson. The PM who threw dissenting Tory MPs out of the party last year will mutate back into the moderate Boris Johnson who persuaded Londoners to twice make him mayor. But that moderate Johnson never truly existed. Like all versions of the PM, it was an act. The current version of Johnson knows there is political mileage in petty nationalism.
When Donald Trump won the American presidency in 2016 on a promise to put America first, Johnson was paying attention. His dishonest Brexit campaign and his plan to cut foreign aid tickle the same xenophobia that Trump so skilfully exploited.
Johnson, Rees Mogg, Jenkyns and every other Brexiteer peddle a fantastic tale of a UK with real influence. They hark back to past – often imagined – glories and promise a bright new tomorrow.
he Chancellor prepares his Spending Review speech The Chancellor Rishi Sunak works on his Spending Review speech with members of his team in his offices in 11 Downing Street
But the truth is that they have made ours a smaller, more petty nation. And, along the way, they've inadvertently boosted support for Scottish independence, damaging the Union, possibly beyond repair.
It is, of course, true that coronavirus has negatively impacted the UK economy. But it will do more damage to countries far weaker and poorer than ours. Now is not the time for the UK to turn its back on those in need. Rather, now should be the time for us to redouble our efforts to support those most in need.
A message from the Editor:
Thank you for reading this article. We're more reliant on your support than ever as the shift in consumer habits brought about by coronavirus impacts our advertisers.
If you haven't already, please consider supporting our trusted, fact-checked journalism by taking out a digital subscription.