Now and Then: I love The Beatles but don't need to hear another note from them - Aidan Smith
The wait was interminable. My publication of choice wasn't called Beatles Daily or Beatles Weekly or even Beatles Fortnightly. It was Beatles Monthly.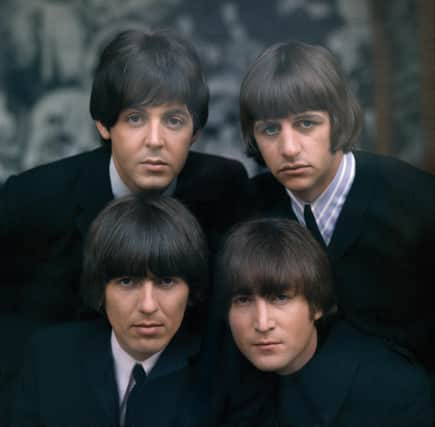 Even when the latest ish went on sale, there would be a couple of excruciating hours until my mother returned from the shops. And having positioned myself behind the front door after spotting her coming along our street, she'd open it to find me panting with excitement.
Which songs would have their lyrics written out this time? Ah, "She Loves You". Fantastic - fabtastic. "She loves you, yeah, yeah, yeah/She loves you, yeah, yeah, yeah, yeah." The final "yeah" had not been missed. I'd been pretty confident the moptop-shaking smasheroo went exactly like that but it was good to have conclusive proof.
So when the Beatles' last-ever track was released the other day I briefly wondered, in the spirit of the one-shilling-and-ninepence fan mag: should I wait a month to deliver my verdict? But that wouldn't do, not now the world and how it turns has finally caught up with the speed at which John, Paul, George and Ringo used to travel - right up the charts, deep into our hearts and all the way across the universe. So within hours the verdicts were in. Social media, gushed the TV reporter, loves "Now and Then".
Oh dear. I don't think I do. I mean, I love the effort that's gone into the track, Yoko Ono posting off the cassette marked "For Paul", Macca being intrigued, Ringo being intrigued, George being unintrigued ("F*****g rubbish") but the surviving two persevering, and reasoning: "It's our John, we can't just chuck it away."
I love the ingenuity that's gone into the track, with the same AI technology used in Peter Jackson's magnificent Get Back documentary enabling John's voice to be isolated from an insistent piano and an irritating TV droning in the background. Then the vocal was folded into new musical parts performed by Paul and Ringo who remembered an old guitar solo from George during a previous attempt at reconstruction and included that, too.
And I love the love. Paul listening to John sing the line "Now and then, I miss you" and even if the sentiment wasn't directly aimed at him, feeling exactly that about his dear old friend. So for all these years he kept the demo safe, hoping there might be the opportunity for the world to hear Lennon one last time.
I know some will say this is business, pure and simple. Indeed, some have already, pointing out that the song returns the Beatles to public consciousness just in time for new versions of old albums being released for Christmas. But Paul certainly seems to have the band's artistic legacy uppermost right now. An exhibition of his photographs - Beatlemania shot from the inside - has just closed in London to great acclaim. The man, let's not forget, is 81. A question asked about Sir David Attenborough - "What happens when he goes?" - equally applies to him.
Alas, though, "Now and Then" is quite dreary. And quite drippy. It's sentimental John, a different man from the one who wrote "A Day in the Life", a contender for the Beatles' greatest. This was the late 1970s when he was loved up with Yoko, living in New York, not going out much, a domesticated dad raising son Sean. There wouldn't be too many more days of his life for he'd leave the Dakota Building in 1980 - fatally.
This adds undeniable poignancy while listening to "Now and Then" but then comes the couplet: "I know it's true/It's because of you." John is not the only songwriter to start out specific then in later years resort wearily to the generic. "Four thousand holes in Blackburn, Lancashire," he sang in "A Day in the Life". The track "Mean Mr Mustard" was inspired by a newspaper story about a miserly Scot ("Shaves in the dark … keeps a ten bob note up his nose"). And "the Duchess of Kirkcaldy" as featured in "Cry Baby Cry" was pretty specific, too. But if this really is his sign-off, it's bland.
I may have my worn my moptop wig with pride - plastic, made in Japan, "just like the real thing!" - having failed to convince my mother to let me grow my hair to Beatles length and voluminousness. I may be able to recall the serial number on my father's copy of the White Album - 0019817 - like this was the combination to a safe containing magical things, which it kind of was. I may have waited four weeks for my copy of Beatles Monthly, and waited in vain to have a letter published ("Dear Fabs, I was too young when you played Edinburgh's ABC before - please please me and come back!"). And I may be getting jittery about author and pre-eminent Beatle brain Mark Lewisohn managing to complete the second, never mind the third thumping paving stone in his trilogy of every spit and cough - every twist and shout - of the pop's greatest story ever told. But I honestly don't need to hear any more music.
"Now and Then" is not, after all, the great lost Beatles song, despite Oasis and a thousand bands owing their existence to Lennon & Co who would probably be very happy to call it their own. It won't diminish the Fab Four's celestial status because frankly that's impossible. In a month's time this plaintive, slight ditty might be forgotten about, even though when I was in short trousers that really did feel like several lifetimes.
Comments
 0 comments
Want to join the conversation? Please or to comment on this article.