Nigel Farage on I'm a Celebrity: We could be watching a future Tory leader – Aidan Smith
Is former Ukip leader Nigel Farage's stint in the jungle part of a bid to become Conservative leader?
It was trailed all yesterday morning. The real reason Nigel Farage is on I'm a Celebrity … Get Me Out of Here! from the far-right loony who knows him best. Except that when Christine Hamilton eventually appeared on breakfast telly, she couldn't add to the two theories already advanced.
One, that the shlocky, nightly sado-entertainment on ITV will allow him to reach out and touch young people – the demographic epically indifferent to politics. Two – thank you very much – the reputed £1.5 million fee. Then Hamilton had to confess that she and Farage weren't actually "besties".
But I'm not surprised she couldn't come up with another reason and probably there isn't one. This is not a man who's going to eat wombat's bollocks purely to amuse, demonstrating what a fun guy he is. He doesn't strike me as the selfless type, someone who's ever uttered the words: "It's a Farage, Farage better thing that I do, than I have ever done… "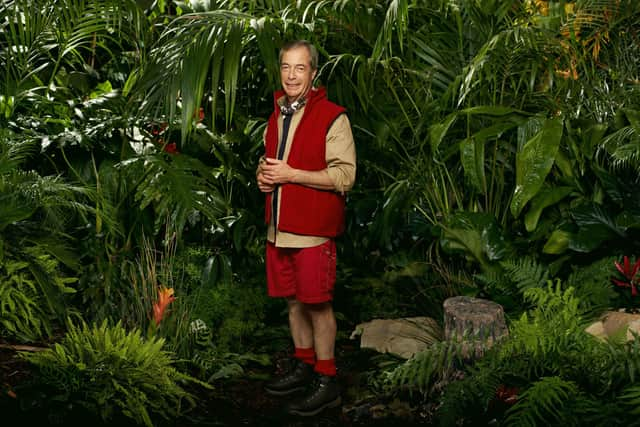 I'll give him the benefit of the doubt, though, and say that in his case it's not about the money, or at least not wholly about it. He's not losing his grip on Westminster's greasy pole, which is the situation of most politicians who sign up for reality TV. Farage is the coming man. That's been said before, of course, but this time it could actually happen. He could become leader of the Conservative party.
Seriously? Well, look at the state of them and tell me if this won't play. Rishi Sunak loses the general election and quits. The Tories – hacked off with Labour having stolen their clothes – turn determinedly right. Suella Braverman thinks it's her moment only to blurt something else heartless and appalling – beyond the pale for even the only-saying-what-we-think mob – and that large chap of military bearing who runs the 1922 Committee is required to announce, channeling Ant and Dec for youth appeal: "Suella… it's not you."
Then Penny Mordaunt makes the dismal mistake in the leadership contest of once again exaggerating her naval career when reprising her sword trick from the coronation – in her Splash! swimsuit this time. And so Nige strolls past them – past Kemi Badenoch-ayethenoo and Liz Truss-ed, and shock contenders from the Tories' celebrity ranks including Jim Davidson and Geri Halliwell and Spandau Ballet foghorn Tony Hadley – and right across the finish line.
Unlikely? Impossible? Try and convince me that stranger things have not happened in the last two years of Conservative misrule. Farage himself has already put his orf-my-land tweed cap in the ring, saying: "I'd be very surprised if I were not leader by '26 – very surprised."
This was just last month at the Tories' conference when he jigged stiffly with Priti Patel – whatever happened to her? – while warbling along to "Can't Take My Eyes Off You". So here now ITV is hoping we won't be able to avert our gaze from the man who pretty much gave us Brexit.
Consider this: Farage's race for the prize began on Sunday night in the baking Australian outback while thrusting his head into a rusted campervan and trying not to swallow a snake. Honestly, if a clip of this was placed in a time capsule as valuable insight for future generations of how a would-be leader of the so-called "party of government" went about endearing himself to voters, they would not have believed it.
Or maybe they would if they already knew about Matt Hancock and his desperate dives into reality TV which, we know now, weren't aimed at furthering his political career but kick-starting a hoped-for new one in light entertainment. And by the way, what must he of the silent "Han" – part of the sustained abuse screamed in his face by the trained killers on Celebrity SAS: Who Dares Wins – make of the fact he only received £320,000 for his jungle stint, a quarter of Farage's pay cheque?
I don't know where our disgraced former Health Secretary goes next. The offer of his own chat show has yet to arrive. On the very odd occasions I think of him, it's sometime in the not-too-distant future and he's David Brent all washed up in celeb sub-prime being heckled by students at a freshers' week disco, plastic bottles bouncing off his head.
Though Hancock lasted a long time on a diet of kangaroo anus, that couldn't be interpreted as the viewing public having warmed to him; they wanted to see the man suffer. He wasn't funny and I don't know, for all his affability, if Farage will be either.
Are any Tories or renegade Tories funny? Tell me a good Jim Davidson joke, then. But Christine Hamilton was funny on the very first I'm a Celebrity… in 2002 and hilarious when I interviewed her back at home. The door was answered by her husband Neil clutching a pair of red stilettos. He was rehabilitating himself after the "Cash for Questions" scandal by appearing in The Rocky Horror Show. "Of course I've got fishnets too – I'm a Tory," he said. But Christine very much wore the trousers that day following her success as a jolly good egg in Oz and he had to put up with her weapons-grade flirting of her inquisitor. Then as I left, she pinched me on the bum.
Where's Neil now? Leader of Ukip, the party co-founded by Farage whose trick it will be to climb off the jungle floor of politics inhabited by the bampots. On I'm a Celebrity… he must survive no beer, obscure, inane rival contestants and possibly being reminded of some of the appalling things he's said previously. After that, knocking over a few Tories to achieve his declared aim might be quite straightforward. And if not, then £1.5 million will buy him a few more velvet collars.
Comments
 0 comments
Want to join the conversation? Please or to comment on this article.