The First Minister was coldly dismissive of the suggestion some dangerous men might exploit the introduction of self-ID in order to gain access to spaces reserved for women. These fears were, said Sturgeon, "not valid".
In a remarkable turn of events, the SNP leader appears to have changed her mind about this. As she fought to save her political skin in Holyrood on Thursday, Sturgeon said Isla Bryson – who, as Adam Graham, raped two women – was "almost certainly" falsely claiming to be transgender in order to be sent to a women's prison. When she said concerns were "not valid", she must have meant they were "perfectly valid", I suppose.
Backed into a corner, Sturgeon threw her flagship policy under a bus. It was as shameless a performance as the Scottish Parliament's debating chamber has ever seen.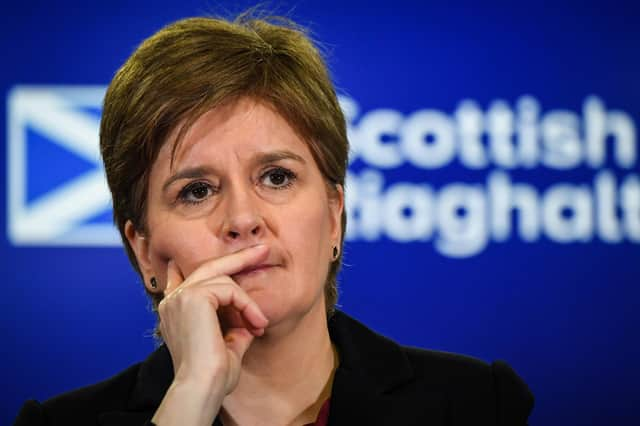 Asked by Scottish Tory leader Douglas Ross whether Bryson/Graham was a woman. Sturgeon said "the individual" in question was a rapist. That was the correct "terminology". Now, it seems, we are to accept there are three genders – male, female, and rapist.
Sturgeon's self-ID law – currently blocked by the UK government over concerns it might negatively impact on the Equality Act – tells us to accept, when it comes to sex and associated rights, people are who they say they are. Pressed by Ross on whether Bryson/Graham's claim to be a woman was valid, Sturgeon said she was not going to get into that particular individual's assertion because she didn't have enough information about it. So much for her commitment to the principle of self-ID.
The Scottish Prison Service has. for some time, behaved as if the law on self-ID has been enacted, housing some biologically male criminals in the female estate, regardless of whether the individual possesses a gender recognition certificate or not. Bryson/Graham was sent from court to Cornton Vale and it was only after the public outcry threatened to damage the SNP that Sturgeon intervened to ensure he would not be held alongside vulnerable women and, instead, be moved to a male prison.
The First Minister's handling of the sensitive issue of gender recognition has been chaotic. Her behaviour in recent days has been disgracefully cynical.
For years, high-profile feminist critics of the SNP-Green government's plan to reform the Gender Recognition Act (GRA) have been vilified. The writer and philanthropist JK Rowling, the journalist and activist Julie Bindel, SNP MP Joanna Cherry, the members of the policy analysis collective MurrayBlackburnMackenzie, the campaign group For Women Scotland, and countless others who have raised concerns about the removal of gatekeeping in the process of changing sex in the eyes of the law have been abused as transphobes and bigots. Some of these women have come to expect rape and death threats simply for daring to speak up.
Of course, they are not transphobic. Rather, they reckoned that self-ID would fundamentally undermine legislation on the provision of single-sex spaces for women. If any man, on his own say so, could declare himself a woman, what was the point of equality legislation?
Last week, Sturgeon had the opportunity to publicly accept the concerns raised by these campaigners were legitimate. The Bryson/Graham scandal has made that abundantly clear, after all.
Instead, the First Minister said some critics of reform of the Gender Recognition Act were transphobic, homophobic, misogynistic and racist.
Sturgeon declined to identify who she meant but those who have made it their business to attack and threaten opponents of the law change will have heard the dog-whistle, loudly and clearly. The First Minister should be ashamed.
When Scottish Secretary Alister Jack announced he was invoking section 35 of the Scotland Act in order to block Royal Assent of Holyrood's reform of the GRA, Sturgeon described his action as a "full frontal attack" on devolution. She began setting the stage for a constitutional showdown where the Scottish Government would go to the courts to defend the very principles of democracy.
I wonder how that's going to play out now? Sure, the most tribally loyal may buy into the First Minister's narrative but others may feel Sturgeon is digging herself a deeper hole.
The case of Isla Bryson/Adam Graham now casts the darkest shadow over plans to reform the GRA.
Anyone who has watched Sturgeon squirm and snarl through televised interviews on this subject over the past week will know that she would very much like not to talk about it. Is she now, amid public outrage over the placing of a rapist in a female prison, going to go to the Supreme Court to argue that the law should make it easier for such outcomes to occur?
The Scottish Government's handling of reform of the GRA has been quite dreadful. Sure, there were many hours of committee hearings but the witness list was stuffed with members of Scottish Government-funded campaign groups that unquestioningly supported the First Minister's plans.
This lack of curiosity led to a fatally flawed piece of legislation that couldn't survive contact with the real world.
The First Minister is now in a mess of own making. Her arrogant refusal to listen to critical voices and her certainty that she was right have exposed a depressing paucity of intellectual rigour.
Nicola Sturgeon was making it up as she went along throughout the campaign to reform the Gender Recognition Act and she continues to do so now that the inevitable backlash threatens her career.