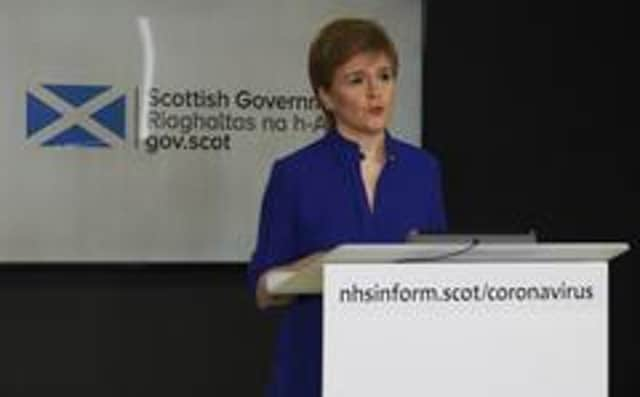 Nicola Sturgeon is due to set out a routemap on Thursday
THE contrast between Boris Johnson's handling of the coronavirus crisis and the way Nicola Sturgeon has dealt with the unprecedented challenge has been fairly stark from the outset.
The policy has not differed very much until now, but on presentation and professionalism Scotland's First Minister has come out ahead every time.
The UK Prime Minister's decision to swap the unequivocal "Stay at home" message for the vague - some might say almost meaningless - "Stay alert" slogan marked a clear divide between north and south of the border.
Mr Johnson was eager to "restore the freedoms that we need" which meant, among other things, encouraging people to return to work while also discouraging them from using public transport to get there and allowing people to drive as far as they wanted for exercise despite the problems that would cause for countless beauty spots across England.
There were also plenty more bizarre rules about people meeting only one parent at a time outside while estate agents were fine to go into people's homes.
It was confusing, to say the least. And it doesn't seem to have done him much good in terms of public support. An opinion poll at the weekend showed popular backing for the UK Government's handling of the crisis had fallen sharply from 48 per cent to 39 per cent.
Meanwhile those who disapproved of the response rose from 36 per cent to 42 per cent, meaning that for the first time more people disapproved than approved.
Mr Johnson came to power on the back of his determination to lead the UK out of the European Union. And his swashbuckling style and extravagant language fitted the role of buccaneering Brexiteer sold to the public at the December general election.
But these are not necessarily the attributes needed for responding to the most serious health crisis the world has faced for a very long time.
Mr Johnson's early promise to "send coronavirus packing" and his more recent talk of "wrestling it to the floor" are just not appropriate ways to approach the pandemic.
While Mr Johnson's support has slumped, Ms Sturgeon's more cautious approach to lifting the lockdown appears to have public backing in Scotland.
Polling last week showed 84 per cent supported a "slow and gradual" easing of restrictions, while 82 per cent agreed the changes already introduced should be assessed before further ones were made, and 86 per cent said decisions on when and how to lift restrictions must be based on saving lives and protecting the NHS.
And another poll found most Scots had more confidence in the Scottish Government than the UK one to stop a further coronavirus outbreak, with 62 per cent saying Holyrood ministers were capable of preventing a second wave of Covid-19 and 38 per cent confident in the UK Government doing so.
There may well be questions for Ms Sturgeon to answer about some of the decisions made in the course of the crisis - not least going along with the UK policy of abandoning test-and-trace back in March - but her cautious instincts are serving her well in the crisis.
She is due to unveil a route map for Scotland's gradual exit from lockdown on Thursday. It may include some of the same measures now in force down south - and some might question that - but Ms Sturgeon's careful approach is likely to instil more confidence among the public.