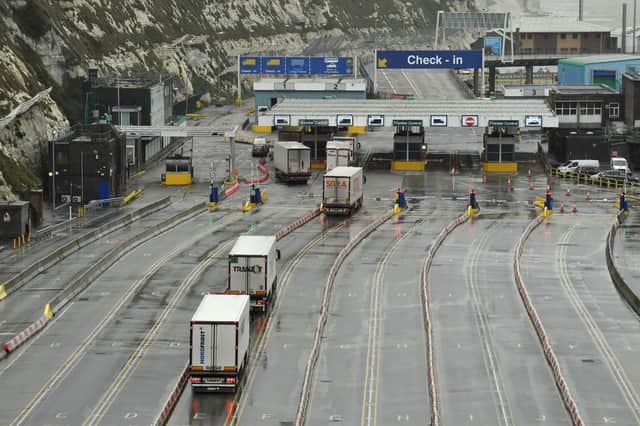 He chides Nicola Sturgeon's government for failing to prepare for a Brexit, from the negotiations of which the Scottish Government – in fact, everyone in the UK – were excluded, for the best part of five years, while Westminster perpetuated its "hold-a-gun-to-our-own-head No Deal" strategy, then dropped a 1,500-page treaty on the country days – days – before leaving, enacted by a Westminster that hasn't read it, and thanks to Rees-Mogg cannot scrutinise even in retrospect.
Any number of businesses, industries, Brexit-seeking and Brexiter-led are scuppering on the rocks of this deal. "Hiccoughs", Monteith glibly refers to people's livelihoods, their ability to put food on the table, amid a pandemic, ending up as roadkill.
So partisan poison is deftly woven into Monteith's reconciliatory words, claiming we're all Brexiters now, and "we must all roll up our sleeves", with an aside that he expects Brexiters to get on with it, implying others won't. In reality – reality Mr Monteith – you can roll up your sleeves, trouser legs, whatever, no amount of blind cult-like faith can change the unworkable.
Hence the Brexit Party seeks to distance itself from itself and rebrand as the Reform Party, and Monteith thinks he can step away from the subject. No. No amount of spin or PR will change what we know, what you did. We all have to live with your career's crowning achievement, polishing and selling a t*** – and now he seeks to blame non-believers for the smell.
With Michelle Ballantyne's "ascension" to the leadership of Nigel Farage's UK Reform Party in Scotland, and Brian Monteith waiting in the wings, it is clear that the Tory Party in Scotland is following the path of Boris Johnson and the Tory Party in England in becoming more right-wing. Of course this is essentially the same hitherto successful path taken by Donald Trump and the Republican Party in the USA.
No doubt the Conservative and Unionist Party in Scotland, and its leader Douglas Ross, will strongly deny that the Tory Party is moving further to the right, but historically across Europe and beyond such denials have invariably proven to be "deceiving". The people of Scotland have learned from the past and will not be duped or seduced by assurances and promises of Douglas Ross, or those of his "master" , Boris Johnson!
It would appear that Dr Richard Dixon joins the group that refuse to accept the warning, given in a paper at the World Forum on Climate Justice, that " renewable energy is too expensive for Scottish consumers hence the cost burden must be met by the taxpayer" (Scotsman, 12 January).
Eighteen months on and there is still no committment to introducing such a policy by Holyrood. Renewable energy is four times the price of gas hence a ban on fossil fuels will result in the number of Scots in fuel poverty escalating by a factor of around three, which means energy will only be affordable by the rich without a single voice of protest being raised by the Green or Scottish Labour p arties at Holyrood.
The lack of demand means there will not be 300,000 jobs by 2045 unless it means that impoverished Scots will be working in an industry that produces a product only rich foreign consumers can afford.
If Dr Dixon still has doubts over such a claim then perhaps he can provide an answer to the question: "H ow does Holyrood propose to fund a £150 billion Green Revolution – around 100 per cent of GDP – when the demise of the UK grid means English consumers no longer cover 92 per cent of the cost?'
Queen Street, Castle Douglas
Very soon Edinburgh Council will make a critical decision about one of the city's most important buildings – the Old Royal High School. We would appeal to city councillors to take this decision fairly based on the facts and evidence.
Urbanist Hotels has to accept that the opportunity to bring a new Rosewood Hotel to the site has now been lost, and judging from the Reporter's decision, was too ambitious in the scale of development on its west wing. However, that ambition was shared by the council which sought at a minimum a 120-bedroom hotel. We have reviewed the Reporters findings and conclusion that, "In terms of the listed building itself, the appeal proposal would better preserve the building" – as opposed to the Royal High School Preservation Trust proposals.
We have also revisited interest from investors, and we believe that a five-star boutique arts hotel can be delivered in a way that is consistent with the council's planning brief for the site.
We want to make it clear to elected me mbers that from the start we have sought to faithfully implement the legal agreement that saw the potential for restoring a building that has had no proper use in more than 50 years.
The Old Royal High School is unquestionably a much-loved building, not least by us. The Music School proposals, with no confirmed funding in place, involve far more radical intervention by creating a major new entrance in the façade, remodelling the stairs and extensive excavation underneath the building, all whilst not delivering daily public access.
Any decision will not be easy, but we do believe that it should be shaped with the preservation of the building to the fore. All we ask is for fair consideration of proposals that can restore another of Edinburgh's great buildings.
Further to Hugh Pennington's criticism of Lesley Riddoch's claim of the immediate magical health transformation of the Glasgow populace through use of Loch Katrine water (Letters, 12 January) I would add that this water was so pure that at Glasgow University we used it in place of expensive distilled water for less critical analytical work, particularly in student teaching.
One drawback of the early days of use of this soft water was that it dissolved the still universally used domestic lead piping so users were ingesting more lead – hardly a health benefit !
We are told that two-thirds of Scotland's Covid cases have been missed by the government's testing system while Wales and Northern Ireland's schemes have managed to identify over two-thirds of Covid cases in their nations. Also 400,000 badly needed doses of the Covid vaccine are reportedly lying in storage in Scotland.
These events hardly provide the necessary reassurance to the public that the Scottish Government is coping well with controlling the pandemic and rolling-out the vaccine as quickly as possible to save lives.
In dealing with the greatest peacetime threat to our health during our lifetimes, it's essential that the Government gives our hard-working NHS staff and volunteers sufficient facilities and vaccine doses to live up to the promise of all vulnerable and elderly people in Scotland being vaccinated before the end of February.
Nicola Sturgeon still maintains that the intended roll-out targets are achievable and if it can happen in England with its more dense populations, there is surely nothing to prevent a successful outcome in Scotland. Or is there?
Oxhill, Kippen, Stirlingshire
Now that the Covid-19 vaccine is in doctors' surgeries and other venues why not make it available 24/7 so that more and more people can can get the vaccine quicker.
I know many of my friends and myself would welcome jabs to be done through the night.
Emeritus Professor Hugh Pennington has claimed that the country's contact tracing system has been a " failure of the highest order".
He would advocate that people who test positive for the virus should be paid for self-isolating as part of a new Covid-19 strategy in the UK.
Professor Pennington has championed forcing people to go into quarantined hotels.
This is similar in Edinburgh where the City Hospital was used to isolate tuberculosis and diseases.
Dornoch Road, Bonar Bridge
A letter from 200 faith leaders urges the First Minister to reopen places of worship on two grounds.
First, they claim to have demonstrated that such places can be made safe from Covid transmission, but they do not specify how this has been demonstrated and I do not see how it could be. Gathering in public buildings always poses some risk, and that risk has increased since the emergence of a more contagious strain.
Second, they claim that "Christian worship is an essential public service, and especially vital to our nation in a time of crisis". This raises several questions.
Given that Christians believe God always to be with them in any place and situation, why must worship and prayers be performed by groups in public buildings? Do individual and family prayers in homes have no effect?
Why is Christian worship vital to the nation? Is it vital to the half of the nation who aren't Christians? Is non-Christian worship of similar national importance?
If public prayer does get restored, will congregations pray first of all for key workers, the elderly and those at high risk for medical reasons, or is there a general-purpose prayer which can cover the whole nation in one shot?
Secular Scotland, Broughton Street, Edinburgh