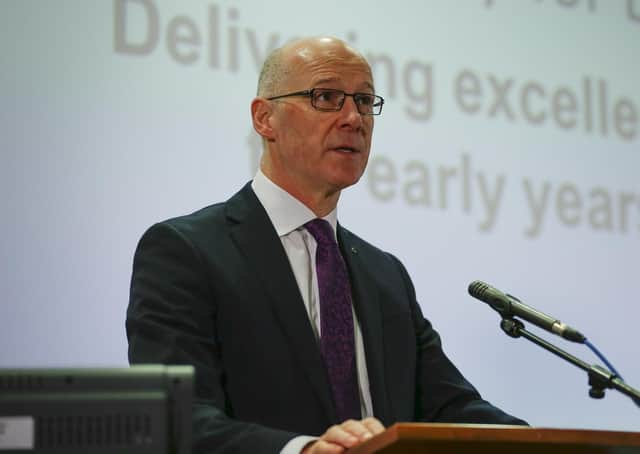 Cabinet Secretary for Education and Skills John Swinney
A week is a long time in pandemics! Only last week we were being told by the Education Secretary that for the next year or possibly longer Scottish school children would be on a severely restricted regime offering as little as one day a week in school in most cases. Now we are informed that pupils will be in attendance, as usual, five days a week! What seismic change has led to the abrupt shelving of the so-called 'blended' model?
No doubt the change, which councils have described as "a bolt from the blue" (your report, June 25) will have been based on scientific evidence and can in no way be the result of political pressure or a reaction to the outcry from parents all over the country. What new evidence leads to the conclusion that full attendance will now be safe?
On the very same day as John Swinney's announcement, Ian Blackford demanded that the UK government publish not only the conclusions based upon the evidence from advisory scientific bodies but also the evidence itself. I look forward to the SNP doing exactly the same in relation to the evidence which has brought about such a screeching U-turn in policy. Every employee in every school, and even more importantly, every parent of every pupil surely deserves no less.
Colin Hamilton, Braid Hills Avenue, Edinburgh
I have just listened to the phone-in on Radio Scotland on the issue of full time education resuming in Scotland in August.
This pandemic has certainly turned things upside down and as the Education Secretary, John Swinney, acknowledged when announcing a return to full-time education, this has only come about because the public has adhered to the lock-down and been patient.
With the government doing what they can to restore some form of normality to the education system, I was rather taken aback to hear some grandparents saying the scenario they find themselves in of dropping off and collecting grandchildren from school has not been taken into consideration in the government statement of a full-time return to education.
Grandparents play a huge role in so many families, but the government simply can't be everything to everybody and some responsibility has to lie with the parents, otherwise we will become a real nanny state. Safety measures are paramount in Mr Swinney's announcement, but in the unprecedented circumstances the country is in, a return to full-time education is a bold move, but a necessary move in the interest of the country going forward on the long and winding road of recovery from Covid-19.
Catriona C Clark, Hawthorn Drive, Banknock, Falkirk
So, after weeks spent implicitly criticising Boris Johnson's lockdown easing measures as over hasty, Nicola Sturgeon, in response to sustained criticism from businesses, employers, workers, schools and parents, eventually provides lockdown lifting plans for north of the Border. Bizarrely after her rhetoric around the need for caution, in some cases sooner than England.
We still await news from the SNP administration about revisions to social (pointlessly rebranded here as 'physical') distancing, without which shops and the hospitality industry can't function. Doubtless this will also more or less replicate what Downing Street has decided, though using cosmetically different language and a slightly alternative timeline.
And Ms Sturgeon claims she's above politics these days.
Martin Redfern, Melrose, Roxburghshire
South of the Border, summer is back on as Prime Minister Johnson unlocks the nation, axes the 2m rule – thereby saving the hospitality and tourist trade – and urges the English to "Go and enjoy yourselves."
North of the Border all is still doom and gloom as the First Minister dithers and equivocates, teasing desperate parents that our schools may open fully and on time but still refusing the necessary 1m rule. The PM wants to see "bustle and activity" return after three months of restrictions that have pushed the economy to the brink; the FM cannot see the problem: she will tax and borrow her way to 'prosperity'.
Johnson believes the English can be "trusted to use their common sense" while Sturgeon infantilises the Scots, keeping them tethered to 5 miles like naughty children and refusing them summer holidays.
(Rev Dr) John Cameron, Howard Place, St Andrews
Rarely do I choke on my porridge in the morning while reading the newspaper, but I came close this morning. The report on FMQ was normal enough, until I came to the part where Scottish Tory leader Jackson Carlaw urged a relaxing of the two-metre distancing edict. The First Minister answered: "If I were to put pressure on an interdependent advisory group... Jackson Carlaw would be the first on his feet to criticise me''.
That was my choking point. Oh, yes, right, when has this SNP government ever put pressure on experts?
Ms Sturgeon's neck must have been in need of Brasso. A better question would have been when have they ever not done so?
Alexander McKay, New Cut Rigg, Edinburgh
For years we have been warned that obesity causes all sorts of health problems, yet the gyms remain closed. There are constant warnings about alcoholism and the misery it causes yet the pubs seem to be more of a priority to open than a gym.
It saddens me that there seems to be a lack of common sense when advisers, experts and politicians are determining the policies that affect us all. Who has the right to say one illness deserves all the attention to the detriment of other illnesses? Oh I forgot, politicians of all persuasions over the years have cut down on beds available in hospitals, as well as the number of doctors and nurses being trained.
Margaret Wallace, Broomfield Avenue, Cumnock
We were surprised to read the letter from Vivienne Stirling (Scotsman, June 25). Like her, the Equality Network strongly supports freedom of expression. But that freedom applies to everyone, and being free to express your views does not mean getting a free pass from others' disagreement with those views.
There is nothing wrong with trans people and supporters of trans equality asking an organisation of which they are members to state its support. There is nothing wrong with them then choosing to leave the organisation if it takes a position they can't accept. That choice to leave is a form of free expression.
Those who disagree with JK Rowling's views on trans equality may not have the same public profile, but they certainly have a right to express their disagreement in that way.
Tim Hopkins, Equality Network, Bernard Street, Edinburgh
Climate campaigners are currently excited about Verkhoyansk in the Russian arctic because this town reportedly experienced the hottest ever temperature recorded inside the arctic circle, reaching 38 degrees C last week.
But this becomes less exciting when you read wikipedia. Fort Yukon in Alaska reached 37.8 degrees in June 1915, long before significant CO2 emissions. Verkhoyansk also has the greatest temperature range in the world, so extremes are not uncommon.
But most revealing is that 31 out of 50 US states had their highest-ever temperatures before 1940. Who'd have guessed?
Geoff Moore, Alness, Highland
Has Ian Stephen (Letters, 25 June) ever wondered how countries like Denmark, Finland and Norway manage to prosper with similar populations and natural resources as Scotland?
They also have several TV channels that properly reflect their nation's arts, culture, music, politics and sport, whereas the BBC earns £100 million more each year than it spends in Scotland.
Last Saturday's BBC One TV schedule from noon to midnight was overwhelmingly dominated by English football and on Tuesday Radio Scotland cut off Nicola Sturgeon's briefing to hear an English health briefing from Boris Johnson.
No wonder people are confused and the Covid pandemic illustrates why we should have control of our borders and finances, plus a Scottish broadcasting corporation to ensure there is adequate Scottish content on our screens.
Fraser Grant, Warrender Park Road, Edinburgh
Prior to the Balfour Declaration (Jock Stein, Letters, 22 June) the belief existed, in Egypt as well as Palestine, that powerful Jewish interests were securing Palestinian land concessions from the Sublime Porte in Istanbul, concessions which included a condition that the land would never be allowed to revert to the ownership of Palestinians.
If this belief was an accurate assessment of what was going on, it conflicts with the statement that the purchase of land by Jews was "without coercion".
I wonder of there is a historian among your readers who could shed light?
The argument, that the takeover of land in Palestine was justified because the new Jewish owners were better farmers is problematic: it would have justified the takeover of land, for example in Africa, from indigenous peoples by European colonial interests.
HJ Errington, Walston Braehead Farm, Carnwath, Lanark
Rangers' manager Steven Gerrard says Old Firm derbies won't be the same without fans and he's right. They'll be more enjoyable as we won't have to listen to the sickening sectarianism of both sets of supporters.
D Mitchell, Coates Place, Edinburgh
The Scotsman welcomes letters for publication – 300 words maximum – from all sides of public debate. Include date and page when referring to an article, avoid 'Letters to the Editor' in e-mail subject line. No attachments. We reserve the right to edit letters. No correspondence will be entered into. Send submissions, with full address and phone number, to: [email protected]
A message from the Editor:
Thank you for reading this story on our website. While I have your attention, I also have an important request to make of you.
The dramatic events of 2020 are having a major impact on many of our advertisers – and consequently the revenue we receive. We are now more reliant than ever on you taking out a digital subscription to support our journalism.
By supporting us, we are able to support you in providing trusted, fact-checked content for this website.
Joy Yates, Editorial Director