Wheels come off the Brexit project as the Grenadier exits - Readers' Letters
In this turbo-charged, Union-Jacked atmosphere of Brexit, what could be more "British" than a cup of tea? Tea, of course, does not come from British hillsides, an irony many do not seem to grasp.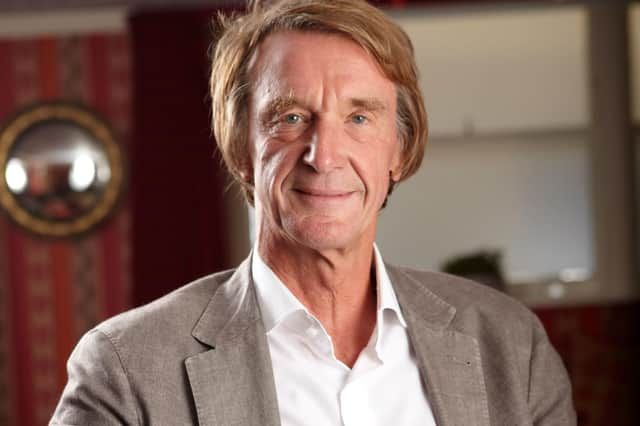 Sir Jim Ratcliffe is building his new Grenadier in France
With the demise of the original Land Rover Defender, her Majesty's favorite vehicle according to Sir Jim Ratcliffe, what could be more inspiring than to retro-design a replacement and call it the Grenadier! It evokes images of the songs we sang at school where "some talk of Alexander . . ." but none could compare to the red-coated British Grenadier – think of pith helmets and maps showing the extent of the Empire we had on the classroom walls in primary school in th,e 1950s.
Sir Jim Ratcliffe of Ineos has founded a company to build such a car. He was an ardent Brexiteer and vocal advocate of taking back British control from the dastardly EU.
However, he has shown his True Brit grit by relocating to Monaco as a tax exile. It seems that Brexit has morphed in meaning to stand for Exiting Britain and the new people doing this will be 'ExBrits'.
Now he has bought a car plant at Hambach in France to build this vehicle and has selected German rather than British engineers to design it. He said that Hambach was "a modern automotive manufacturing facility with a world-class workforce".
One need not continue. HP sauce with the House of Commons picture on the label? Production moved to the Netherlands decades ago. I suppose it could be repatriated. An ex-pat True-Ex-Brit could step up to the mark.
Langmuir Quadrant, Kilmaurs
At a time when overseas aid is to be reduced temporarily to 0.5 per cebt of GDP, the opportunity arises to radically review it .Much fun can be had, on a rainy afternoon googling UK foreign ad abuse.
The reduction was inevitable.The UK has had the biggest fall in output since 1720; the worst debt since the Second World War in 1945; and a slump worse than most of the 37-nation OECD as we approach the Brexit cliff edge.
Last year the U.K. top five recipients were Pakistan, Syria, Ethiopia, Afghanistan and Nigeria.However, we also gave super power China and ffth richest nation on Earth India aid. Both have huge military spending and a space programme (the latter said our aid was unwanted). 95 per cent of the largest cities in the world are beside a port, reinforcing the case for building a hospital ship.The old RFA Argus is currently on hurricane watch in the Caribbean but, in 2014, this 1981 ship (with its hospital, doctors, nurses, military,trucks, helicopters and food) did immense good in West Africa tackling the Ebola outbreak.She must be replaced.
The UK gives one-third of aid to the UN, the rest goes on food, education, medical care, grants for farming etc. Climate change necessitates more disaster relief and a hospital ship would be justified, unlike aid to some of the most corrupt nations on Earth. When not in use, it could be used for trade missions.
The Maltings, Keith Place, Inverkeithing
Enjoyment of the Autumn Nations Cup rugby on the box was ruined because an Amazon Prime subscription was required to watch some matches.
Amazon despatches millions of parcels daily, many with too much air in the box. Now it contrives to deprive us of free-to-air sport on the box. Amazon is flowing through too much of our lives. The only place that doesn't get too much Amazon is the Exchequer, with the company being rather coy about paying taxes.
It's time to stop Amazon killing our high street, killing sport on the telly and making a killing at the Chancellor's expense.
Reachview Close, Camden Town, London
Much as I have little time for Nicola Sturgeon these days, much as I accept the Duke and Duchess of Cambridge meant well, the First Minister of Scotland was correct to give a frosty reception to Wills and Katie's "morale boosting" pandemic tour.
With the nation still lampooning Dominic Cummings' infamous Barnard Castle trip, we find the Heir To The Throne and The People's Supermodel Mum gallivanting across our pestilence-ridden lands by train like they're going to Hogwarts.
For those at the myriad Covid-19 frontlines, such visits exasperate like inconsiderate friends or relatives inviting themselves over simply expecting all and sundry to accommodate accordingly.
Doing so whilst dealing with Britain's deadliest pandemic in a century is beyond selfish and irresponsible, regardless of how well meant. The road to Covid-19's third wave are made by such good intentions – and I'm glad to see Welsh Health Minister Vaughan Gething echoing Nicola Sturgeon's dissatisfaction.
Linn Park Gardens, Johnstone, Renfrewshire
In response to Robin Whike's comments concerning the passing of Peter Alliss (Letters, 8 December) I must take exception to his derogatory reference to the great Henry Longhurst.
Peter Alliss, commentator that he was, was first to acknowledge he copied the maestro in front of the microphone.
Alliss learnt from Longhurst the great skill of silence and let the viewer absorb crucial action before then making a pithy comment. Oh could the modern group of analysers and experts not copy this instead of prattling on about every nuance of a shot ,swing etc, which gets tedious.
From the great archive of Longhurst comments, one of my favourites came during a lapse of play at the 16th at Augusta. The cameraman spotted an owl perched looking down on the scene, to which Henry said: "Now there's a spectator who doesn't give a hoot who wins the Masters."
Another favourite came whilst he was perched behind the 17th at Muirfield during the Ryder Cup, saying: "We now have a commentator's worst moment: Having had a couple of tin and gonics at lunch time to be faced with Coles & Hunt coming up the fairway!"
Newbattle Terrace, Edinburgh
I was sorry to read Henry Longhurst referred to in parts of the media as Peter Allis's "rather dull predecessor". I knew them both for many years and Henry could be very droll. Peter was extremely fond of him and made no secret of the fact that he looked on him as a mentor.
When reminiscing about Henry in the Big Room of the R&A after his death, I recall Peter saying there was nothing as eloquent as the Longhurst silence. After all, how could one cap Doug Saunders thre-putting the 18th green of the Old Course at St Andrews to lose The Open.
It's an interesting new take on the concept of manufactured grievance when we have someone writing to the Scotsman about a grievance not raised by Nicola Sturgeon.
Yet this precisely what we have when we read from Martin Redfern (Letters, 9 December) that Ms Sturgeon has not raised a grievance about JJ being knocked out of Strictly.
Those of us who don't watch Strictly and have never heard of JJ are indebted that Mr Redfern's eclectic taste in television has allowed him to share this vital information with us.
And we can take some comfort from the fact that his leisure time spent this way may have given him some relief from fretting about Nicola Sturgeon.
So our glorious leader, First Minister Sturgeon, deigns to gift our nation's areas new Covid restriction levels (Scotsman, 9 December).
Might that we were given the specific scientific evidence rather than the usual ultimate leader's procrastinations on her way, the only way, and then the handing out of cake in the form of levels dropped, raised or frozen.
Anyone looking at the figures would realise that there is no reason for Edinburgh to remain in level three, nor Midlothian.
A daily surge, a rise of miniscule levels, which she actually equated to more tests revealing more cases, but not "necessarily meaning transmission" in the community, shows how impoverished our leaders are with regard to how the ordinary people live.
This crucifying of businesses, mental health and the horrendous catalogue of disaster awaiting us regarding those who have been denied other treatments is only a horror show waiting to happen.
It is time we said enough.
At the end of the year, 31 December, the BBC must stop the brainwash cast, and also, the weekly tripe that is now purveyed on the BBC radio Scotland programme Off the Ball, or as it should be known, the Jason, Tam and Stu show.
This is another avenue of the "we're your friendly pals" act now on every week and not a blink of an eye raised with regard to proffering political bias.
My BBC "subscription" is cancelled until such times.
I am livid after listening to Nicola Sturgeon trying to justify not placing Edinburgh city in Level 2 as expected as our infection rates are down to 68 per 100,00.
But no, still in Level 3 and with a husband who is a struggling black cab driver this is devastating. And the reason which she managed to skirt round? All her support in the west of Scotland who have come down to Level 3 would be packing out the 900 express bus to Edinburgh and ignoring travel restrictions just as they ignored other restrictions for weeks which took them to Level 4 until now.
Glendevon Place, Edinburgh