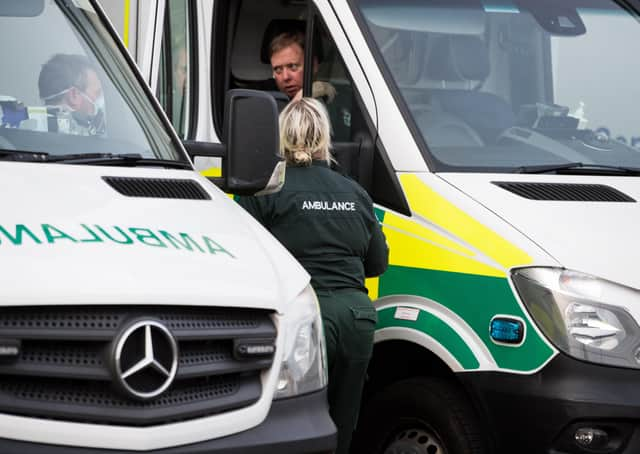 NHS staff wearing PPE (Picture, John Devlin)
During Sunday's Andrew Marr Show, Andreas Michaelis, State Secretary of Germany's Foreign Office, was asked to comment on why Germany's coronavirus death rate was so much lower than the UK's. He modestly replied that it was partly due to luck but also because Germany was well prepared for such an eventuality. Four years earlier, in spite of political opposition on the grounds of cost, the German government had considered it prudent to invest heavily in sufficient machinery, tools, testing equipment and protective clothing to deal with such an eventuality. As a result, Germany's death rate currently stood at 66 per million of population while in the UK it stood at 282 per million. Asked whether the British people felt they had been failed by their politicians, he again answered diplomatically, saying that when research scientists got it wrong they were still able to change direction but when politicians got it wrong, they were labelled as failures.
Thirty-six hours later, the BBC Panorama programme saw it somewhat differently.
Added to the charge of lack of foresight, the government was accused of parsimony, inefficiency, and worst of all, deceit for the suppression and distortion of information. Although acknowledged by most experts to be the most infectious disease in over one hundred years, the government nevertheless saw fit to reduce the virus's WHO classification, the ongoing effect of which was to reduce its priority (and the cost) of Personal Protective Equipment. How very convenient! But the victims who are now suffering as a result of this downgrading are, of course, front-line NHS workers.
The government constantly makes an analogy between the current emergency and the Second World War, stressing how important it is for us all pull together in this time of crisis, but the Prime Minister's schoolboyish attempts to recreate the spirit of Dunkirk will not fool anyone and he would do well to remember what happened at the post-war general election. While I'm quite happy to stand outside my front door every Thursday evening and applaud with sincere gratitude the efforts of NHS workers, I have an uneasy feeling we are being used by the government as patsies to divert attention away from the government's failings, which have become a national 
scandal.
Craigmount Park, Edinburgh
Monday night's Panorama revealed that the UK government failed to stockpile crucial protective kit then, on 13 March, downgraded its guidance on PPE, telling NHS staff they were safe to wear less protective aprons and basic surgical masks in all but the most high risk circumstances, and took steps to remove Covid-19 from the list of high consequence infectious diseases (HCIDs). These catastrophic decisions led to the UK having the worst number of Covid deaths per head in the world.
Those who suggest that the Scottish Government, or Labour-run Wales, could have locked down any earlier than the UK government fail to appreciate that Westminster still holds the main economic powers in order to compensate those business and individuals suffering thanks to Boris Johnson's failure to take decisive action over Covid-19. Also, Border control at Scottish airports is the responsibility of the UK government.
Watson Crescent, Edinburgh
How very sad that we are in a position where the UK cannot speak as one during the coronavirus crisis and factions have opened up – all leading to confusion and exacerbating our already fractured society.
We should have one source of advice from the sovereign government and forget about petty political point-scoring.
Alexander Avenue, Kingseat
On 28 April The Scotsman reported that a group of biodiversity experts have warned that "our global financial and economic systems, based on a limited paradigm that prizes economic growth at any cost", is responsible for climate, biodiversity and pandemic crises. It is commonplace to equate economic health with economic growth in disregard of the fact that growth cannot go on for ever. The deafening silence on this topic suggests that it is the self-evident truth which we are not willing to acknowledge. The elephant in the room comes to mind.
Last week First Minister Nicola Sturgeon apparently wanted to lift the lockdown here before the rest of the UK, seemingly because we had fewer cases of the virus. This week she has been threatening to close the Border if the English lift the lockdown first, this despite the Border not being real in any legal sense, her not having the powers to do so, and with the greatest threat of the virus to Scots being from other Scots – particularly in the Central Belt, where cases stand comparison with some of the bigger English cities. The English are, thankfully, socially distant at the moment.
Now we are being advised to wear face masks, although apparently it is not compulsory, and there is no clear cut evidence that we should do so.
Today and tomorrow, people are going to be going to the shops expecting to be supplied with masks, because how can any government insist on you wearing one if they don't actually make them available? Journalists and photographers are going to be going down to their local supermarkets to capture images of people not wearing masks and the story will be that people are not listening to the First Minister.
She has sown seeds of confusion and made a rod for her own back, and it appears that the team of advisers who usually keep her on the straight and narrow must have drifted away. Her announcement was most certainly pre-planned.
This morning, I received a letter from the Scottish Government and thought for a moment that Ms Sturgeon had used some of the £2.8 billion-plus she had received to send us all a free face mask in the post. Instead I got an information note that might have been useful five weeks ago but not now. Everyone knows all this stuff already.
This virus we are all up against is a small group of proteins. It doesn't have a brain. It is not even technically alive. The advantage that we have over it is that we do have brains, although sometimes we do over analyse things or try to get too clever. That is why, when things appear to be getting better, we all must engage our brains, stay the course and do what we are telt – and that includes Ms Sturgeon!
While the Scottish Government has benefitted from Covid-19 pushing into the shadows many important political controversies, it seems one damaging issue refuses to be ignored – the bitter rift within the SNP itself. Kenny MacAskill's accusation of 'dark forces' at work behind Alex Salmond's prosecution (your report, 29 April) is just the latest evidence of that split. His reference to an 'orchestrated campaign' by senior people in the Scottish Government and SNP could not be clearer. As early as his victory speech in the general election, Mr MacAskill lashed out at his own party leadership, complaining that his triumph had been achieved with no visit from the First Minister or any other leading figure and no support from central activists.
Following closely on Jim Sillars' criticism of "the cult of personality, the obsessive desire of leaders for complete control... the growth of a clique of acolytes, one person rule" (your report, 28 April), this is proof positive that Nicola Sturgeon's biggest political battle post Covid-19 will be within her own party,
Belhaven High Street, Dunbar
Using language usually associated with deep-seated paranoia and the wildest of cybernats, Kenny MacAskill speaks of 'dark forces' being behind Alex Salmond's trial. Presumably he is not referring to the usual culprit of those nationalists so concerned, MI5, but the factions in the burgeoning SNP schism that are pro-Sturgeon. As Mr Salmond's faithful and long-serving servant, we know which side he is on.
For those of us in Scotland who wish to see the end once and for all of the division and self-destruction of nationalism, it is a welcome sight.
Dr Richard Dixon, director of Friends of the Earth Scotland, again degrades fossil fuels and the producers thereof (Perspective, 28 April). He concludes that UK and Scottish Governments should use economic restart money to support workers and communities, and create the green energy jobs that will replace oil jobs. I suppose he might think of building even more wind farms to replace the 30,000 oil jobs at risk (your report, same day).
Just one problem with the switch to even more 'green energy'. I have been monitoring GB National Grid lately and find that at time of writing wind produces 2.31 GW or 7.04 per cent of demand. Solar is down to 1.28 GW and fading. I have a record of wind being below 2 GW almost every day or part thereof for over a week in the UK and some days as low as 1 GW, yet installed capacity is above 22GW.
In every case nuclear and gas have had to save the day and maintain grid frequency.
The relentless pursuit of wind and solar will lead to a further substantial increase of renewable subsidies, current running at £10 billion per annum and rising.
Furthermore it will almost certainly lead to power shortages as nuclear is phased out and no new gas powered power stations are built.
Without reliable energy there will be no wealth and job creation, but rather the opposite.
Certainly, more subsidised renewables will not create what he calls 'economic restart money' as they are simply an ongoing drain on the economy. With current cost of oil and gas, the comparative cost of renewables has further increased. Low input costs are an important factor in wealth creation.
Monks Road, Airdrie, Lanarkshire
The Scotsman welcomes letters for publication – 300 words maximum – from all sides of public debate. Include date and page when referring to an article, avoid 'Letters to the Editor in e-mail subject line. No attachments. We reserve the right to edit letters. Send submissions, with full address and phone number, to: [email protected]
A message from the Editor:
Thank you for reading this story on our website. While I have your attention, I also have an important request to make of you.
With the coronavirus lockdown having a major impact on many of our advertisers - and consequently the revenue we receive - we are more reliant than ever on you taking out a digital subscription.
Subscribe to scotsman.com and enjoy unlimited access to Scottish news and information online and on our app. With a digital subscription, you can read more than 5 articles, see fewer ads, enjoy faster load times, and get access to exclusive newsletters and content. Visit https://www.scotsman.com/subscriptions now to sign up.
Our journalism costs money and we rely on advertising, print and digital revenues to help to support them. By supporting us, we are able to support you in providing trusted, fact-checked content for this website.