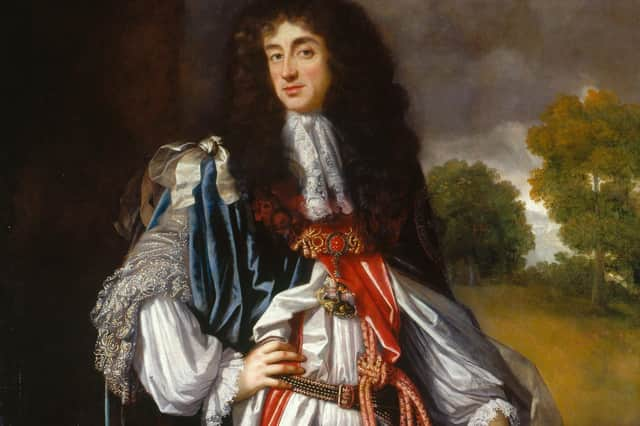 The Crown financed the African slave trade under Charles II
The slave trade was pioneered under the reign of Queen Elizabeth I. She allowed John Hawkins to kidnap slaves from Africa and sell them in the Caribbean. The profits were tremendous.
It was under Charles II that the Crown financed the African slave trade. The royal family were owners of The Royal Gambia Company, the Royal Adventurers Company and the Royal African Company.
The restored Stuart dynasty saw slavery as a way to overtake the Dutch as the undisputed masters of the Atlantic Triangle. The Company of Royal Adventures was given a monopoly over most of the West Coast of Africa. This was to last 1000 years. Charles allowed the loan of several ships for the venture. For this Charles was given two thirds of all gold mines expropriated. This gave the Crown financial independence from Parliament.
The Treaty of Utrecht (which ceded Gibraltar to the UK) also gave Britain the monopoly over the Atlantic slave trade. The fortunes made from this human misery directly benefits the Windsor family today.
However, the culpability of the ruling class who made their fortunes from chattel slavery is being obscured. A campaign is taking place to try to tarnish the whole population of Scotland and the rest of the UK with collective guilt for slavery.
Collective guilt was rejected as a concept at Nuremberg. This "woke" campaign is being told from the perspective of "identity politics". It repudiates that racism is a device to split workers in order to maintain rule by the capitalist class. Identity politics seeks to say it is the fault of "white people" and "white privilege", It opposes a united struggle of workers against capitalism and class exploitation. Instead, it favours BAME in corporate management, in charge of the exploitation.
Identity politics is designed to subordinate black workers to the self-seeking strivings for social advancement of its middle-class proponents. It ultimately seeks to keep the status quo in place.
Gillespie Terrace, Dundee
According to the media "the country'' is gripped by the recent royal revelations and it's certainly true that coverage is inescapable.
However, may I represent the vast majority of "the country" to say that I have utterly no interest whatsoever in the claims and counter-claims of these publicity-hungry, over-privileged, venal royal individuals. And for me, as well as countless other people, that's the end of it. But like any overwrought soap opera, this will no doubt run and run to the detriment of real news.
The public should be careful not to be taken in by the carefully choreographed performance by the Sussexes in their TV interview.
Most of their alleged complaints were tittle-tattle and the more significant ones were vague and unsubstantiated.
There were two reasons why they gave this interview – firstly to attract maximum publicity to help fund the celebrity lifestyle they have chosen in California and secondly to hit back at the royal family who did not give them everything they demanded, despite the fact that without their royal connections they would be of no interest to anyone.
Harry and Meghan are now undoubtedly getting far more media coverage than they would ever have got by remaining in the UK and living like the minor royalty which they obviously are.
But then I suspect that was always part of the plan from the start.
Aithernie Court, Leven, Fife
Those who chose St John's in Livingston as the new Edinburgh Eye Hospital location are blind to the consequences.
When I was diagnosed with age-related macular degeneration (AMD) 11 years ago, I panicked because I knew people who had become blind rapidly. The miracle workers at the Princess Alexandra Eye Pavilion (PAEP) have prevented further sight loss.
The average age of an AMD patient is 80. Many have to use public transport, a serious challenge for those with limited sight and infirm, wherever the new hospital is. Stand at St John's and count arrivals by bus. Do the same at Little France and observe the difference. Imagine frail patients at some location – Leith, Tranent or Dalkeith – and ask Google how to travel both ways using public transport. Compare Little France and St John's.
A UCL study of missed appointments due to Covid for AMD patients from 27 health authorities showed a 50 per cent increase in the rate of patients being registered blind. For many in the Lothians the wrong location will have the same effect. St John's was chosen to save costs; how many preventable blindnesses is that worth? Not an example of the 'build-back better" we are promised!
Blindness is a personal disaster, a severe stress on family and a cost to society ~ £30,000 per patient per year. It takes 150 becoming blind only one year earlier than they would have to equal the saving. A minute fraction of the 83,000 outpatients the Eye Pavilion treats every year.
Readers, please do all that you can. Lobby your councillors ("Council urged to fight for replacement eye hospital in Edinburgh", Scotsman, 6 March) and support MSPs like Daniel Johnston who spoke passionately about the issue at Holyrood.
The Eye Hospital helps people of all ages. Fight hard to preserve our centre of expertise.
Professor Malcolm Atkinson
Wintonhill Cottages, Pencaitland, Tranent
While the rest of us have suffered and behaved with no football to attend both sides of the Old Firm have broken rules, players and supporters (Celtic at Parkhead after the Ross County defeat and Rangers on Sunday).
The SNP government will be loathe to take action as Glasgow is a bedrock of their support so why does the SFA not take the bull by the horns and cancel the next game Old Firm game?
The league is won, the game means nothing and to ensure no more repeats of mass disregard of the rules each club is fined 20 points.
You can rest assured they would then get the message across.
Coillesdene Avenue, Edinburgh
How refreshing to read Stephen Halliday's sensible and measured take on the events of the weekend involving Rangers fans (Scotsman, 10 March) after the unseemly and undignified scramble by politicians, local authorities and police to, it would seem, blame Rangers Football Club for the conduct of the supporters in and around Glasgow.
Indeed, it has become apparent that certain commentators may have been, at best, a tad economical with the truth in this matter?
Luffness Gardens, Aberlady
Leah Gunn Barrett (Letters, 10 March) claims that "Scotland has not prospered in the Union" and "living standards have fallen". Not true.
I was born a few years after the end of the Second World War. Our house had an outside toilet and no central heating. Winters were cold with no heating in the bedrooms. Often there would be ice on the inside of the windows. The living room had a coal fire; mother cleaned the ashes out at 6am. Electricity was a semi-luxury. I remember my aunt buying us a fan heater. Before going to school I would dress in front of it – mother would turn it down, complaining of the cost!
Food rationing did not end till 1954. My mother had a scrubbing board and wringer to do the washing. It was many years before my parents had saved enough to buy a washing machine – an English Electric Liberator, as I recall. Later, as income improved, they were able to afford a Lec fridge, and a "huge" 21in Ekco black and white television complete with doors, and two channels.
Of course we had no telephone. A red call box was a mile away. The family transport was dad's Triumph Thunderbird and a Watsonian sidecar, and later when my brother came along, a small Standard Eight – which Dad hated after the powerful motorcycle!
Living standards have vastly improved under the Union and will continue to do so.
Justice Park, Oxton, Lauder
Having conducted a relentless public media campaign in parallel with the ongoing work of the Salmond harassment committee, it's unsurprising, but questionable, that Murdo Fraser should once again use his weekly column to present a case against the SNP (Scotsman, 10 March).
It's a damning indictment, but it comes from a world in which Mr Fraser came to a conclusion about the evidence before any of the evidence was heard, so nothing surprising there.
Equally unsurprising is what is not contained in Murdo Fraser's column – an account of his behaviour, described by journalist Dani Garavelli as the low point of the questioning, when he asked Nicola Sturgeon to apologise for Alex Salmond's inappropriate behaviour. This exposed Murdo Fraser for the dinosaur he is, and it will be a long time before he lives it down. To coin a phrase, a "better man" might have seen fit to apologise.
Without evidence, Murdo Fraser disputes the fact that 10,000 people joined the SNP after hearing Nicola Sturgeon's evidence.
But as a politician in a party which only has slightly more than that number as its total membership, it's not hard to understand why he might be envious and disgruntled.
If you would like to submit an obituary, or have a suggestion for a subject, contact [email protected]
A message from the Editor
Thank you for reading this article. We're more reliant on your support than ever as the shift in consumer habits brought about by coronavirus impacts our advertisers.
If you haven't already, please consider supporting our trusted, fact-checked journalism by taking out a digital subscription.