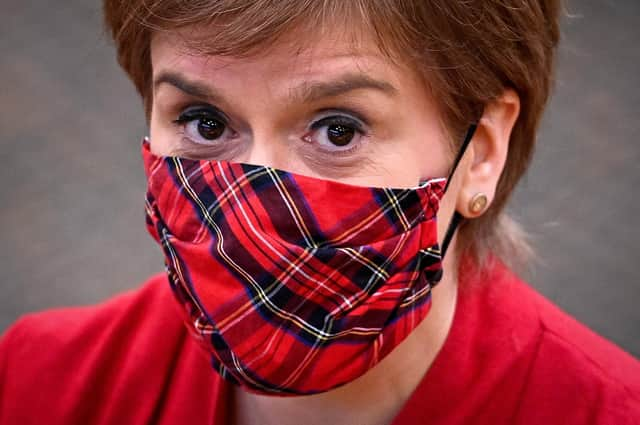 Nicola Sturgeon faces a vote of no confidence this week
The SNP clamour of complaints that the inquiry committee "railroaded through" certain findings is beyond irony. The committee system was created in part to fulfill the function of holding the government to account and before the SNP came to power worked as intended. Thereafter the phrase "agreed by division" began to make frequent appearance in the footnotes of reports. It means of course that the particular clause referred to was – to use current SNP language – "railroaded through" by an SNP majority membership. The phrase enjoyed its greatest number of appearances in the lead-up to the referendum making one report – on potential membership of the EU – look like Clapham junction!
How the SNP bigwigs must regret that their usual selection process was not followed to pack the Salmond inquiry committee. Certainly the original selection of four SNP and one Green out of nine members must have looked favourable to them and only serendipity – the replacement of Alison Johnstone by Andy Wightman – created the situation where at least one member could make a claim to being "independent".
Your editorial (20 March) hits the nail on the head. This whole sorry mess should not have been examined by a committee in the first place but by a full scale judge-led public inquiry. Only then will the public get the answers they need as to whether all that occurred was a "mistake". Another salient conclusion to be drawn is that the committee system itself needs to be radically modified or abandoned. Only then will the government of the day – of whatever hue – be genuinely held to account .
Braid Hills Avenue, Edinburgh
Nicola Sturgeon has lashed out at certain members of the parliamentary committee inquiring into the Judial Review fiasco, because they are reported, by leak, as coming to a decision she does not like. Her accusation is particularly inappropriate in the case of Mr Andy Wightman, the independent member of the committee.
Before he entered parliament, Mr Wightman had a well deserved reputation for integrity, honesty and a concern for the public good. That reputation has not been damaged in any way by what he has said and done in the past four years in parliament as an MSP. Indeed, that he split from the Green Party on a point of principle underlined the personal qualities that made his reputation. I am confident that Mr Wilghtman considered the evidence that came before the committee, including that from Ms Sturgeon, with an independent mind. To do otherwise would have been quite out of character.
If Ms Sturgeon maintains her claim that the committee majoiry was biased aganst her before she gave evidence, she is really asking us to believe that the Andy Wightman we all know, was not the one who served on the committee. She misleads herself on that.
The disgraceful selective leaking of parts of the committee report on how the Civil Service and Scottish Government dealt with harassment claims against Alex Salmond has shown petty party politics at its worst and a clear breach of the code of conduct.
This has destroyed any remaining credibility the committee had after the Tories demanded specific resignations before hearing evidence from the main witnesses. Only the most naïve of observers don't think the Unionist MSPs' main objective is to nail Nicola Sturgeon at all costs and the committee appears to have completely disregarded evidence from a witness who corroborated her account of the meeting with Alex Salmond.
If Nicola Sturgeon had tried to prevent the case against Alex Salmond from proceeding that would have been a resignation offence and it is to her eternal credit that she did not agree to sweep the allegations under the carpet. She has admitted that mistakes were made in the process but there is no evidence of any conspiracy against Alex Salmond.
Nicola Sturgeon's leadership in guiding the nation through the Coronavirus pandemic has earned widespread support and when compared to Douglas Ross or Anas Sarwar, who have failed to speak out on Westminster's ongoing post-Brexit grab of our parliament's powers, I am sure she will receive the backing of fair-minded voters in May.
Watson Crescent, Edinburgh
Boris Johnson, Priti Patel and several other members of the UK Government have misled parliament but not resigned. It must be very encouraging to Ruth Davidson and her colleagues to know that the rules apply only to Nicola Sturgeon.
I find Ruth Davidson's constant attacking of Nicola Sturgeon somewhat amusing. If she thinks Nicola should resign due to a lack of integrity what does she think her Downing Street boss, the epitome of untruthfulness, should do?
If Boris Johnson was Pinocchio his nose would stretch all the way from London to the Shetland Islands.
Broomhill Avenue, Aberdeen
Politicians are vested with the power to create and amend laws. Other parties are responsible for their implementation.
It is on record that on the instructions of the Scottish Parliament quite a number of people have received penalties for breaking the curfews on travel implemented during the pandemic by the Scottish Government.
Why then can Nicola Sturgeon not accept that she has been found guilty of breaking the Ministerial Code by her peers, and 'fall on her sword' ? She ought to lead by example.
As Scottish election time draws near one can only hope that all parties will give thought to the impact of government investment in our island and coastal communities. It does not need to be driven from the Central Belt and could be well handled at a local level.
Recent economic history has proven that investment at grassroots level in these communities has had a major economic impact. The success of the Highlands and Islands Development Board and its successor body Highlands and Islands Enterprise is evidence that it produces real results and that communities feel involved.
Decisions taken in Edinburgh or Glasgow for economic investment in these areas is certainly not the answer. The decision to centralise Highland and Islands Airports in Inverness is a prime example which will have a major impact for quality jobs in Shetland, Orkney and the Western Isles.
Hopefully some party will listen and common sense will prevail.
Main Street, Davidson's Mains, Edinburgh
Alastair Dalton is right to say nationalising ScotRail won't in itself make the trains run on time (Scotsman, March 18). What politicians, pundits and press rarely admit is that it doesn't matter which system is used, public or private, as long as it is well run and funded. Either can succeed, either can fail, but it's such a political football that people won't believe this and it's something of a shouting match.
The pioneering Victorians who built Scotland's brilliant railways – including such giant achievements as the Forth Bridge – were private investors. But they had failures – the original Tay Bridge and the Quintinshill disaster, for example. In the end nationalisation saved the railways from collapse against road competition. Then terrible investment decisions were made, crashes were almost annual and strikes a regular event because the unions knew there was no limit to the public purse.
Eventually, BR was run pretty well and on a shoestring too. Then the first privatisation mucked it all up again – Railtrack just didn't maintain things properly, leading to a number of crashes. Painting the Forth Bridge was something you have to keep doing. They stopped. It rusted.
Now all that has been fixed, and the network itself has been nationalised all over Britain since 2002, whatever people say. The services have been mostly run by and the trains owned by private companies. The upside of that is that on the East Coast Main Line to Edinburgh and Aberdeen we had 13 different operators last time I counted . Billions of pounds worth of new trains and five new rail factories have been built at no cost to the taxpayer. We also had more than a decade without a single passenger death until the tragedy at Stonehaven.
Good luck to the new administration – Scotland's railway are a world-class treasured asset which should be put somewhere above politics. But after that, remember the old adage: if it ain't bust, don't fix it.
North Street, Emsworth, Hants
I found myself in complete agreement with Douglas Cowe's comments about Scotland (Letters, 20 March). I too don't recognise our country from the days of of my youth and middle age.
I was criticised in these pages for stating that, at present, I didn't want Scotland to be successful in the sports arena because it feeds into increased support for the nationalists. And I say this as a veteran of two World Cups and numerous Five Nations triumphs. Sadly that's what it's come to for me and it won't change until we are rid of our obsessive masters.
Main Street, Symington, Biggar
We welcome your thoughts. Write to [email protected] including name, address and phone number. Keep letters under 300 words, with no attachments, and avoid Letters to the Editor in your subject line.
A message from the Editor
Thank you for reading this article. We're more reliant on your support than ever as the shift in consumer habits brought about by coronavirus impacts our advertisers.
If you haven't already, please consider supporting our trusted, fact-checked journalism by taking out a digital subscription.