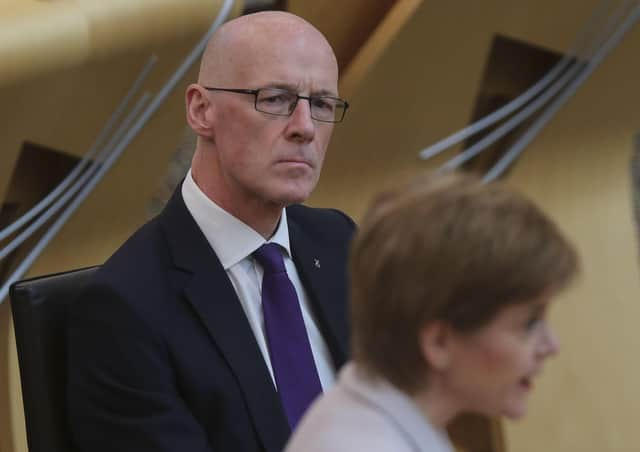 Nicola Sturgeon is backing John Swinney (Photo by Fraser Bremner - WPA Pool/Getty Images)
Cast your mind back to the year 2000, Sam Galbraith, the Education Minister in the Labour Government, presided over the fiasco when the wrong exam results were issued by the SQA. Nicola Sturgeon at that time was the Education Minister for the Scottish National Party. Ms Sturgeon demanded, because of what had happened, that Mr Galbraith resign because he was "out of touch" and "out of his depth".
Mr Galbraith, although not personally responsible for issuing exam results, realised that by being the Education Minister the buck stopped with him and did the honourable thing and later resigned.
Roll the clock on 20 years and we have a somewhat similar scenario. Nicola Sturgeon, now First Minister, standing up in the Scottish Parliament but this time, instead of demanding someone's resignation, defending her Education Secretary, John Swinney.
Mr Swinney, who since his appointment has presided over more botched schemes than any of his predecessors, only survived a vote of no confidence thanks to the unelected Green Party – or the SNP Back Benches as one of your previous correspondents referred to them.
I have no doubt that John Swinney is an honest and trustworthy gentleman but in the words of Nicola Sturgeon 20 years ago he too is " out of his depth and out of touch" and must do the honourable thing and resign.
Nicola Sturgeon should also consider her position as, having asked to be judged on education she and her government, in their term of office, have presided over the decline in the standards of Scottish education.
What hypocrisy when the "boot is on the other foot"
William Hope, Kings Avenue, Longniddry
Gill Turner (Letters, 14 August) calls the extraordinary increase in this year's Higher exam results a "renaissance for Scottish education".
This against the background of no exams having been sat and First Minister Nicola Sturgeon defending the SQA's moderation 
procedure on the grounds that to have let the results stand as they were initially assessed would not have been a credible situation with huge increases in passes across the board.
The reality, according to anecdotal evidence – supported by the husband of a teacher who wrote to Scotsman letters a few days ago – is that teachers were under pressure to enhance grades, in some cases having their proposed gradings returned as many as four times for further enhancement.
Clearly, schools wanted to be seen to be successful but were over-enthusiastic in their efforts to appear so. The shameless U-turn by John Swinney, forced upon him by the Greens, may have saved his job but it has further damaged his already tattered reputation.
How many times are we to hear, "We're sorry we got it wrong but we remain committed to etc, etc" before SNP supporters realise what the rest of us already know – that the SNP administration is incompetent?
I cannot imagine a senior manager in the private sector with a failure record like those of SNP ministers keeping their jobs.
Donald Lewis, Gifford, East Lothian
The present debate about maintaining educational standards misses one important point. It assumes that a one-off examination is a better way of gauging a candidate's ability and attainment than continuous assessment.
The one-off exam is a lottery. The selected questions may not bring out the best in a candidate and the candidate may be feeling off colour on judgment day, not to mention normal stress.
Assessing the candidate's work throughout the year is less likely to have these detrimental effects. What about ensuring that marking standards are comparable across the country? That could be achieved by central moderation of the teachers' assessments.
I do not advocate the entire removal of the final exam, but several years of work and a young person's whole future should not be determined by performance on a single day.
Henry L Philip, Grange Loan, Edinburgh
One of the current rules concerning coronavirus is that it is a requirement that people wear a face covering in shops. I am in a vulnerable age group and don't often go into shops; when I do, I put a mask on. I am appalled by the large number of fellow customers without any sign of a face covering; I don't believe they can all have been granted exemption from doing so. I put this down to arrogance rather than ignorance; such people can't be unaware of the rule, yet they persist in flouting it. Barbed remarks, such as "excuse me; aren't you forgetting something?" sometimes produce a reaction. Is there, I ask myself, a correlation between these people and those one hears of who go to house-parties without taking appropriate precautions.
Shoppers without masks may consider that the law doesn't apply to them; this makes me feel uncomfortable.
It would be good if shops displayed signs such as "In the interest of minimising the risk of spreading coronavirus, if you aren't wearing face covering, please don't come into this shop".
I quite understand, however, that shops are likely to be reluctant to do this because they might lose valued custom thereby.
John McCulloch, Tipperwell Way, Penicuik
Lesley Riddoch in her weekly anti-British diatribe continues in typical SNP supporting fashion to knock and criticise any and every aspect of anything and everyone to do with our UK governing party (Perspective, 17 August).
Rather than continue the monotonous blame-game, it really is time that she and her friends who are out to destroy the United Kingdom spend some time providing the case for Scotland becoming independent. We know, based on Nicola Sturgeon's astonishing statement in September 2016, that independence is more important than every other aspect of Scottish life; supporters are inflicted with the same immature and emotional belief with most totally incapable of arguing a plausible case for separation – we want our 'freedom' is the main argument I see – there is only a cry for independence, no substance behind it.
Independence first is not good enough for the majority of Scots, so Ms Riddoch, rather than your usual negative moan and groan, how about your realistic, credible, positive economic case for Scotland being cast adrift, especially as SNP MPs and MSPs simply fail to address this. It is not good enough for you to state that Scotland will just borrow, we need answers to currency, central bank, tax implications, proposed entry to the EU and Euro implications, effects on business, effects on public services, etc and how this will affect an independent Scotland for decades. In addition to chatting to Andrew Wilson and the outcome of his 2014 prospectus, you will, of course, have to liaise with those in the party with Marxist-leaning convictions.
Douglas Cowe, Alexander Avenue, Kingseat, Newmachar, Aberdeenshire
Writing this as we commemorate VJ Day, and all those who fought, died and survived to give us our freedom and liberty, is it not shameful that we give it all up like lambs to the slaughter as our governments take it away with continual daily fear-mongering, domination and imposition of sanctions against our very way of life?
The destruction of the economy, the appalling denial of basic human rights like being with dying loved ones... when will we say enough is enough, or will we be led to total subjugation and penury?
It is time this was stopped, sooner rather than later, as the longer we accept the withdrawal of our liberty, the greater the price the next generation will pay.
What would those who fought and died on the battle field make of our spineless response?
Let us make our own decisions in life, end this now.
David Millar, West High Street, Lauder
If this is not an own goal then I don't know what is! I refer to the leader of the Scottish Conservatives being missing from the VJ Commemorations and working as a linesman at a football match instead.
Is this the same person who resigned from the Westminster Government in a fit of pique because Dominic Cummings travelled during lockdown to his family home many miles away?
Douglas Ross has been put on the balance and found to be wanting. The best service he can give his party is to tender his resignation and allow someone more committed to take over.
Robert Finlay, Greenmount Drive, Burntisland
You reported the loss of half the A68 road at 'The Tunnel' south of Pathhead where a hole some 25meters deep has appeared (12 August). The rain that fell in a local band on Tuesday night was of tropical proportions.
This act of God gives the road department an excellent opportunity to straighten the road and build across the gully at an angle, avoiding the two corners between which the road has collapsed, thus making the road shorter and safer for motorists. It would also simplify the work of the snowploughs in the winter. Both of the adjacent landowners have indicated they are willing for some of their land to be used for this purpose. This improvement would be possible at the same or little extra cost to repairing the road in its current position.
Transport Scotland have proposed and have even acquired the land, to widen the A68 road from a two to a three-lane road (a recognised death trap style of road) south of Pathhead but just north of this road collapse and the improvement I have mentioned would be a far better use of our tax revenues.
Alastair Salvesen CBE, Whitburgh, Pathhead
The Scotsman welcomes letters for publication – 300 words maximum – from all sides of public debate. Include date and page when referring to an article, avoid 'Letters to the Editor' in e-mail subject line. No attachments. We reserve the right to edit letters. No correspondence will be entered into. Send submissions, with full address and phone number, to: [email protected]
A message from the Editor:
Thank you for reading this story on our website. While I have your attention, I also have an important request to make of you.
The dramatic events of 2020 are having a major impact on many of our advertisers – and consequently the revenue we receive. We are now more reliant than ever on you taking out a digital subscription to support our journalism.
By supporting us, we are able to support you in providing trusted, fact-checked content for this website.
Joy Yates, Editorial Director