Staycations unlikely to save Scottish tourism – Letters
A reader responds to a suggestion from columnist Stephen Jardine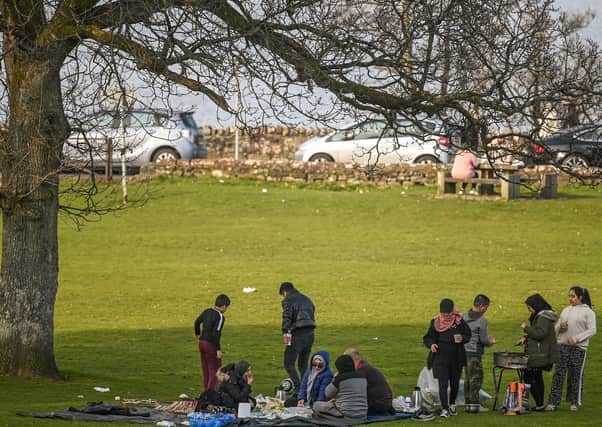 Stephen Jardine (Perspective, 2 May) suggests that "staycations" might be the way to support the tourism industry later this year.
I hope he's right but I don't see how that can be. The word staycation was not in common parlance when I was a child but in those days the concept of "holidaying at home" meant spending one's holidays literally staying at home. No going off to beautiful parts of the country and staying in hotels for several day, at most you might have the odd day out in the country.
Modern staycationers can be divided into two types. The first travel to self-catering accommodation, maybe their own holiday property. Some of them even bring their own accommodation with them in the form of camper vans or mobile homes. Typically such visitors bring much, if not all, of their food and drink with them, with travellers to the likes of Arran and Mull taking advantage of the cheaper mainland prices in the large supermarkets conveniently placed near the ferry terminals as they load up their cars prior to embarking. The amount they put into the local economy can, therefore, be limited. The other type avail themselves of local accommodation, from five-star hotels to simple bed and breakfast. This category mainly relies upon tearooms, pubs and restaurants for sustenance, with those travelling on two wheels or two legs rather than in a vehicle, by definition physically limited in what they can bring from home, disproportionately contributing to the local economy.
It seems to me, though, that until social distancing be relaxed, staycations are likely to be limited to those self-sufficient in comestibles, as it is unlikely that the various eateries and hostelries will be able to open. One simply cannot eat or drink while the lower half of one's face is covered. This means that tourists who are not self-sufficient food-wise would have to rely upon picnicking upon whatever one can buy at the local shops which, given the Scottish weather not to mention the midges, is likely to appeal only to the hardiest, such as retired commandos or members of the SAS.
I fear, therefore, that, with only those who spend least, likely to visit Scotland's tourist areas, any effect upon the local tourism economy this year is likely to be little more than a temporary pick-me-up rather than a significant boost.
A fact about Covid-19 which has emerged is that it is quite harmless in the open air. Surely this means that opening the windows in care homes, hospitals, schools and offices would reduce the aerosol effect of the virus in enclosed spaces. According to the WHO, "in health facilities where there is a high concentration of infectious patients, evidence shows that poorly ventilated buildings have higher risks of infectious disease transmission for patients, workers, and visitors". Opening windows should be part of government guidance.
The new normal has an eery similarity to the old normal if you go back far enough. The quiet roads are similar to those of my childhood when most of our games were played across the street. When I was young the habits of hugging and kissing which have been stopped by social distancing were not indulged in at all except in youthful passion.
Many of the businesses which we take for granted were few and far between. In our district there were no bars at all due to a Victorian prohibition. Those around the perimeter still had jug bars where ale could be bought on draught. We never ate out and coffee bars were future novelties of the Swinging Sixties. Thus many of the types of business we take for granted did not exist and there is no guarantee they will exist in the future.
As our society adjusts to the exigencies of a more green way of life, it will be interesting what else changes. All our local shops once had delivery boys, from grocers to butchers, chemists, dairies and newsagents. This is being counterparted due to the present crisis. Could supermarkets, which once did not exist disappear, to be replaced by depots served by hydrogen-fueled vans? Will off-licences, DIY shops, garden centres and fast-food shops which once did not appear on the high streets perhaps be replaced by home brewing, home crafts, seed merchants and home cooking?
Scotlandwell; Kinross-shire
Phil Tate doesn't acknowledge that the Scottish Government provided £176.5 million to local authorities to deal with Covid-19 long before the UK government provided any Barnet consequentials (Letters, 5 May). Finance Secretary Kate Forbes has been in constant dialogue with Cosla and over a fortnight ago requested an analysis of further costs. Once that is received, I am sure it will be considered in order to allocate further funding to local government proportionately based on the greatest need.
The Scottish Government cannot print money and run up massive debts like the UK.
Watson Crescent, Edinburgh
Kit Fraser finds himself deeply worried about the weekend poll results (Letters, 4 May). I think I can put his mind at rest.
The apparent dichotomy in the results simply shows that some of the public's eyes are still shut; they will be opened soon enough as the full force of the Johnson government's ineptitude and mendacity comes to light.
The present crisis and its aftermath in the future is not a competitive sport and if it were, it would be a marathon not a sprint. Sir Keir Starmer has been the leader of the Labour Party for just over a month, and Johnson has not had to face him directly in the public arena – understandably, since the Prime Minister is clearly still far from well. When the time comes, as it surely must, Starmer will not fall for the empty, cheerful bluster of sprinter Boris, but will show his mettle as a marathon man, well-prepared and realistic, not simply scoring debating points but pushing his plan for the good of the country. "A serious man for serious times…." Sir Keir Starmer is exactly that. Time will tell.
Dave Greenfield of The Stranglers, one of the most talented and influential musicians of our age, died as a result of catching Covid-19 in an NHS hospital where he'd gone for treatment for a heart condition. Like thousands of others these last months, he died because what ought to be safe, sterile environments are death traps – the fruits of decades of undermining and cutting corners in what was once Britain's pride in order to line the pockets of "entrepreneurs".
Capitalism's greatest advocate, Enoch Powell, warned back in the 1970s that an NHS part-privatised to line entrepreneurs' pockets was a disaster from conflicting priorities waiting to happen. As a pariah, it was too easy, too convenient to ignore his words – with deadly results.
If one lesson is to be learned from this nightmare, let it be that people's health cannot be enslaved to two masters.
A third of Scotland's universities and colleges could run out of cash by Christmas without a government bailout, Scottish ministers have been told. This is a direct of result of losing 25,000 foreign students because of travel restrictions caused by Covid-19. Labour MSP Daniel Johnson wants the Scottish Government to fund the £500 million black hole, having been quoted as saying: "This reliance on overseas income has been created as a matter of policy by the Scottish Government" and said it has an obligation.
Will he reduce his generous salary to help fund this gap which Scottish taxpayers will be forced to fill? On 23 January The Scotsman revealed the huge salaries of the principals of universities and the highest paid was Peter Mathieson, Principal of the University of Edinburgh, who earned £342,000. Last year only 15 of the top 42 highest paid chancellors and principals accepted salary cuts. Mr Mathieson has just announced that, due to the Covid-19 situation, he will take a 20 per cent pay cut for six months which, after tax would equate to only £18,000. Some would say "Too little too late" but it is an example that other university principles and MSPs should follow.
Springfield Road, Linlithgow
It's paradoxical that Brian Monteith (Perspective, 4 May) should begin his column with a reference to "grown-up conversation" before descending into the most childish innuendo possible.
I understand that these are difficult times for those with a hard-wired right wing agenda, with the public sector being quite rightly lauded for the amazing work they are doing and the clear public belief that the NHS and caring services can never be treated in the patronising way they have been in the past by successive governments. With that kicking stool off the agenda, it is sad to see him plummet to the depths of infantile innuendo with regards to sexual politics and individuals with whom he clearly has a personal axe to grind.
Mr Monteith may be seeing everything he disagrees with, particularly the state and the public sector, being praised daily, but surely there is something he can write about that is more relevant rather than using his column for personal vendettas. It's time he himself began behaving in a "grown-up" manner.
Christine Jardine MP is mistaken (Perspective, 4 May); the hole in the ozone layer over the Antarctic, although closing, is not expected to close until about 2050. The hole that has closed is that over the North Pole, which only opened up earlier this year.
The Scotsman welcomes letters for publication – 300 words maximum – from all sides of public debate. Include date and page when referring to an article, avoid 'Letters to the Editor in e-mail subject line. No attachments. We reserve the right to edit letters. Send submissions, with full address and phone number, to: [email protected]
A message from the Editor:
Thank you for reading this story on our website. While I have your attention, I also have an important request to make of you.
With the coronavirus lockdown having a major impact on many of our advertisers - and consequently the revenue we receive - we are more reliant than ever on you taking out a digital subscription.
Subscribe to scotsman.com and enjoy unlimited access to Scottish news and information online and on our app. With a digital subscription, you can read more than 5 articles, see fewer ads, enjoy faster load times, and get access to exclusive newsletters and content. Visit https://www.scotsman.com/subscriptions now to sign up.
Our journalism costs money and we rely on advertising, print and digital revenues to help to support them. By supporting us, we are able to support you in providing trusted, fact-checked content for this website.
Comments
 0 comments
Want to join the conversation? Please or to comment on this article.