Some kids will need extra help after Covid-19 – Letters
Remember children with underdeveloped language skills, says a reader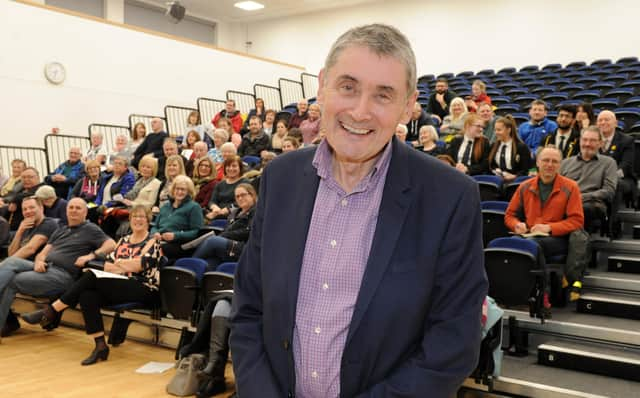 Thank you to Professor Harry Burns for giving voice to those who find it hard to express themselves in his article 'Coronavirus may have caused hidden psychological damage' (Scotsman, 16 July).
Tens of thousands of people experience daily communication barriers when accessing health, education, employment, justice and all the other services, opportunities and information that keeps others healthy and well. Communication disadvantages stem from disability, mental and physical illness, neurological conditions, under-developed speech, language and literacy skills related to home and family circumstances.
Unsurprisingly communities with disproportionately high levels of communication disadvantage also appear to have higher levels of coronavirus infection and mortality.
Recovery from acute illness, including coronavirus, often involves extensive support from speech and language therapists to enable people to speak, eat and drink again. And adults in recovery will often need this support for many months after leaving ICU.
Returning to school on 11 August will be exciting for many children and young people. However, the 60 per cent of children living in poverty with underdeveloped speech, language and communication skills will return to school with even more catching up to do than their peers – and their parents will need all the help they can get so they can support their children.
That is why the Royal College of Speech and Language Therapists (RCSLT) asks local authorities across Scotland to aim for a better recovery together with their local speech and language therapy teams. They can help plan and deliver speech, language and communication 'catch up' for the children most at risk of falling further behind and to develop parental information and support with communication reach to all parents. Together we really could change things for generations to come.
Kim Hartley Kean, Head of RCSLT Scotland Office, St Andrew Square, Edinburgh
"Sturgeon slams brakes on more lockdown exit measures" (your report, 23 July). Of course she does, anything else would mean having to give up her daily television show with no opposition to her repetitive ramblings.
Her latest saying is she is putting health before wealth, but won't open gyms or swimming pools. Tell that to people who have waited for months to be diagnosed or treated for cancer. As far as wealth is concerned, that's rich coming from someone who has retained all her wages during the lockdown and who has in excess of £100,000 a year going into her household, along with free board and lodgings.
I remember when she was health secretary she was invited to a well attended meeting in Glasgow by concerned relatives of people who had died or were dying of Clostridium Difficile in hospitals for the elderly and in care homes; like now she talked a good game but at the end of the day it all came down to 'lessons will be learned' – until the next time.
I attended the meeting in Glasgow and I lost a loved one to C.Diff. so you will understand if I won't be fawning over the first minister as I am totally unimpressed by hypocrites.
Margaret Wallace, Broomfield Avenue, Cumnock
Hopefully a vaccine to defeat Covid-19 is just around the corner, but with so much at stake drug companies have been known to put profit ahead of gain for patients and public. Our regulatory authorities and medical profession and politicians will need to be sharp-eyed, lest we see a future avoidable scandal, with patients harmed rather than helped.
The recent Inquiry Report by former Health Minister Baroness Cumberlege into failures over pelvic mesh implants, the drug Primodos, and the epilepsy drug sodium valproate may already seem yesterday's news, yet in separate ways it exposed the harm done to women and mothers and the adverse affects on the lives of their children.
Let's hope in the current scramble to find a coronavirus vaccine our regulatory authorities, medics and ministers ask the right questions and respond to facts. Producing a vaccine is in everyone's interest, but profit is often more persuasive as signs are already showing, not least in the US. The Cumberlege Report has exposed how regulatory authorities are often more docile than dogged.
Jim Craigen, Downie Grove, Edinburgh
I stick with my 'unscholarly' opinion (Mairianna Clyde, Letter, 23 July) that the EU has not covered itself in glory regarding the microbiological, epidemiological and scientific fight against Covid-19. It didn't set up its Covid-19 advisory panel until 16 March; SAGE, the UK advisory committee, had its first meeting about the virus on 23 January.
Whether an independent Scotland would have been more nimble is pure speculation; the Republic of Ireland, with a smaller population than Scotland, has had more cases (25,819 against 18,474), 1,754 deaths with many in care homes, infections in meat plants second in scale in Europe only to Germany, and still has virus circulating, with 17 new cases and one new death being reported as I write. Norway, which is not an EU member, has had an easier time with the virus. As for Scotland, returning travellers from Italy played a key role in starting the outbreak, both countries advised returnees to self isolate at about the same time; it is reasonable to speculate that significantly fewer Norwegians than Scots needed to travel to Italy to go skiing.
Hugh Pennington, Carlton Plece, Aberdeen
Bill Jamieson (Perspective, 23 July ) seems a bit pessimistic over the future of the Union, but fear not, all is not lost. Yes, polls for independence have topped 50 per cent, but those with their ear to the ground understand the volatility of politics – what goes up, comes down again. Some of this support is soft and can be reduced with some decent campaigning (sadly lacking on the Unionist side ).
Other factors come into play as well; Sir Keir Starmer at the helm can boost Labour's lamentable performance in Scotland, and we now have a split in the nationalist ranks. If this festers ( and they are passionate people), it can debilitate them. Chin up!
William Ballantine, Dean Road, Bo'ness, West Lothian
I agree with Bill Jamieson's suggestion that Unionists – of whom I am one – are utterly weary at the mere thought of another independence referendum. The SNP's foot-soldiers seem unmoved by arguments that their current standard of living will be seriously undermined by the economic consequences of independence, in the short term at any rate.
May I modify an old joke which seems to me to apply equally to this situation? When/if independence is achieved, and the widely forecast austerity begins to kick in, then these foot-soldiers will come running to Holyrood and wailing, "Oh, Nicola, Nicola! We didna ken! We didna ken!" Then Nicola, with the steely gleam of achievement in her eye, will reply, "Ah weel, ye ken noo!"
And then Scotland, out of the Union and out of the EU, will be like the Ancient Mariner, "Alone, alone, all all alone, alone on a wide wide sea" with the albatross of independence around our necks.
I profoundly hope it doesn't happen like that, but it will if the Unionist parties, in particular the UK government, don't get their act together, the sooner the better.
Andrew Broom, Traquair Park West. Edinburgh
If I heard her aright, Nicola Sturgeon is urging us (she might even be including the English) to staycation in Scotland, rather than fly off to the sun. However, she perhaps has not noticed that she is not in charge of the isle of Eigg. Those protecting that sceptred isle have decreed that easing up to lessen the pain for their B&B owners is not for them – visitors will not be welcomed until the end of August. This is effectively UDI and restraint of trade, business owners might argue. I Googled Airbnb for the island, and three leading properties popped up, at £68, £75 and £85 per night respectively. Meanwhile, the powers that be on the isle of Muck, as Alison Campsie reports (22 July) are falling over themselves to welcome tourists. I am not at all sure how far the writ of the Eigg committee runs. Do they have a militia to deter landings? Could they seek relief funding from the Russians or Chinese?
Crawford Mackie, Keith Row, Edinburgh
Boris Johnson told us earlier this year that we would have a trade deal with the European Union by the end of July, but now it appears that we will be forced to leave the EU without any deal. Fishing rights and presumably that old chestnut the Northern Ireland border will prevent any deal being agreed which is not beneficial to the EU.
We still have the £39 billion alimony money to use as leverage in our negotiations, and our fishing rights are ours, not the rights of the EU.
Our negotiators should stress that we want a trade deal with the EU or we walk away with all the money.
James Macintyre, Clarendon Road, Linlithgow
You claim comet Neowise was seen 'passing over' various landmarks (your report, 21 July). You also refer to the comet "travelling over the Forth Bridge as well as Windsor Castle"! Surely you know that astronomical objects, being at such a huge distance from us, cannot be said to be 'over' or 'passing' any spot on the Earth's surface, anymore that the Star of Bethlehem, if it existed, could be said to 'stand' over a stable. Nor do comets have 'starry trails'; the trails consist of dust or cometary debris. Note also that comets, although travelling very fast, seem practically stationary in the sky. I am astonished at the astronomical ignorance you display.
Steuart Campbell, Dovecot Loan, Edinburgh
The Scotsman welcomes letters for publication – 300 words maximum – from all sides of public debate. Include date and page when referring to an article, avoid 'Letters to the Editor' in e-mail subject line. No attachments. We reserve the right to edit letters. No correspondence will be entered into. Send submissions, with full address and phone number, to: [email protected]
A message from the Editor:
Thank you for reading this story on our website. While I have your attention, I also have an important request to make of you.
The dramatic events of 2020 are having a major impact on many of our advertisers – and consequently the revenue we receive. We are now more reliant than ever on you taking out a digital subscription to support our journalism.
By supporting us, we are able to support you in providing trusted, fact-checked content for this website.
Joy Yates, Editorial Director
Comments
 0 comments
Want to join the conversation? Please or to comment on this article.