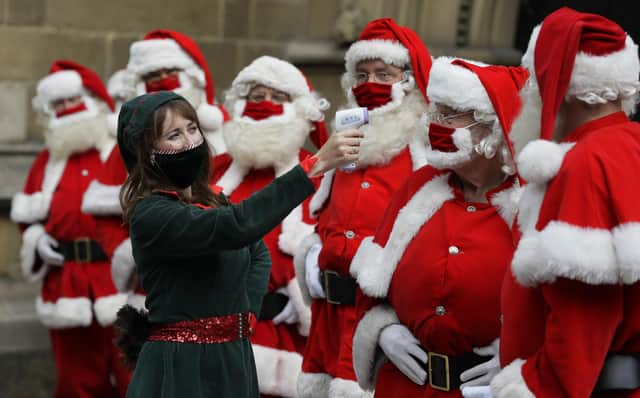 Santas have their temperature taken as they attend a socially distanced Santa school training at Southwark Cathedral in London
To those who do not know what this means, ""We are not going to be in large groupings with multiple families coming round – that is fiction for this year," he says. Well, good luck with that, Prof!
I don't think that most of us in this day and age have "multiple families coming around", but most of us will be visiting our nearest and dearest and, being sensible people, we will observe normal Scottish social distancing.
This may not suit some of our more exuberant young people who like to grapple with each other at first sight. However, for old crusties like me, a handshake was the most intimate gesture, so a wave and a smile will be quite sufficient on December 25, thank you very much.
I think that Christmas will still be a time for togetherness. We will simply exercise the caution for which Scots have always been noted.
Jedburgh Gardens, Glasgow
Amateur historian Alex Orr reminds us of the very substantial Scottish contribution to the Royal Navy's victory over the naval forces of the tyrant Napoleon Bonaparte at Trafalgar (Letters, October 21).
Scots have made a similarly impressive contribution to all the other great British achievements including: the industrial revolution, the scientific revolution, the suppression of the slave trade and victories over tyranny in two world wars among others.
The lesson most people take from all this is that we Scots, English, Welsh and Northern Irish can together achieve so much.
Ansonhill, Crossgates, Fife
Thank goodness Scottish schoolchildren are not dependant on Scottish Conservative MPs to put hot food on the table.
I say this in spite of the new Scottish Conservative Leader Douglas Ross MP campaigning for free school meals for all schoolchildren, and I say this as a result of a vote in the House of Commons on Wednesday night, which incidentally Mr Ross did not take part in.
This vote was to give schoolchildren in England the same access to free school meals during holiday times as schoolchildren in Scotland already receive as a result of the Scottish Government making £10m of funding available to cover free school meals up to and including Easter 2021.
So why did five of the six Scottish Conservative MPs (one being the current Secretary of State for Scotland) vote to deny free school meals to poor families in England during school holidays –are they not listening to their party leader in Scotland? The strain on family incomes is approaching breaking point and the global pandemic looks like being with us all for some time to come, so why did those Scottish Conservative MP's not see it fit for the same provision to be provided to English schoolchildren? Their action beggars belief and is nothing short of shameful.
Hawthorn Drive, Banknock, Falkirk
If you're medically in need of an expectorant, don't trouble the hard-pressed NHS – just read any of the reasons given by 322 Tory MPs for voting against free school meals for needy children.
Aithernie Court, Leven, Fife
Dave Anderson (Letters, October 23) says Scotland is breaking the Union apart when it's Johnson, Gove and Cummings who are breaking a Union that no longer works for the devolved nations.
Boris and Co are using the Brexit fiasco to ram the Internal Market Bill down the throats of Scotland, Wales and Northern Ireland, a bill that destroys the devolution settlement and returns all devolved powers to a Westminster dominated by 533 English MPs.
The media has so far focused on the international law-breaking aspect of this bill but have ignored the profoundly negative implications for Scotland's food quality, environment, teaching standards, law, the NHS, and even our water. An unelected quango will be free to over-rule the Scottish Parliament and could force fracking on Scotland and even take Scotland to court to give foreign companies access to our NHS.
London won't come close to replacing the £2.1bn Scotland receives annually from the EU structural fund with its paltry shared prosperity fund where the spending will be determined by Westminster along with a Union flag tacked on whether we like it or not. Condemnation of this naked power grab has come from the NFU, TUC, STUC and the House of Lords.
When Scottish independence is restored, Scotland can make its own decisions and not be ruled by a distant government that treats its people with contempt.
Merchiston Crescent, Edinburgh
Probably like many of your readers who contribute to Poppy Scotland annually, I am concerned that both the article in Scotsman (October 23) and an interview on BBC Scotland drew attention to the problems being faced for street-to-street collections due the Coronavirus restrictions.
Whilst it is commendable that the larger supermarkets have made arrangements for poppies to be distributed, I was surprised that my local newsagent had not been offered a collection box and poppies this year.
I am sure that they and many other small outlets would be delighted to assist and I wonder why this 'point of sale' facility has not been pursued by the RBL.
Buckstone Wood, Edinburgh
Credit Suisse's influential report on household wealth shows that Covid-19 and Brexit created a "perfect storm" in the UK. It has been the worst hit of all the world's major economies. Younger workers, those from minorities and women (who disproportionally work in hospitality and retail) took the brunt of the devastation.
Unlike other equity markets, British shares failed to stage a meaningful recovery from the sharp decline they suffered in the spring when the FTSE 100 fell from above 7,500 to less than 5,000. Brexit fears impacted our GDP and caused an exchange rate devaluation with sterling down around seven per cent against the US dollar.
The prospects for Scotland which now faces the added uncertainty of being hived off from England are incredibly bleak. Launching a new currency will be a nightmare while the SNP's fiscal incompetence and its belief in a high tax-high spend economy will speed the departure of its remaining upper rate taxpayers.
There is now an unanswerable case for all non-nationalist parties in Scotland to collaborate. If they did so, temporarily, it would severely dent the pro-UK break-up side momentum at the next elections, both in Holyrood and Westminster. It is unpalatable for many, I know, but circumstances have forced this upon those of us who love our country.
It need only be a one-off agreement. The parties involved could with the minimum of good will I am sure work out a strategy for individual seats. Voters should be aware it is not a permanent arrangement. Breaking up the UK would be permanent, this would not. In fact, the ''arrangement'' between the SNP and the Greens is in fact a much stronger collaboration.
Never forget: if this SNP genie of division and separation is released from its bottle, it will be impossible to return.
We all rely on the NHS to be there for us when we need it. However two recent texts from our local medical practice hardly inspire confidence.
The first was sent on the evening of 14 October telling us that "the Drive Thru Flu clinic tomorrow 3rd October is cancelled". The second sent out early today tells us "that due to increased demand we cap at noon for routine issues and anything after this is for urgent issues only, but depending on capacity and demand this cap time might be earlier". Is this an acceptable level of service? Are they meeting their key performance indicators?
Albert Terrace, Edinburgh
This is the time of year when Edinburgh's fine buildings should be looking their best, enhanced by the wonderful colours of Autumn foliage. In general the parks department diesa good job, keeping on top of the litter problem and planting some fine trees.
Sadly however, it is not so easy to praise the city planners. Main roads to the north of the city seem increasingly cluttered with huge billboards, distracting from good driving.
One wall, underneath a block of flats, hosts 25 large posters and many green roundabouts have fine trees, hidden by invitations to advertise. Who profits from these ads? Is it coincidence that the worst offenders seem to be in Leith and Pilton rather than in Cramond and Morningside?.
I am completely gobsmacked that the SNP say that they cannot help Bifab by guaranteeing their bid to build jackets for wind turbines to be installed off Fife.
If Nicola Sturgeon's government can buy a white elephant like Prestwick and lose millions thereby, why can't they use their imagination to help out not one, but three Bifab yards and get some manufacturing restored in Scotland?
Clearly, when it comes to being "Stronger for Scotland", only Westminster is up to it and Holyrood is a busted flush.
Craiglea Drive, Edinburgh