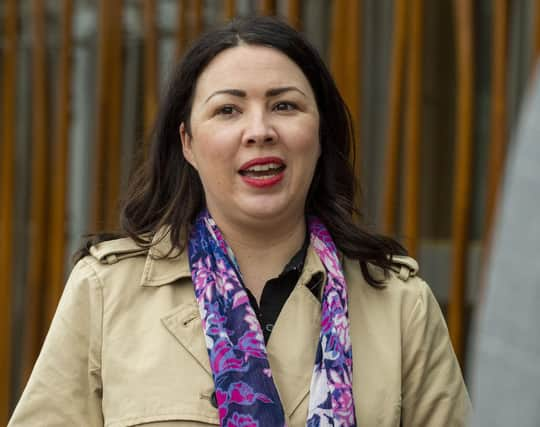 The news of Messrs Sarwar and Lennon as the heir apparent is further and deeply disappointing news for Labour voters in Scotland who surely deserve better. For any serious political observers it is painfully obvious neither possess the attributes, experience or remotely the presence to win back a fraction of the voters looking for a new political home.
No sooner have the party removed Richard Leonard, a decent man but nonetheless someone who made zero impact in politics here, that we find ourselves staring down the barrel of another leadership battle that will ultimately lead to oblivion in political terms.
In terms of Indyref2, this can only be described as a penalty kick for the SNP with the goalkeeper facing in the opposite direction.
Despite the presiding government being in freefall by all sensible measurements, they are still on a home run due to the dismal standard of opposition here in Scotland.
Keir Starmer and his Westminster cohorts will, quite rightly, share the burden of blame and, make no mistake, he is complicit in any decisions of this nature in the wider UK party. As things play out we will witness the unedifying spectacle of a new Labour leader going nowhere fast in Holyrood.
You couldn't make it up … unless of course you are the Scottish Labour Party.
Lord McConnell (Scotsman, 16 January, like other figures from Labour's past, fails to understand why Scottish voters are drifting away.
Scots understand the limited powers of devolution and see through vague pledges to do something from Holyrood about society, the economy and welfare when Draconian, right-wing changes are steam-rollering down the track from Westminster. They know that Labour can only make serious changes if it wins the UK.
But to win back Scottish votes, UK Labour would need a platform to a) rejoin the EU; b)introduce federalism; and c) abolish the House of Lords and tackle all the other vested interests which it represents. This won't happen, so Labour voters turn to independence.
However, a new generation of Scottish Labour politicians could escape the long, gloomy shadows of McConnell, Brown, Foulkes, Wilson, et al. They could seize the opportunity to work with the SNP and Greens and give an independent Scotland long-term leadership from the left, capable of deep change, forging a new relationship with the EU and escaping from the increasingly extreme right-wing English establishment.
It's that, or be left behind.
In decades of following Scottish politics, I do not think I have ever seen brass neck to match that of the SNP complaining to the BBC, officially, about not getting their share of screen time (Scotsman, 19 January).
I would propose, seriously, that not another country or region on planet Earth has given a political leader the time and free exposure that BBC Scotland has given Scotland's First Minister in the past year.
Their exposure has without question helped maintain the SNP in the polls. And now they want more. You could not make it up.
Few north of Watford have much confidence in the UK being "governed" by the Conservatives and other mainstream political parties.
I, like many, find it difficult to think of who to vote for in a forthcoming Scottish election.
Despite the well reported, indisputable, failings of aspects of the SNP government they may well be the best option. They are likely to get more votes, not for them per se, but because the opposition parties are seen to be even less favourable.
Abstention seems to be the only other alternative.
Such a situation may be a mandate to govern Scotland, but is not a de facto call for independence.
Week after week Dr Richard Dixon of Friends of the Earth Scotland keeps telling readers what they should do as well as other countries to cut emissions.
This week he welcomes America back into the fold of nations who are signatures to the UN Intergovernmental Panel on Climate Change (Scotsman, 19 January) but never mentions China, which promises a lot but does nothing.
No legally-binding Climate Change Act for them. China promised that its emissions would peak about 2030 and to slash its carbon footprint to zero by 2060. However China burns about half the coal used globally and is building hundreds of new coal-fired electricity plants.
Edward Cunningham, a specialist on China, at Harvard University, revealed that China is financing and building or planning more than 300 new coal plants worldwide including Turkey, Vietnam, Indonesia, Bangladesh, Egypt and the Philippines. China is responsible for 30 per cent of global emissions so the multi-billions countries are spending on preventing climate change is worthless since without China reducing its emissions the target of keeping temperatures to a maximum of 2C above pre-industrial levels will be impossible.
China should not be welcomed to COP26 in Glasgow.
Springfield Road, Linlithgow
Watching TV the other week I watched Lawrence Shankland of Dundee United scoring a cracking goal from just inside the opposition's half.
58 years ago I remember my husband while playing for Motherwell scoring a similar goal. It was recorded in the sports section of the local Motherwell paper with the headline "Injured Wallace scores a goal in a million".
At a time like this it is a godsend having happy memories to look back on.
Broomfield Avenue, Cumnock
As elderly Scots are aware, the Scottish Government rollout of coronavirus vaccine is a shambles.
Nicola Sturgeon is trying to recruit British army support to establish mass vaccination centres now it's become common knowledge that England has 17 such centres and Scotland only one.
It's been clear for some time that England's rate of vaccination is "twice as fast" as that of Scotland. Questioned by the media over this poor performance, the First Minister was provoked into making the wholly credulous claim that the army will build her 80 new centres by mid-February.
Even if that were remotely possible, these will be handed over to NHS Scotland and the real problems will start. Few will actually open. Like the Louisa Jordan testing clinic they'll be used as "car breaker" yards with any useful bit of kit stripped out and sent to GP surgeries or hospitals.
I see evangelical Christians are joining in the condemnation of Twitter for suspending Donald Trump's account and supposedly taking away his freedom of expression.
Christians down the centuries have shut down opposition to their faith through censorship of all kinds and blasphemy laws reinforced by fines, imprisonment and capital punishment. The blasphemy law remains extant in Scotland.
The irony must be lost on them.
Lawmuirview, Methven, Perth
Guilty by the sin of omission. Guilty of having no moral conscience. That's my response to the debate in the House of Commons seeking to have the temporary uplift to Universal Credit (£20 per week) made permanent (Scotsman, 19 January).
This debate in the House of Commons should not have been necessary, but then we do have a Conservative Government who have been taken to the wire before regarding support for families.
It took massive pressure from opposition parties before the Chancellor extended the furlough scheme, it took a national campaign from within and outwith the House of Commons to secure free school meals in the midst of a global pandemic. Now we have the Government being confronted in the House over Universal Credit.
Where is the Westminster government's conscience? We heard Conservative MP after MP declare this motion was all about political point scoring – no mention from those MPs that to withdraw this £20 per week will plunge many children and families into poverty. Not a single Conservative MP voted for their constituents' wellbeing, many of whom are struggling and on universal credit for the first time in their lives. Conservative MPs sat on their benches as instructed oblivious and heartless, demonstrating no empathy for their constituents.
Hawthorn Drive, Banknock, Falkirk
If the EU survives (a big if) an independent Scotland will be welcome as Fraser Grant writes (Letters, 19 January) as long as the EU can plunder our fish; that and cock a snook at England.