Scotsman Letters: Short-term lets legislation is not about 'safety'
In a recent interview on short-term lets, housing minister Paul McLennan asserts that his government's short-term lets legislation is about 'safety and not increasing home availability'. It is good to have the clarity, which the tourism sector has been seeking, on what this draconian legislation aims to achieve, but with this come more questions than answers.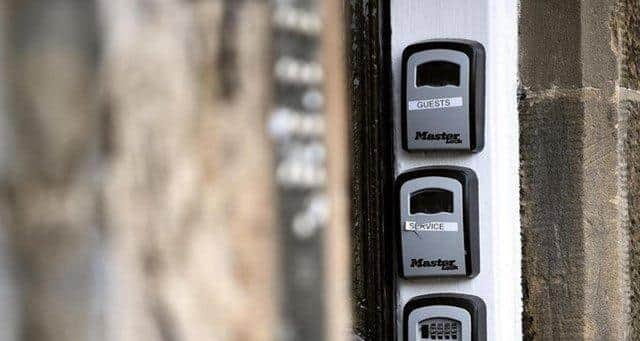 His claim that the legislation is about safety doesn't add up and it isn't reflective of countless public statements the minister has made about the issue, nor does it align to the decision to allow councils to implement control zones.
There are no new standards being required for our sector. Health and safety is already legislated for and all responsible hosts already comply with the standards. So why has the additional red tape has been brought in? Why not implement a registration system – like the schemes proposed by the EU, in Wales and England?
The more effective and cost-efficient registration approach wasn't taken up because it wouldn't have given councils the power to manage numbers down. It is simply misleading to say the licensing is about safety.
The minister also claimed that the costs equate to around £5 a week for operators. This just isn't true in many councils, and at best the figures are misleading as they don't account for the associated costs required to obtain a licence. In Edinburgh, the non-refundable cost of applying for a licence alone can be £5,869. Given each local authority has implemented its own set of rules, the costs operators face – and often their ability to stay in business – has become a postcode lottery.
I met with the minister last Wednesday and he did concede that businesses will close and that the livelihoods of those who depend on those businesses will be lost. Health and safety is just a cover story that was used to pass this legislation.
Fiona Campbell, CEO, Association of Scotland's Self Caterers, Mansefield House, Arrochar
On 'Sunday With Laura Kuenssberg' last week, Victoria Derbyshire put the question to a visibly startled Grant Schapps: "Will we continue to support Ukraine if the USA pulls the plug?"
It was a pertinent question. Wars end either because one side wins or because the sides open negotiations. The Vietnam War and French War in Algeria ended as public sympathy waned. Watch our national news any evening and see where Ukraine features; usually long after HS2, Channel migrants, the daily mass American shooting and the Lionesses, if at all.
The European aid, while generous, is a drop in the ocean compared to the US. Poland has given huge aid but their general election is concentrating minds with the grain exports row. Opposition grows in Austria, Hungary, Cyprus, Greece and Bulgaria. Nato support is no longer unwavering.
President Putin will be well aware of all this, but even more so of the impact if the US Republicans do win the presidential election. The Republicans say Russia would be allowed to retain Donetsk and Luhansk in return for giving up the alliance with China.
150,000 Ukrainian troops are dead, a mere 50 sq miles of land retaken, the summer offensive has failed. Russia, with oil exports flowing, and the people cushioned from serious economic pain, may simply bide their time.until President Zelensky needs to talk.
John V Lloyd, Inverkeithing
I read your editorial on September 30 with not a little disappointment because of your reference to Brexit as "empty identity politics".
I voted Brexit in response to the EU Commission's and the ECRU's responses to calls for the Spanish government to face sanctions for violent attacks on voters participating in the Catalan independence referendum.
As recently as 2021, and despite television coverage of the Spanish police beating people, young and old, tearing up ballot papers and destroying ballot boxes, the ECRU stated that "They see no evidence of human rights violations in the police operation to stop the unauthorised vote" on the grounds that "this is an internal matter for Spain".
Amnesty International, Human Rights and even the UN called upon the Spanish authorities to respect the Catalan people's rights to freedom of expression, assembly and participation, but the EU Commission did not alter its position.
I decided that I did not want to be part of a union of 27 states which did not intervene against one of their members whose disregard for democracy and human rights was so blatant. Then, as now, I do not regard this decision as "empty identity politics".
I was appalled to read of the re-removal of funding from Creative Scotland in The Scotsman on Friday.
Your lead article was so pertinent – the money thrown at the two ferries is unlikely to save jobs, as I cannot imagine anyone daring to commission more ships on the Clyde, and yet a fraction of this would enable Creative Scotland to support and secure jobs in the arts sector.
Similarly, the first tram contract overspend and the £13m spent on the subsequent report by Lord Hardie is money lost that could have been so much better spent. We need a thriving arts sector to enable talent to develop. It is not a luxury.
It does seem as though Creative Scotland are being treated as a very soft target. So unfair.
I have recently returned to Aberdeenshire after a visit to Edinburgh and I could not believe the state of our capital.
The streets of the New Town are covered with weeds and nature is beginning to take over. I'm all for green spaces in cities, but Edinburgh has plenty without letting the streets turn green.
Don't the good people of Edinburgh pay enough council tax to have someone spray the gutters occasionally with weedkiller?
We welcome your thoughts – NO letters submitted elsewhere, please. Write to [email protected] including name, address and phone number – we won't print full details. Keep letters under 300 words, with no attachments, and avoid 'Letters to the Editor/Readers' Letters' or similar in your subject line – be specific. If referring to an article, include date, page number and heading.
Comments
 0 comments
Want to join the conversation? Please or to comment on this article.