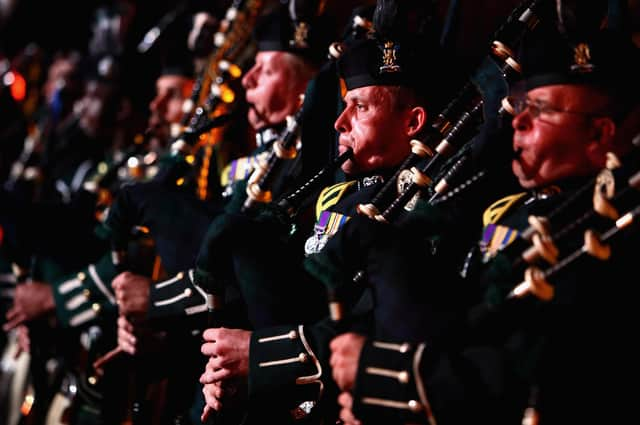 My grandmother was a McKenzie and I grew up romanticising the Scottish dream. As a pre-teenager I had my walls decorated with tartans, flags and old battle prints; a 12-point stag draped with the Black watch tartan, and posters of Scots "Kith and Kin" – I knew all the clans and the researched the history of each, and even bought a chanter and pipes.
I read, absorbed and revelled in all the famous Scots regiments and the overwhelming contribution they made to the British Empire. I read every book I could find from Isabel Cameron's Folk of the Glen and John Macnab to Scottish Chiefs. I knew every battle of the Stuarts – the massacres and the triumphs – and the Scots Greys at Waterloo. I followed Davie in Kidnapped and relived Sir Colin Campbell's experience at the relief of Lucknow.
In short, having never set foot in Scotland, as a young boy I identified wholly with my Scots ancestry, as do millions of Scottish expatriates throughout the world – Scottish surnames are found in every corner of the Commonwealth. In my 20s I visited Scotland and rejoiced in the Queen at Balmoral, the pipers on the castles and the lochs, crofts and ruined keeps of my ancestors
So why oh why are so many people in Scotland intent on wrenching this away from us? Why, after so many hundreds of years, are you intent on reducing this glorious nation, this fabled land to a gloomy corner of the British nation – reducing it to penury and third world status. You are wrecking the dreams of millions of Scottish kith and kin (who have no vote), who look on in abject sorrow and horror as the tragedy unfolds.
Martial Daire, Brackley, Northamptonshire
In welcoming the support of palliative care in some of the political manifestos, I am unsure of the commitment of the prospective candidates in their views of assisted dying. My own present MSP responded to me fully but was unsure how he would vote as it depended on the safeguards in place.
I have many reasons to oppose assisted dying – ethical, moral, personal faith and years of experience in working with terminally ill patients and their families. I come from a professional lifetime of nursing, midwifery (death of babies), health visiting and counselling, including bereavement counselling in a GP surgery setting.
Now retired, I reflect on more than 60 years of experience in all these settings and my support for palliative care has not wavered and has helped patients to achieve a "good death". My aim was always to support quality assisted living while it lasted, not to assist them to die. I recognise that much more needs to be done to fund and support this vital service, but what we do not need is a change of legislation.
Along with the other important questions to ask prospective parliamentary candidates, I encourage voters to ask them where they stand on their own voting intentions in the Scottish Parliament should yet another Bill be brought forward to legislate for assisted dying – the two previous ones failed in the last few years.
It matters to us all as the decision will directly affect ourselves, our loved ones and the integrity of society.
Teapot Lane, Inverkeilor, Angus
Douglas Ross tells us that the Prime Minister is not coming to Scotland because of the pandemic. Yet, daily, we see Boris Johnston campaigning in England, usually in a yellow jacket. What's the difference?
St Thomas Road, Edinburgh
The SNP's attempt to drag Scotland out of the UK will have disastrous consequences for the people of Scotland.
As a business owner in Scotland, I am disgusted with the lack of transparency and the refusal (or inability) by the Scottish government to provide any financial forecasts, or any evidence of economic benefits of an independent Scotland.
It is worth remembering the manifesto of the SNP before the referendum in 2014, which provided a financial forecast which turned out to be pure fantasy. It was largely based on over-optimistic oil revenue tax receipts. The global oil industry crashed soon after and had we been an independent nation, Scotland would have been bankrupted on a third world scale.
Imagine if we had been an independent nation with Covid-19 to deal with.
The people of Scotland deserve a First Minister who is prepared to fulfil their responsibility to care for the people, instead of pouring all resources into the obsession for independence. Our hospitals, law and order and education are continuing to decline despite being managed by the devolved SNP administration. Nicola Sturgeon and her narrow-minded government are an embarrassment to Scotland, holding up our progress as a thriving nation within the United Kingdom.
Crosshouse Road, Kilmaurs, Kilmarnock
There was a slightly odd take on the constitutional issue from your contributors Jake Harvey and Phil Alexander (Letters, 27 April). Their frustration and anger was palpable as they referred to Nicola Sturgeon and her party's "selfish intent for independence" and that they "keep on hammering for Indy". Maybe a rehearsal of the facts would help.
The Scottish National Party is a political party whose core objective is to achieve independence for Scotland. Prior to the dissolution of the parliament, they were the party of government. They were the party of government because they won the largest number of seats (63) from the votes of the members of the public who turned out to vote in the 2016 election.
They were supported in their key aim by the Scottish Greens, who had six MSPs, meaning a majority of the 129 MSPs supported independence.
Messrs Harvey and Alexander have expressed opinions on the performance of the government to which they are entitled, but hitherto have not been shared by the majority of voters.
A case in point is Mr Harvey's opinion of education. He quotes figures of declining standards taken from the Pisa study which he says are an embarrassment to the people of Scotland. However, the people and a great many teachers are entitled to the view that a study involving 1,500 pupils from one cohort year which amounts to 0.5 per cent of the total senior school population, is not representative of the state of Scottish education in the round.
Why is is it that companies with solid, trustworthy and very recognisable brand names feel the need to "reinvent" or "modernise" that brand, as demonstrated by Standard Life Aberdeen now with the new name of "abrdn" (Scotsman, April 27)?
I have no doubt that the agency managing this rebrand will have been paid a large amount of money for five letters – how "xtrdnry"!
The SNP has been in government at Holyrood for the last 14 years and in that time it has made mistakes. Nothing strange about this, no government in the world is perfect. The question in an election is whether the existing government should be replaced and by whom. Will they do better?
To answer this question we need to know the aims and policies of those who wish to replace it. And it is here where the electorate has difficulty.
The Scottish Conservative Party is the main opposition to the SNP. Yet the vast bulk of its promotional activity is concentrating on asking voters, including those normally supporting other parties, to vote Conservative to prevent another independence referendum. A question that has often been asked of it, but never answered, is why this support is necessary when the UK Conservative government has said repeatedly that it would never allow such a referendum anyway.
When they do mention, almost as a footnote, other policies these consist of spending more money on broadband, the NHS, grants, supply of teachers and the police. At the same time they say they will reduce taxation, an optimistic conjuring trick.
Labour and the Lib Dems similarly produce menus without prices. Until opposition parties produce significant evidence that they could run Scotland better, other than just complaining, there is no convincing reason to vote for them; they are doomed to remain opposition parties after 6 May.
Nicola Sturgeon was reported (Scotsman, 27 April) as asserting that an independent Scotland would be able to "manage deficits, through a combination of careful spending decisions and borrowing".
"Careful spending decisions" is a political euphemism for public spending cuts and austerity.
"Borrowing" requires a stable currency and a central bank with significant foreign currency or sterling reserves. To achieve those, in an independent Scotland, tax increases, cuts to services and import controls would be needed.
Her glib dismissal of the economic consequences of leaving the UK is a constant feature of this election.
A Scotsman has become the youngest ever winner of the Mastermind TV programme.
I'm only half joking in saying that someone in the SNP will claim this as proof that Scotland can go it alone!
We welcome your thoughts. Write to [email protected] including name, address and phone number. Keep letters under 300 words, with no attachments, and avoid Letters to the Editor in your subject line.
A message from the Editor
Thank you for reading this article. We're more reliant on your support than ever as the shift in consumer habits brought about by coronavirus impacts our advertisers.
If you haven't already, please consider supporting our trusted, fact-checked journalism by taking out a digital subscription.