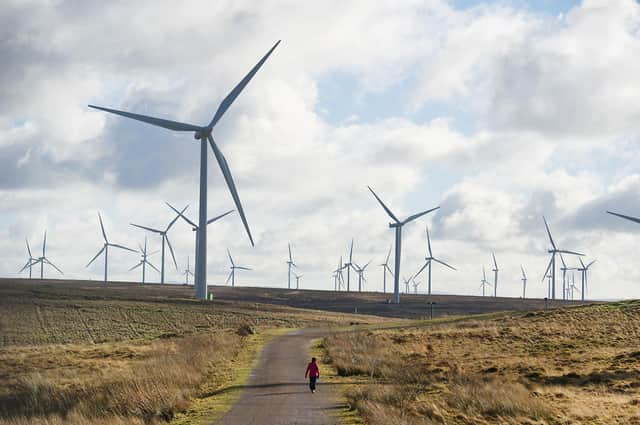 Wind farms are frequently opposed by their neighbours
Insensitively sited wind farms are objected to in droves by local people and councils as well as statutory consultees such as RSPB and NatureScot but the Scottish Government ploughs ahead, overturning these democratically made decisions, and there is no right of appeal other than through Judicial Review which is financially dangerous and out of reach of the average person.
The lure of Community Benefit is a sop mopped up by distant communities which are not affected by the development while the opinions of people living in the shadow of the turbines are ignored.
No wind farm should be built unless it stands the test of local democratic support.
Scotland Against Spin, Westermost, Ceres, Fife
The news that the European Parliament has voted to lift the diplomatic immunity of Catalan MEPs Carles Puigdemont, Toni Comin and Clara Ponsati, thus opening the door to the extradition of two of them from Belgium to Spain (Scotsman, 10 March), presents a dilemma for Scottish nationalists.
On the one hand, nationalists would have us believe that the EU is wonderful and being outside it is the worst thing to happen to Scots since at least 1707, possibly longer. On the other hand, nationalists like to champion selective small countries, putative countries and separatists/revanchist parties.
The dilemma is made worse because should the Prime Minister refuse a second referendum then one wing of the SNP would want to follow the Catalan route of a guerrilla referendum. It is precisely because they were involved in such a referendum and the attempted secession that the Spanish government wishes to extradite the three.
Most likely nationalist activists will continue pushing their simple narrative – EU good, UK bad – and ignore as they always do all inconvenient evidence to the contrary.
Ansonhill, Crossgates, Fife
William Loneskie (Letters, 11 March) points out that "living standards have much improved under the union and will continue to do so". While his confidence in predicting the future is gratifying, he should be careful about drawing conclusions from the association of one phenomenon with another: the Union and the rise in living standards. Ireland left the Union during the inter-war period and its living standards also improved.
Like Mr Loneskie, I was born soon after the Second World War and remember cold houses with no telephone, fridge or TV and coal fires that needed to be lit.
I also remember a statistics class in the late-60s when we were warned about assuming a causal connection when there is a statistical correlation.
We were asked to calculate the correlation coefficient of two sets of data: the sale of washing machines in the UK between 1920 and 1960 and the crime rate for the same period. The correlation was extremely high, including a decline in both sets of figures during the period 1939-45.
I cannot remember any social scientist suggesting we stop selling washing machines in order to solve the crime rate or any washing machine manufacturer encouraging crime in order to increase sales.
Duddingston Square West, Edinburgh
In 1951 we had electricity for the first time and my parents bought a refridgerator. It was a Morphy Richards absorption type and is still working, with no repairs done. Made in Dundee, I believe.
Much enjoyed reading William Loneskie's reminiscences on post-war living standards.
My winter duvet was my dad's old Home Guard greatcoat, and the only supplementary heating to the coal fire was a paraffin heater that stank to high heaven, which was surely where we would have ended up had it been knocked over.
Unlike William we did enjoy the luxury of an indoor toilet and we also had a bathroom, so it was a shock on arriving to stay for a spell with my aunt in South Shields to find that the toilet was in the backyard, and bath time was a tin tub in front of the parlour fire. That toilet outbuilding has since been converted to storage in many a backyard.
The 21in telly certainly dwarfed the one we had, and my wee sister used to kindly stand on a stool in the corner holding the aerial aloft so I could watch The Lone Ranger.
It's disappointing that your editorial (11 March) cites the discredited LSE study that concluded Scottish independence would cost two-three times more than Brexit, itself an admission that Brexit is an economic own goal.
The "study", written by two PhD students funded by the pro-market Centre for Economic Performance, has been debunked by economists, who are not students, for several fundamental failings. First, the students fabricate data because Scotland doesn't collect detailed statistics on its external trade. There is some data on onshore Scottish exports, but import data is scant, meaning the foundation of the study is academically unsound.
Second, the students only examine trade based on this fictionalised data and assume a loss for Scotland. It's not credible that rUK would refuse to trade with Scotland since we are England's second largest export market. As the disasters of Brexit unfold, England will need trade with Scotland more than ever, especially our energy and water.
Third, the students conveniently ignore the powers Scotland will have to devise tax and spending policies to attract investment and grow the economy and to create new trading routes, as Ireland has done post-Brexit. Further, should Scotland join either EFTA or the EU to regain free trade benefits, import substitution from the UK could be substantial.
Scotland's economic growth as a UK region has been half that of similarly sized EU nations, a powerful indictment of the Union. Independence is our opportunity to build a more open, progressive, sustainable, prosperous and fair country for all our citizens.
Merchiston Crescent, Edinburgh
In the febrile atmosphere of an approaching election, it is important that people realise the misinformation which is swirling about and which gives the voters of Scotland misleading information about who – and what – they are voting for.
A number of regular contributors to the Letters page would have it that the current SNP administration has done a splendid job and that everything they touch is a success. In fact, the opposite is the case. Nicola Sturgeon's handling of the Covid crisis has been derivative and ultra-cautious, merely following the UK lead, but two weeks later. Due to geographical factors in the main, Scotland's results have looked better than England's, but population density is largely to blame for the former's higher incidents, coupled with a much larger, sceptical BAME population.
Others have suggested falsehoods about Scottish uniqueness, such as the contention that Scotland spoke Gaelic throughout the land at one time, seeking thereby to make us quite different from those on the English side of the border. This is both untrue and extremely dangerous. I have had to correct similar statements in the past on a Scottish Government "educational" website, which sought to make out that Scots pushed out the English who occupied south-eastern, present-day Scotland. Instead, those English speakers gradually identified themselves as Scots.
If this two-pronged disinformation is allowed to go unchallenged, it creates an untrue racial divide on either side of Hadrian's Wall, coupled with a media dominance unequalled elsewhere in the democratic world which feeds the false, separatist narrative.
Craiglea Drive, Edinburgh
It's a real shame that the Greens termed the vote of no confidence in John Swinney on Wednesday a "political stunt" when it was clearly a move to raise a real objection to the lack of transparency and honesty of the Scottish Government and also a reflection of the educational failures of the minister involved.
Having supported the need to provide documents to the Salmond committee, the Greens then rolled over when only selected documents were provided. The inquiry aside, this is John Swinney's second VONC and a perfect opportunity for parliament to make a statement about how the SNP have failed our young.
There is an OECD report into the state of our education (which is what Sturgeon wants to be judged on) being hidden until after the election, raising suspicions that we really should have no faith in Swinney.
The SNP's "Gardening Division" have missed an opportunity to save a generation – they seem to prefer political stunts of their own.
Liberton Drive, Edinburgh
Have we all forgotten that there is an "off/on" button on our televisions and remote controls?
If we are offended by what is said by the like of Piers Morgan we should simply use it. Programme producers and advertisers will react quickly enough to a large-scale drop in viewers.
A few thousand complaints simply enhances the notoriety on which Mr Morgan's career has been built, and presumably his salary, when he emerges in another arena.
Meadow Lane, Beadnell, Northumberland
We welcome your thoughts. Write to [email protected] including name, address and phone number. Keep letters under 300 words, with no attachments, and avoid Letters to the Editor in your subject line.
A message from the Editor
Thank you for reading this article. We're more reliant on your support than ever as the shift in consumer habits brought about by coronavirus impacts our advertisers.
If you haven't already, please consider supporting our trusted, fact-checked journalism by taking out a digital subscription.