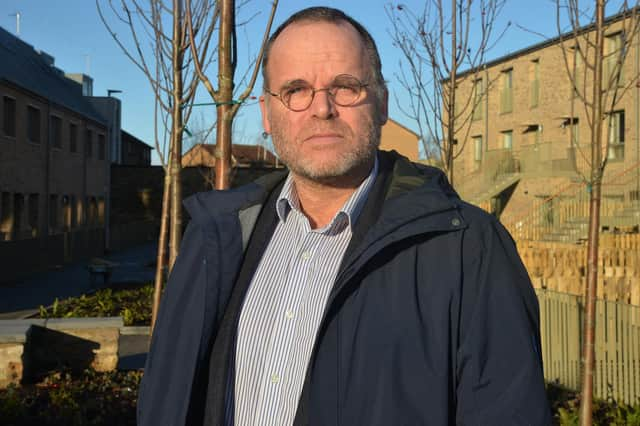 This bill will devolve budget and political control to the 32 local authorities in Scotland over their current responsibilities for education, health, roads and social services, thus ensuring both the Highlands and Islands plus the Scottish Borders and Dumfries and Galloway can take local decisions in accordance with the ten principles set out by the European Council.
It will take years to complete the transfer as it will be the most radical political change ever carried out in Scotland hence all Scots in the rural north and rural south should get behind Mr Wightman in his efforts to steer the bill through Holyrood.
It will also ensure rural Scots have parity with their English counterparts over planning applications for the massive array of wind farms required to meet COP26.
Perhaps it would be a favourable gesture by Holyrood to follow the lead shown by SSE in placing transmission cables underground in Glen Muick by demanding that ScottishPower reciprocate by also placing the cables running through the GlenKens of Galloway below ground!
Ian Moir, Queen Street, Castle Douglas
It used to be said that rugby was a game for hooligans played by gentlemen and that football was the reverse. This last week has I think proved that this is true for both rugby codes.
Readers will already have been touched and inspired by our own Doddie Weir's spirit and courage in the face of motor neurone disease. In the past week, they will have seen the tremendous physical and fundraising efforts by rugby league's Kevin Sinfield who, inspired by his Leeds Rhino team mate Rob Burrow, ran seven marathons in seven days to raise money for the motor neurone disease charity.
Contrast these efforts with football community! Who has heard of any overpaid professional footballers being involved in campaigns, say, to research dementia which has afflicted many former players – possibly through having headed too many heavy footballs?
Why did none step in to buy the World Cup winner's medal belonging to Nobby Stiles when financial straits forced him to sell recently? The proceeds from just one advert for crisps or shaving products would have allowed one such "gentleman" not only to buy the medal but to return it to its rightful owner.
John Rhind, Meadow Lane, Beadnell,, Northumberland
In the Scotsman recently we have had articles on children's rights, LBGT rights, in fact any minority group who feel that they are different and need protection by law.
Frequently we read of court cases where human rights are being raised to protect various individuals against heavy handed government actions.
Human rights are moral principles that prescribe certain standards of human behaviour, set out as 30 acceptable norms. Obviously there are a number of countries around the world who are failing to uphold these basic human rights, but we in Scotland have a government that not only seeks to uphold these rights but to build on them.
For example, we have a children's rights charter which expects a child to have free access to a good education etc and recently Holyrood passed a law to prohibit smacking a child to prevent a parent from using a previously acceptable ultimate threat to misbehaviour. Much applauded in our modern progressive country, of course, and bound to lead to massive increase in the number of children that will respond to a rational explanation of where their behaviour falls short. Hopefully we will soon have guidance from our government as to what are the acceptable norms for children and we can move swiftly on to the desired state in our parenting.
All of this brings me back to Mr Tom Wood, former Chief Constable and Chair of Child Protection Committees, who lays bare the nub of the matter (Scotsman, 7 December) – namely that our tiny minority of marginalised and neglected children desperately need help. Mr Wood suggests that the children and their families need a hand up, with no new legislation required!
Pass your laws Holyrood, pat yourself on the back for job well done, but when you dictate to the majority who in general, bring up well adjusted children and don't help those tiny minorities that desperately need help, lawyers should be seeking them out and taking you to court for abuse of their human rights.
The Scottish government is failing in its responsibilities in respect of these marginalised children.
AB Lewis, Parklands, Coylton, Ayrshire
I see that my home town has just been demoted to tier 1. I think this is probably good news, although I have long since lost the will to keep up with what I can or cannot do at any given time or place.
Does this mean that I can now resume living life on the edge by sharing a solitary pre-ordered scotch egg and a disposable beaker of low-alcohol lager while conducting essential business with six substantially proportioned family members and up to two PPE-clad, non-singing domesticated pets, as long as the relevant authorities have been notified in advance and it's all done alfresco and dusted before dusk?
On the other hand I might just play safe and stay locked up for a while longer.
Andy Davey, St Andrews Road, Peebles
The headline above Martyn McLaughlin's column ("Royal train tour raises questions on role of monarchy", Scotsman, 9 December" is, if you'll excuse my description, pure piffle!
Martyn's column is a crude example of a "Mark Antony" effort which barely conceals his anti-royal sentiments. His claim that the royals failed to grasp the public mood in Scotland is redolent of the Nationalist habit of conflating "the people of Scotland" with SNP supporters.
If Ms Sturgeon had as much grace coursing through her veins as she does republican inclinations she might have resisted the temptation to deploy the usual "dog whistle" politics and thanked their Royal Highnesses for coming to Scotland. But that was never going to happen.
It seems that in the eyes of some, they can't do right for doing wrong.
Alan Thomson, The Old Barn, Kilcamb Paddock, Strontian
We were shocked to read of confusion in the Comhairle over the extent to which the Scottish government's guidance on teaching relationships, sexual health and parenthood in Western Isles schools should be supplanted by material recommended by the Scottish Catholic Education Service.
Religious views on such subjects are a private choice for parents and should be the preserve of Sunday schools.
Following the excoriation of the Catholic Church in England and Wales by the Independent Inquiry into Child Sexual Abuse for prioritising its own reputation over the safety of children in its care, we are surprised it is not hanging its head in shame rather than presuming still to prescribe sexual morality to others.
The usual Catholic dogma of abstinence till heterosexual marriage is cruel and naïve and simply does not recognise the real world of young people.
Failure to provide the facts about safe, respectful sex will only facilitate unsafe and unhealthy experimentation and denying children information about how to be happily gay does not result in fewer gay people, just fewer happy gay people.
Neil Barber, Edinburgh Secular Society, Saughtonhall Drive
The UK Committee on Climate Change, chaired by Lord Deben, has said that the UK should be able to cut greenhouse gas emissions by nearly four-fifths by 2035 and be on target for net zero emissions by 2050 (Scotsman, 9 December).
Eliminating the UK's 1.13 per cent of global emissions would be ideal but what about the other 98.87 per cent? The UK's targets are legally-binding by the Climate Change Act (2008), Scotland's was 2009 and both were updated in 2019. What about the vast majority of countries which did not introduce Climate Change Acts but only made promises? Only New Zealand, Sweden, France, the United Kingdom and Scotland have legally-binding legislation but together are responsible for less than seven per cent of global emissions.
The present emission reduction targets set by world governments put us on track for a catastrophic 3C to 4C warming rather than the 1.5C deemed essential. COP26 in Glasgow in 2021 will be yet another talking shop, to add to the previous 25 years, with no legally-binding commitments from the major polluters to ensure the 1.5C target.
Clark Cross, Springfield Road, Linlithgow
Just as the First Minister praised Ian Blackwood recently for apologising for one of his not infrequent gaffes, so I would like to acknowledge her admission, if not apology, that it was a mistake not to close our borders over the holiday period (Scotsman, 10 December).
Will she be suffering sleepless nights thinking about the marauding Scottish holidaymakers, particularly from the worst affected Central and West of Scotland areas, spreading the risk of infection in England and other countries far and near?
Another potential benefit would have been to demonstrate to Scots what it would be like to have a hard border, should independence occur.
Fraser MacGregor, Liberton Drive, Edinburgh