Reasons to be cheerful on coronavirus – Letters
Look at the figures and the news isn't so bad, says a reader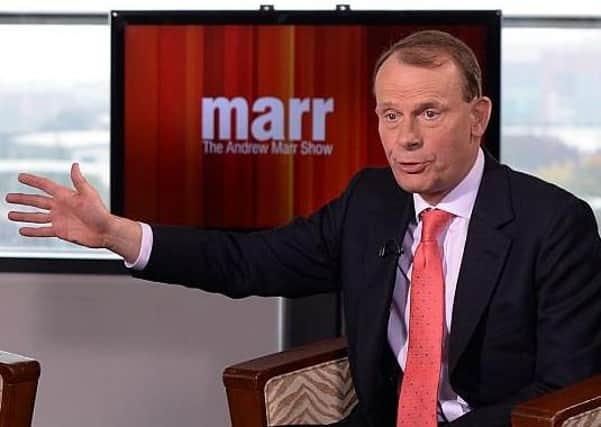 As someone who has studied statistics all my working life (especially mortality statistics), I despair at the universally negative portrayal of coronavirus by the media, scientists, politicians and their advisers. These are in the main intelligent people, but they have continually got bogged down with the mortalities (each of which is tragic) and are ignoring the much better news for the vast proportion of the population.
Take Andrew Marr, for example. He is a highly intelligent man whom I have always admired and yet he conducted an interview in his show on Sunday with Arlene Foster, the leader of the DUP in Northern Ireland, about their "significantly better" Covid-19 mortality rate. Andrew highlighted that there had been only 24 deaths in 100,000 in N Ireland compared with 51 in 100,000 in Scotland, and asked how Northern Ireland had managed to control the mortality so much better than Scotland. (And I don't want to get into different ways of recording deaths, as subsequently purported by the First Minister.)
The truth of the matter – and I'm sure that Andrew will see this when he thinks about it – is that, for a pandemic, the Covid-19 mortality rates in both countries (and also in England and Wales, not to mention the rest of the world) have been extremely small. Effectively, in Scotland only 2 in 4000 people have died, compared with 1 in 4000 in Northern Ireland. By any standard, both of these results are a fantastic result for a pandemic!
The reporting should therefore be about how mild the pandemic has been for both countries rather than how much worse Scotland's mortality rate is than Northern Ireland's. It is only when this balanced view is portrayed, underlining how relatively innocuous this virus is for non vulnerable people, that the public will truly see how safe they are when they venture out. This applies especially to non vulnerable people under 45 – including babies, school children and teenagers – for whom the death rate has been fewer than 1 in 100,000 in Scotland.
If such a balanced view is given by people like Andrew Marr and other high profile reporters and politicians, then non-vulnerable people (who are the vast proportion of the working population) will be able to return to work, pubs, restaurants, holidays etc without the fear that has been engendered over the past lockdown period. And we can safely start our return to normality – indeed, at a much quicker pace than is being envisaged by the politicians and their advisers – and stop this lockdown which has had such a horrendous financial, economic, emotional and physical / mental effect on the UK and elsewhere.
Andy Scott, Newhalls Road, South Queensferry
I am sure that the government will be pleased to accede to Nicola Sturgeon's implicit request for an explanation of the higher deaths in care homes in Scotland.
Ms Sturgeon is apparently of the opinion that there has been "under-reporting" of Covid-19 deaths south of the Border by comparison with Scotland. This is an understandable and quite normal SNP distraction, given the cack-handed approach to handling Covid-19 in the SNP's bailiwick. It was they, was it not, who released the hospital patients (untested) into care homes throughout Scotland? It was they who did not let on when there was a spread of infection in Edinburgh following the Nike conference in Edinburgh, which led to infections spreading in the north-east of England too.
How many French fans came to Edinburgh in early March for the Six Nations, well after the Scottish Government were aware of concerns about 
Covid-19 transmission, potentially spreading the virus?
I know for a fact that there is disquiet in England at anyone who may (or may not) have had Covid-19 having it mentioned on their death certificate, which actually indicates a higher reporting level of supposed incidence in England than may, in fact, have occurred. Of course, Ms Sturgeon says that it is "not for me to explain England's figures". I agree wholeheartedly. I would suggest it is not for her to comment either, without evidence.
Dave Anderson, Broomhill Road, Aberdeen
Imagine: the First Minister sharing an echo chamber with Extinction Rebellion, Poverty Alliance and certain trade unions as they argue for "repurposing of government away from the prioritisation of economic growth".
And not a single business organisation or scientific body there to bring a dose of reality to the proceedings.
An unsettling prospect indeed, since this clamour for public ownership, wealth redistribution (ie higher taxes, more benefits) and yet more wind farms etc will doubtless find a sympathetic ear at Bute House and among many of the FM's supporters.
In the current circumstances, Scotland simply cannot afford the luxury of pandering to unworkable demands from these groups, some of whom appear hostile to private enterprise and to wealth creation policies which will be vital for any post-pandemic recovery.
So fingers crossed a polite hearing is all they get before their Zoom session ends.
Martin O'Gorman, Littlejohn Road, Edinburgh
I do wish Nicola Sturgeon would drop her hectoring virtue-signalling about coronovirus and get the economy restarted. The longer the lockdown continues, the deeper the recession will be. Ms Sturgeon seems to think that financial support from the UK government will continue indefinitely. It cannot. The Chancellor, Rishi Sunak, has already transferred £9 billion in furlough money to Scotland and in addition £3.5bn in Barnett Formula consequentials, as well as the regular Barnett largesse which provides £1600 extra in public expenditure per Scot per year. But with England going back to work with safe staff practices, social distancing and enhanced hygiene, why should Mr Sunak stump up more to allow the Scottish lockdown to be unecessarily extended?
It would appear that Ms Sturgeon has put herself in a position in which she personifies the Scottish Government, with its other ministers distant or invisible. To her supporters in and out of the media she may have morphed into a Dear Leader, but to the business and commerce community she has become a fetter leading Scotland to mass unemployment. Not only that, but there are questions of individual liberty as well. Transmission of Covid-19 outdoors is highly unlikely yet she has decreed that travel be restricted to five miles for leisure and recreation, and is prepared to legislate to that effect. Are we therefore heading for a police state with roadblocks and police checks? I have to agree with former Justice of the Chief Supreme Court Lord Sumption when he says "We have to ask ourselves what kind of relationship we want with the State. Do we really want to be the kind of society where basic freedoms are conditional on the decisions of politicians? Where human beings are just tools of public policy?"
William Loneskie, Justice Park, Oxton, Lauder
The First Minister's threat to increase lockdown legislation if people "fail to do the right thing'" reeks of paternalism. We are already three weeks behind the rest of the UK with regard to the lockdown.
The SNP-led Scottish Government has lectured us for over a decade about our eating, smoking and drinking habits, to no avail for the most part. A bloated body of NGOs, third sector organisations and charities in Scotland is testament to this. Perhaps a revolutionary tactic of treating Scots like autonomous adults, responsible for their own actions and the negative consequences of said actions would be a better course during the lifting of lockdown.
Alternatively, target the endemic minority of feckless serial offenders, rather than the entire Scottish population.
David Bone, Hamilton Street, Girvan
The announcement by Nissan of the closure of their factory in Barcelona with the loss of 3000 jobs should serve as a warning to the SNP and the Scottish Government.
Undoubtedly, the political instability associated with the Catalan independence movement and their guerrilla referendum was a major factor in Nissan preferring their factory at Sunderland, outside the EU, over their Barcelona facility. While Scotland has not reached the degree of political uncertainty of Catalonia, investors can and do entirely avoid the risk by investing on the other side of the Tweed.
The SNP's plan for an independent Scotland to rejoin the EU assumes that this will act as an economic panacea. If the long years of austerity and high unemployment in Southern Europe have not disabused them of that delusion, then hopefully Nissan's decision will.
Otto Inglis, Ansonhill, Crossgates, Fife
I refer to Andrew HN Gray's letter regarding the increasing challenge of "spot the cyclist" while out for our daily walks (Letters, 2 June).
Our latest experience involved a cyclist actually using the road – unfortunately, we were on it too. We had stopped a few paces short of the pavement when crossing a side road, which at that point was empty, in order to briefly adjust my husband's backpack. As I turned to reach the pavement my husband grabbed my arm and a cyclist slammed on his brakes to avoid me.
I got a fright and the cyclist nearly came off his bike, but continued on his way without a word, I'd like to think because he knew he was partly to blame. He would obviously have seen us in the road as he approached at speed, whereas we hadn't seen him at all. And of course, he didn't have a bell, or even call out, to alert us to his presence.
In Amsterdam a few years ago, I committed the cardinal sin of absent-mindedly straying onto a cycle lane. The next thing I heard was "drrring… drrring…" from a lovely man who didn't have a bell but did have a sense of humour!
Kathryn Sharp, Back Dean, Edinburgh
The Scotsman welcomes letters for publication – 300 words maximum – from all sides of public debate. Include date and page when referring to an article, avoid 'Letters to the Editor' in e-mail subject line. No attachments. We reserve the right to edit letters. No correspondence will be entered into. Send submissions, with full address and phone number, to: [email protected]
A message from the Editor:
Thank you for reading this story on our website. While I have your attention, I also have an important request to make of you.
With the coronavirus lockdown having a major impact on many of our advertisers - and consequently the revenue we receive - we are more reliant than ever on you taking out a digital subscription.
Subscribe to scotsman.com and enjoy unlimited access to Scottish news and information online and on our app. With a digital subscription, you can read more than 5 articles, see fewer ads, enjoy faster load times, and get access to exclusive newsletters and content. Visit https://www.scotsman.com/subscriptions now to sign up.
Our journalism costs money and we rely on advertising, print and digital revenues to help to support them. By supporting us, we are able to support you in providing trusted, fact-checked content for this website.
Joy Yates, Editorial Director
Comments
 0 comments
Want to join the conversation? Please or to comment on this article.