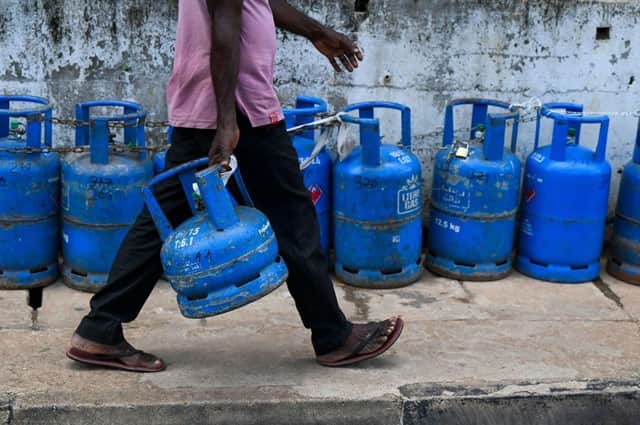 As a responsible citizen I duly endeavoured to cut back on unnecessary energy use wherever reasonably possible. As a "reward" for my efforts, my supplier has today indicated that because my Liquefied Petroleum Gas usage was below their "minimum", my tank rental will have to be substantially increased.
I was also advised that I might wish to consider going to another supplier, presumably because I do not spend enough with their company to make my custom worthwhile. Hardly an incentive to assist the drive to net zero.
David Edgar, Symington, Biggar
It has been announced by a "delighted" SRU CEO Mark Dodson that Manchester United will play Lyon on 19 July at BT Murrayfield. This is in addition to four pop concerts in ten days this month and three rugby internationals in the summer. Mr Dodson may be delighted to see all this money pouring into the SRU coffers, but the long-suffering residents of Murrayfield, Roseburn and Corstorphine are less sanguine at the prospect of tens of thousands of people pouring into our district, causing untold disruption to the local infrastructure.
Previously, we were prepared for the odd pop concert in addition to two or three Six Nations games and the occasional autumn international. The street closures, parking restrictions and influx of huge numbers of visitors were bearable on these exceptional occasions but it's becoming more and more common nowadays and it's time to call a halt.
There should be serious restrictions imposed on the SRU and Edinburgh Council on events at Murrayfield. Why should the residents be forced to suffer regular incursions by often drunk and badly behaved supporters, simply to provide income for the SRU?
Brian Bannatyne-Scott, Edinburgh
In recent years particularly the SNP has promoted a fake news agenda, whose success in convincing certain sections of the population is being illustrated by correspondents to The Scotsman.
Recently, they have focused on the strange idea that Scotland is a "colony" of England. Anyone with a smidgeon of historical understanding knows that to be ridiculous.
Now we are on to the non-numerate claim that Scotland has a "pocket money parliament" (DW Lowden, Letters, 24 May).
It is a fact that Holyrood receives all of the revenues it collects in tax plus an extra £12-15 billions every year from HM Treasury, simply for being in the UK. This is the killer blow for secessionists: how on earth would they compensate for losing that extra funding which they would forfeit if they left the UK? That is why they have to deny the SNP/Greens' Scottish Government's own figures, which contradict their claims, are correct – a weird position to take.
As for Mr Lowden's claim that Scotland cannot borrow, that is another falsehood. It is true that borrowing levels are capped. But why wouldn't they be? Do Scottish nationalists seriously expect the Bank of England to act as lender of last resort for a regime that has shown extreme financial incompetence and spending incontinence?
Jill Stephenson, Edinburgh
This week, a compelling case was made for an urgent upgrade in Artificial Intelligence in the debating chamber at Holyrood.
Circularity Minister Lorna Slater – she keeps going round in verbal circles – was being questioned several times about the Deposit Return Scheme, whether it would go ahead and what compensation claims might arise if it was severely delayed or dumped.
The electorate might reasonably expect the Minister to be fully briefed and have a full grasp of her pet project but this early prototype robot went into malfunction automaton mode, simply repeating the same answer, reading from a prepared note, without actually answering the questions. I suspect that if a food shopping list had mistakenly been handed to her, she would just have it out without realising.
Do we need the equivalent of Dave, the astronaut in 2001 a Space Odyssey, to simply turn off Scotland's very own "HAL 9000" computer? An upgrade is urgently required.
Fraser MacGregor, Edinburgh
Talat Yaqoob accuses the UK Government and others of disinformation in their stance on asylum seekers (Perspective, 23 May). Many would suggest that it is she who is being selective and economical with the facts. She peppers her article with the words misinformation, lies, disinformation, untruths and falsehoods with monotonous regularity. It is correct that asylum seekers need not claim asylum in the first safe haven they enter but surely it would have been more sensible to have done so rather than pay traffickers huge sums of money and risk their lives crossing the Channel. If they are genuine they could apply for asylum in Europe and then, once granted, apply for permission to come to the UK.
More than 95 per cent of those crossing are fit young men. They are economic migrants, not genuine asylum seekers. Albanians now make up more than half of these Channel migrants. Talat Yaqoob says the UK "hosts significantly fewer asylum seekers than France, Germany or Italy". Well the UK landmass is only 242,495sq km whereas France is 551,695sq km, Germany 357,021sq km and Italy 294,020sq km.
Clark Cross, Linlithgow, West Lothian
For a "climate event" in Austria, surely, if it was felt that a separate Scottish administration presence outside of the UK was necessary in the first place, the representative should have been Mairi McAllan, the Net Zero Secretary.
But no, not in Scotland. Inevitably the Constitution Secretary, Angus Robertson, went instead. He must have felt his already astronomical air miles total needed boosting at our expense. What in his ministerial portfolio covers a climate event, only he knows. But he did meet Arnold Schwarzenegger, that is sure to have made this another pleasant jolly for him and his entourage at our expense.
What it does mean is another hammering for our taxes in the midst of a cost-of-living, belt-tightening, crisis.
Alexander McKay, Edinburgh
I write with reference to Calum Ross's article on free music tuition uptake (23 May). While I understand the political imperative that MSPs such as Donald Cameron are hard-wired to give the SNP a kicking at every opportunity, the reasons for the slow recovery from the pernicious effects of the Covid pandemic on the numbers taking instrumental lessons cannot be laid at the Scottish Government's door.
They have kept their end of the bargain, providing an extra £12 million pounds to local instrumental music services in the coming academic year. The music teachers on the ground are responding with passion, music education is flourishing, and this time next year will be the time to appraise the success of this initiative. Rome wasn't built in a day.
John Wallace, Music Education Partnership Group, Glasgow
The Scotsman is right to highlight the importance of instrumental and vocal tuition in Scotland's schools. As a brass teacher myself, I have to point out that Instrumental Music Services across the country are continuing to recover from the impact of the pandemic and, following the welcome removal of fees for music tuition by the Scottish Government in 2021, are teaching many more children who were previously unable to afford to learn to play an instrument or to sing.
What is being overlooked is that in 2007 there were 1,264 instrumental and vocal teachers working in Scotland's schools and, according to the recent Improvement Service report, there are only 620 teachers employed by local authorities today. This has meant that many Instrumental Music Services have long waiting lists of children unable to be accommodated, due to a lack of staff and resources. This situation can only be resolved by, over time, allowing music services to grow. In that way, many more children will be able to enjoy the benefits of music education.
We welcome your thoughts – NO letters submitted elsewhere, please. Write to [email protected] including name, address and phone number – we won't print full details. Keep letters under 300 words, with no attachments, and avoid 'Letters to the Editor/Readers' Letters' or similar in your subject line – be specific. If referring to an article, include date, page number and heading.