Readers' Letters: Where's positive vision for 'Scotland in Union'?
The daily pro-union media correspondence reveals a total absence of any positive vision for 'Scotland in Union' to appeal to Scots voters in May.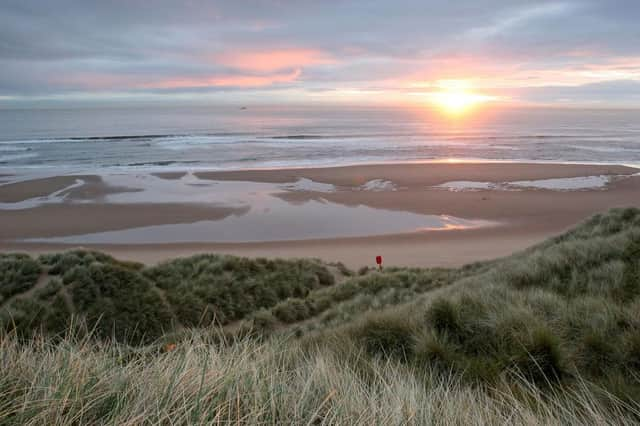 Are better days for Scotland a simple matter of loosening ties with the rest of this island? (Picture: Getty)
The "Stop Indyref" mantra of the Tory, Labour and Lib Dem parties is anti-democratic and insulting. Most Scots appreciate the enormous progressive achievements of our current administration over the last 14 years (under both Nicola Sturgeon and Alex Salmond) and are thankful to live in a country where our government prioritises the well-being of its ordinary citizens, above the interests of wealth and power. They also understand that there is much more to be done to improve our country, but are well aware that our devolved administration is under attack from a Westminster that is retaining devolved powers in London and mounting legal challenges to legislation passed by our Holyrood parliament.
Under the "broad shoulders of the union", Scotland has no direct access to its own considerable wealth and resources (which are on a scale equivalent to Denmark's); instead these are "managed" on our behalf by others we didn't vote for and spent on things we don't want or need. Within the so-called pooling and sharing arrangements, Scottish taxpayers pay towards transport infrastructure elsewhere (HS2 rail network, CrossRail London etc) and new nuclear energy plants (eg Hinkley Point C Somerset), as well as the MoD's soon-to-be increased nuclear missile stockpile, based on the Clyde. None of these benefit Scottish citizens.
Scotland has a wealth of natural resources, a highly educated population and a highly developed export-driven economy; our country would thrive as an independent nation outside the UK.
Unsurprisingly, Scots want less UK, not more; they want control of their own resources and wealth, higher-paid NHS and care staff, better pensions and closer links with our European neighbours, not more Union flags and British isolation. The truth is that none of the unionist Tory, Labour or Lib Dem parties articulate a positive vision of a future "Scotland in Union", because it doesn't exist. That's why support for the progressive independence-supporting parties (whether SNP, Alba or Greens) and their vision for a better future for our country and its citizens, will only continue to grow.
D Jamieson, Newington, Edinburgh
Your regular Nationalist contributor, Stan Grodynski, has excelled himself in producing a somewhat snide, patronising and frankly ageist letter (20 April) to your paper. Why would we have more in common with the rest of the UK than Continental Europe? Well, possibly because we have for over 300 years had a successful Union, developed close family ties and friendships, worked together and when, occasion demanded, fought and died together.I appreciate that there is a common theory within the SNP that this is a demographic issue and as the old Unionist Scots die off victory is in their grasp. They may be right, but as people get older they tend to concentrate more on their own economic situation and what is clear from the Government's own GERS numbers (always derided by the Nationalists as fake news), the latest LSE and IFS figures is that an independent Scotland would inherit a very serious structural deficit.The reality is that Scotland does not have a significant enough tax base to support its current spending needs and certainly not its future ambitions.We will get the usual mantra that once an independent Scotland has control over the economic levers, we will progress. In reality, that is tax, public spending or government borrowing and I do wonder whether the SNP will be entirely honest with the Scottish people about the sacrifices that will have to be made for their goal of independence.It would be a terrible irony if independence were to come about and younger Scots who had voted for it were not able to find the well-paid jobs they had expected and were to become our greatest export.Paul F Galloway, House O'Hill Gardens, Edinburgh
In reply to a question about physical distancing Nicola Sturgeon said: "I think to be definite about that right now would be entirely speculative" (your report, 21 April).
S Beck, Craigleith Drive, Edinburgh
Martyn McLaughlin ("A snap poll is possible but Sturgeon still holds all the aces", Perspective 21 April) describes how senior Conservatives in London are seriously considering a snap independence referendum after the May election because "The time to do it is in the middle of economic chaos, not when it is all looking rosy". On the other hand, senior Conservatives in Scotland are saying two things: no matter what the result of the May election their UK party will not allow another referendum, but also that voting for any party other than their own will bring about that referendum they say won't happen anyway.There is a whole raft of reasons the Conservatives make these contradictory statements but the underlying theme is clear. The Conservative Party cares little, if at all, for the future of Scotland and the welfare of its citizens but will say and do anything for short term political gain. No wonder its UK leader won't show his face in Scotland during the election campaign.
Ian McKee, The Cedars, Edinburgh
Does any political party actually understand the meaning of the word "Green" or is it just a colour they bandy about in an attempt to impress voters?
How can cutting down trees, digging up peat, killing or displacing wildlife, filling the land full of concrete and destroying the peace and tranquillity of the countryside be considered Green? The carpeting of rural Scotland with giant wind turbines is akin to the destruction of Middle Earth. Everything that was good and green was raped and pillaged and burned by Orcs driven by their Master in the Dark Tower.
At least there were heroes in that story who fought a great war to save the land and all who lived there. Sadly, it seems there is no-one to save rural Scotland from the ravages of wind farm developers.
Aileen Jackson, Knockglass, Uplawmoor
Edinburgh Council appears hellbent on making walkways, cycle lanes, closing roads and diverting traffic, all under the guise of Covid restrictions. In addition to costing money which could be better spent, the project delivers a streetscape more worthy of a Third World country than one in this fine city, causes traffic queues, cars travelling on previous quiet streets and higher levels of pollution. Harrow Council in London found, after consulting its residents, that between 73 per cent and 82 per cent were opposed to their scheme and 83 per cent of people wanted the cycle lanes removed.
A report by Harrow traffic and road safety panel concluded the schemes had increased journey times, waiting times at junctions and vehicle emissions, so reducing air quality. The panel recommended the scheme be removed " with immediate effect". Will Edinburgh Council also consult the public on its schemes, now many of the barriers and lanes are in place?
Mary Ball, Hermitage Drive, Edinburgh
I have just read the summary of the revised report by Public Health Scotland issued on 21 April. This report and its predecessor claims to have been produced in conjunction with the universities of Glasgow and Edinburgh. I would like to know which professors are willing to stake their reputation on the initial or revised conclusions. Clearly the revised report has been published in an attempt to absolve the government of blame. In this regard it is a failure. The thrust of the revision is that, serendipitously, 80 per cent of those discharged from hospital with a positive test were discharged to a care home that already had an outbreak and therefore could not have caused the outbreak. This ignores the fact that most early discharges were untested and that these could well have caused the earlier outbreak. Irrespective of the statistics it was clearly incompetent of the government to accelerate discharges even when knowing some had positive tests and, even more incredibly, knowing that some care homes had outbreaks.It beggars belief that the government is still implying that care homes were to blame. I suspect that when this is subjected to judicial scrutiny it could be very expensive.
John McIntosh, Orchard Road, Edinburgh
Bill McKinlay (Letters, 21 April) slams Jackie Baillie for attempting to "make political capital out of Covid deaths in care homes". Failing to appreciate the irony he goes on to claim that, bad as the fatality figures at the height of the pandemic may be for Scotland, they are even worse for "Tory-run England". He may have noticed Nicola Sturgeon in her public appearances in the current campaign has led, not on independence, but on her self-professed ability to "lead Scotland" through the pandemic. As with her daily briefings – which, of course, she was going to discontinue during the purdah period – this is a blatant bid to make political capital out of a crisis.
Moreover it is a dishonest strategy. We will not know until long after the election whether her claims of proficiency are justified. When admissions of "mistakes" are eventually wrung out of her, therefore, it is perfectly legitimate for opposition politicians to "pile in" to put the record straight. And the question is not whether the crisis has been handled marginally better than elsewhere but whether it has been handled well. Ms Sturgeon's success or failure in handling the pandemic has yet to be determined. But as with independence the Scottish electorate is asked to vote on an issue on which the rhetoric is lofty but the reality unclear.
Colin Hamilton, Braid Hills Avenue, Edinburgh
We welcome your thoughts. Write to [email protected] including name, address and phone number. Keep letters under 300 words, with no attachments, and avoid Letters to the Editor in your subject line.
A message from the Editor
Thank you for reading this article. We're more reliant on your support than ever as the shift in consumer habits brought about by coronavirus impacts our advertisers. If you haven't already, please consider supporting our trusted, fact-checked journalism by taking out a digital subscription.
Want to join the conversation? Please or to comment on this article.