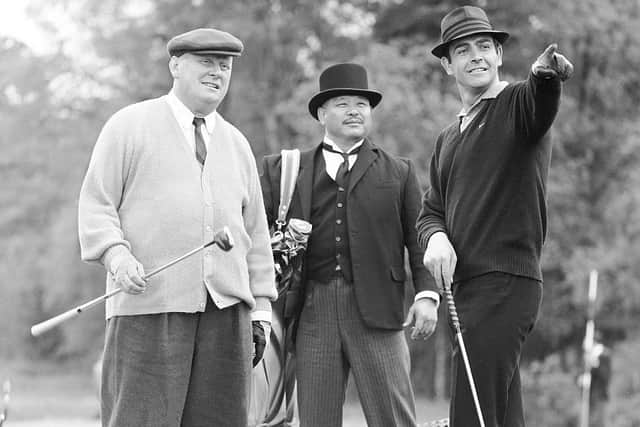 He was a fine match player and in the Jubilee Vase, the R&A's autumn meeting singles competition, this was the hole he could be relied upon to win. In his heyday, with his height and power, he regularly made the 530 yards to the green – and over Hell Bunker – in two blows.
(Rev Dr) John Cameron, Howard Place, St Andrews
Boris Johnson claims lockdowns don't work they just buy you time. What is true is that if you buy time you might just make good use of it.
Now has the government considered that angle? By taking pressure off the NHS there may be more trained people available for vaccinating. And if the virus is held in check, then when people go for vaccination they may actually avoid catching Covid-19 when they visit the medical vaccination centres.
But above all, the government needs to protect the hospitals. Unless numbers of patients can be reduced our medics may face trauma and incredible stress. I shudder to think how much damage government dithering will cause. It's time we moved on from the right wing populism which is doing so badly at managing the epidemic in the USA and UK.
Andrew Vass, Corbiehill Place, Edinburgh
Watching Northern Ireland First Minister Arlene Foster on the Andrew Marr show on Sunday morning made me feel really emotional. Why can't our FM emphasise the optimism, enthusiasm and opportunities we can take advantage of in leaving European Union membership? Scots who voted to stay in the Union in 2014 and to leave the EU in 2016 are being totally ignored by our FM in her pursuit of independence and dragging us back into the EU after we've finally managed to break free from it.
How can any FM spend all her time focused on her SNP supporters and reject and disrespect the rest of us?
For a while I did support independence but soon realised that was because the SNP want us to believe that everything that happens to us is the fault of the English. When I actually looked at the trail of disasters and mismanagement created by the incompetence of the Scottish Government I realised the truth.
As for their apologies and admitting when they've got something wrong, then pushing it to the side never to be mentioned again, it's just not good enough. They have to be held accountable for their mismanagement. This is why devolution was granted in the first place.
Then they're moaning about losing the Erasmus scheme and rubbishing the Turing one. More than twice as many young Brits each year will get this opportunity than previously was the case.
As for Kate Forbes backing the idea that certain housing can only be acquired by Gaelic- speaking Scots, this has to be the most ridiculous thing I've ever heard. I've never had any confidence in her as Finance Minister and for me this is the final straw.
We mustn't forget Angus Robertson, who said the onslaught of deaths in care homes meant there would never be a better opportunity of getting independence for Scotland. This has eerie tones of Hitler.
The SNP has turned many Scots into angry, arrogant English haters. Why are they all so determined to be so full of doom and gloom, pessimistic and unwilling to seek to make a success of leaving the EU and trading opportunities with so many other countries as well as the EU? Since Boris Johnson has been Prime Minister I try my very best to ignore the SNP's constant whining and concentrate on his optimism. It works for me.
Trish Lamb, Newburgh Place, Aberdeen
Is it not unbelievably ironic that, on the very day the BBC announces the release of vaccines to prevent yet more deaths from Coronavirus, the use of the vaccines is negated by all the doctors, nurses, etc being entitled to a Scottish Bank Holiday. What timing! How many hundred more lives will be lost as a result? Who can one blame but the politicians?
(Dr) A Maxwell-Irving, Telford House, Blairlogie
It seems such a long time ago now, but it is worth recalling that in her race to "front run" the UK government, the First Minister published a paper in April 2020 outlining her "exit strategy" out of the pandemic. We hear little of that paper now and it is as irrelevant now as it was then. Is it not now the time, with a vaccine being delivered, that a "real and realistic" exit strategy paper was prepared, perhaps even before her independence paper due to be published before the Scottish election in May ?Richard Allison, Braehead Loan, Edinburgh
In Conor Matchett's article (Scotsman Online) Karlo Basta said Nicola Sturgeon's popularity compared to Boris Johnson's was because s he had parked the independence referendum while Johnson carried on with Brexit.
Firstly, the two are not comparable as Brexit has already started and had a deadline that had to be adhered to. Secondly, I don't know where Mr Basta has been for the last ten months as the idea that a referendum has been parked could not be further from the truth. In November this year, the First Minister spoke of wanting a referendum early in the next parliament. One of many examples of Sturgeon raising this topic time and time again.
Jane Lax, Craigellachie, Aberlour
For the life of me, I simply cannot understand how the SNP can hoodwink the number of Scottish people that they clearly do.
Do these people really believe that a separated Scotland will be able to use Sterling, and be then subject to the Bank of England's control and interest rates, and still get into the EU? Surely they cannot be that naive? Do they really believe that they can promise no border with England without explaining how they can possibly tell another country whether or not it can erect a border? But the biggest con of all is the suggestion that they would waltz back into the EU, where, apparently, the lights will have been left on for them. Those are just the start. Why is there no honesty? Yes, Scotland could make it, of course it could, on its own. But the price would be severe and the people are being fed fantasies.
This kind of faith would stagger members of even the most extreme cult.
Alexander McKay, New Cut Rigg, Edinburgh
Nicola Sturgeon knows full well that the last country to join the EU was Croatia. Negotiations took nearly ten years.
So when she tells the EU to "...keep the lights on…" their response might well be: 'Who's going to pay the electricity bill? Debt-ridden Scotland?
The Prime Minister's recent pronouncement confirms what most of us have known for some time: he sees the world through specially fitted Johnson blinkers and he can't count. He assumes that, having become a father at the age of 55, a generation is at least that long. He should know that 2014 plus 55 years takes us to 2069.
My experience is different. As a teacher in Wester Hailes I was told by an S2 pupil that, at the age of 36, I was older than her gran. As seen through my blinkers, a generation since Indyref1 will be up in 2026. I feel sure that there are some of your readers who have blinkers that show a generation to be even shorter.
(Dr) Francis Roberts, Duddingston Square, West Edinburgh
The Holyrood elections in May will not decide whether Scotland should become a normal self-governing country but whether Scotland has the democratic right to choose its own future, which is being denied by the Westminster establishment, including Sir Keir Starmer.
However, your editorial on January 4 is correct in that the Unionists should stop rehashing the 2014 Project Fear messages which were amplified by London TV news coverage and the right wing press.
This advice is being ignored by Regina Erich and Tim Jackson (Letters, January 4), who don't understand that an independent Scotland might decide to join EFTA like Norway to get access to the EU single market and Customs Cnion without all the Brexit red tape.
Also, Andrew Wilson's Growth Commission Report states, on page 43, that an independent Scotland "should explicitly reject the austerity model pursued by the UK in recent years". The main purpose of the report was to explain how to double Scottish economic growth to 3 per cent.
Thanks to Boris Johnson's disastrous handling of Covid, when the UK as an island was best placed in Europe to stop the pandemic in its tracks, Scotland as part of the UK will face years of austerity – and that's before the effects of Brexit hit home.
Mary Thomas, Watson Crescent, Edinburgh
Edinburgh has now been in the grip, well forecasted, of snow and low temperatures for a week. Despite the warnings, roads and pavements remain in a dangerous condition lacking proper, regular gritting. The Council blames a lack of funding, suggesting that cuts made by the SNP government are responsible.
As usual, no one wants to admit failure but the consequences will see an already stretched NHS having to deal with A&E emergencies which could have been avoided.
Derek Stevenson, Bonaly Drive, Edinburgh
We welcome your thoughts. Write to [email protected] including name, address and phone number. Keep letters under 300 words, with no attachments, and avoid Letters to the Editor in your subject line.
A message from the Editor
Thank you for reading this article. We're more reliant on your support than ever as the shift in consumer habits brought about by coronavirus impacts our advertisers.
If you haven't already, please consider supporting our trusted, fact-checked journalism by taking out a digital subscription.