Readers' Letters: What happened to SNP's moral compass?
Is there no end to the SNP's shame or internal civil war?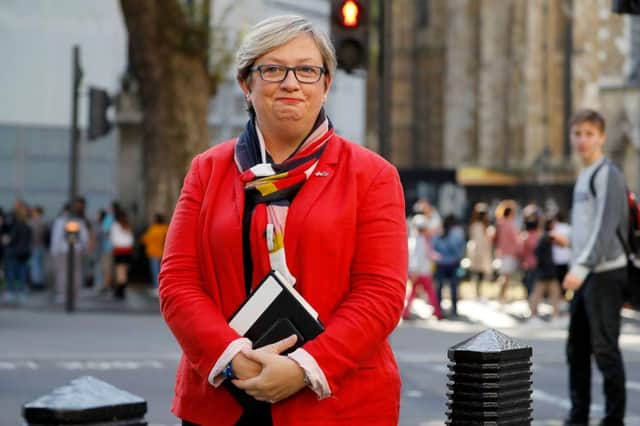 During the past week we have seen an SNP MP and two former SNP MSPs continue to draw their salaries despite being disgraced. Meanwhile, in addition to the toxic fall-out between Alex Salmond and Nicola Sturgeon over the Inquiry probing the Scottish Governments' shambolic and costly Court against the former, the SNP MP Joanna Cherry has accused the SNP leadership of "Stalinist revisionism" in a strongly worded attack after she was sacked from its front bench.
The SNP MP Neale Hanvey has also been sacked from the SNP front bench having donated to a crowdfunding campaign set up to launch legal action against a fellow SNP MP Kirsty Blackman. Previously he had been suspended for his antisemetic social media comments. Suprisingly, at one time he sat on the SNP's Conduct Committee!
At Westminster, former SNP MP Margaret Ferrier is still paid £84,000 a year despite her admission that she put lives at risk when she travelled in public transport from London to Glasgow knowing she had Covid. She was arrested and charged for her "reckless conduct".
At Holyrood, the shamed SNP Minister Derek Mackay, who sent inappropriate messages to a 16-year-old boy, has refused to stand down and has since pocketed £90,000 plus over £11,000 in expenses of taxpayer's money despite not setting foot in the Parliament for more than a year. Meanwhile, Mark McDonald, the SNP MSP who was suspended for breaches of the MSP's Code of Conduct, including sexual harassment, still draws his £64,000 a year salary. Both will receive golden handshakes of £50,000 when they leave the Parliament in May.
With the increasing divisions and infighting within the SNP and the lack of honesty and shame among its Parliamentary representatives, the SNP has clearly lost its moral compass. In these difficult Covid times for all, it should rightly lose the trust of the public.
Tim Jackson, Whim Road, Gullane, East Lothian
Apparently, last week there were only 300 elderly care home residents in the whole of Scotland who hadn't received a Covid-19 vaccination (down to 137 by Sunday February 7). Well, that's according to the First Minister and her proclamation that Scotland had reached the 98 per cent (now 99.598 per cent) figure for vaccination of residents in older adult care homes: "To be clear that's not just 98 per cent being offered the vaccine, that is 98 per cent who have received the first dose of the vaccine." Considerable comparison with the level of vaccination in care homes in England ensued.
Odd then, that numerous Health Boards across Scotland have indicated a much lower uptake in their elderly care home residents. Both NHS Highland and Greater Glasgow Health Board reported a figure of 90 per cent uptake, at the end of January. No doubt an impressive achievement in a care home setting, where there are justifiable reasons for vaccination not being appropriate. In Edinburgh there was an uptake of 92 per cent (7 per cent not vaccinated for various reasons and 1 per cent choosing not to).
Data produced for JCVI Priority Group 1 (and all other groups) is based on an "estimated" population level and accordingly there is an estimated 30,000 residents in older adult care homes and 32,000 in all care homes.
Odd then, that figures from the Public Health Scotland (PHS) annual publication "Care Home Census for Adults in Scotland", including data from March 2019, were not adopted. This is an "Official Statistics" publication which indicates that there were 32,445 residents in care homes for older adults and 35,630 in all care homes at that time.
Using these recent figures, there is a resultant of 91 per cent vaccination level for older adult care homes, which is comparable with the level being reported by Scottish Health Boards generally.
Nicola Sturgeon, however, has presented a level of 99% for vaccination of the elderly care home population. Surely this is misleading and does not match with the actual reality.
P Bell, Athelstaneford, East Lothian
It is not often that a pivotal case on the future of civil liberties is heard by the General Teaching Council of Scotland (GTCS), but such is the significance of the case against Richard Lucas, the founder and leader of the Scottish Family Party, which is being heard this week.
Stripped of the jargon, the case against him is that while working as a teacher at the famous Merchiston independent school, in a podcast outside of school he expressed traditional views on marriage and the best way to raise children, and contrasted these with raising children in same sex-relationships without a male role model.
Speaking as a parent I prefer teachers with traditional old-fashioned views for my children, as these are much closer to my own beliefs. If the GTCS will only allow teachers with progressive views in Scotland, then they are taking away the rights of myself and a great many other people to raise our children in keeping with our religious and philosophical beliefs.
You don't need to share Mr Lucas' views to see that our fundamental freedoms are at stake in this case. If someone cannot express the socially conservative views and remain a teacher then we do not have freedom of speech, conscience or religion in Scotland.
Otto Inglis, Ansonhill, Crossgates, Fife
I refer to the letter from Celia Hobbs published (February 6) and totally agree with all her points. Scotland is a tourist haven with visitors from all over the world as well as from the rest of the UK. They mainly come here for the beauty of the scenery, not to have all their views dominated by wind turbines covering the country and ruining the landscape. Many visitors will be put off and never return again, spreading the word to their friends and completely bankrupting the tourism industry and the local economy.
For the local population to have their opinion overturned by one Government Reporter, who alone decides what happens to their landscape, is totally unjust and should never be allowed. In Dumfries & Galloway there have been numerous occasions when the democratically elected Planning Committee have made a well informed refusal of a wind farm application only to have it overturned by one Reporter, at massive costs to the Council due to the Appeal process. This is not democracy.
Trevor Procter, Meikle Mochrum, Knockvennie, Castle Douglas
Vattenfall's Managing Director of onshore wind, Frank Elsworth, quoted by Celia Hobbs, has actually given the game away – now we know why there are so many wind farms and why, especially in the pandemic, since there is little scope for opposition, there are continuing applications to build yet more and bigger turbines in once-"Bonnie"' Scotland. The whole exercise stems from the SNP Government's "open door" policy on wind farms which denies Scots any real local government control since central government in Edinburgh dictates what should be built.
As your correspondent points out, the current government unilaterally simply overturns the decisions made by locally elected politicians to reject the building of a wind farm in a particular location despite the fact that local politicians are simply following their democratically canvassed and decided local plans.
The Scotsman would perform a great service for the residents of Scotland, and future generations, if it was to carry out and publish a comprehensive review of the scale and the costs, both monetary and environmental, and in particular costs to the local public purse, paid for by residents themselves, of such overturning of local democratic will by the central government in Edinburgh during its tenure by the SNP.
Alison Chapman, Balmacellan
The SNP are a numerical minority in Scotland. Despite this, they have enjoyed more than ten years of untrammelled, devolved power principally because the other parties are irrevocably divided. Labour did much the same for decades.
Ironically, and as the Joanna Cherry affair has shown, the SNP is even more split in fundamentals then the opposition. But they have grasped the answer to what is required to rule and remained, on the face of it, united, even when their factional hate far outweighs the left-centre-right hatred of normal, mainstream parties.
Being sleekit and unprincipled can be beneficial.
Alexander McKay, New Cut Rigg, Edinburgh
At last an article in The Scotsman ("Heating Consultation launched", February 6) finally answers my question of "How can the economy of a independent Scotland pay the bill for renewable energy?". Paul Wheelhouse MSP is quoted as declaring "the £33 billion cost [over six times the economic impact of Brexit] cannot be borne by the public sector alone". In other words implementing COP26 would bankrupt the economy of an independent Scotland but, even worse, there is to be a repeat of the Smoke Alarm scandal as individual home-owners will be hit with around £11,000 of debt. Note there is no mention of how the remaining £120bn cost of a Green Revolution will be funded.
There is also a deafening silence over the £42bn a year increase in energy bills following a ban on fossil fuels as the economy reels from the £15bn GERS austerity. The Inconvenient truth is that the May election is a binary choice between "saving the planet" by maintaining the UK grid or accepting that implementing COP26 is dead in the water for a generation!
Ian Moir, Queen Street, Castle Douglas
We welcome your thoughts. Write to [email protected] including name, address and phone number. Keep letters under 300 words, with no attachments, and avoid Letters to the Editor in your subject line.
A message from the Editor
Thank you for reading this article. We're more reliant on your support than ever as the shift in consumer habits brought about by coronavirus impacts our advertisers.
If you haven't already, please consider supporting our trusted, fact-checked journalism by taking out a digital subscription.
Comments
 0 comments
Want to join the conversation? Please or to comment on this article.