Readers' Letters: UK right to get tough on Scots 'foreign policy'
The Scotsman reports that Angus Robertson is "furious" with the Foreign Secretary, James Cleverly, for trying to "reduce Scotland to 'the status of a mere administrative unit' " (1 May).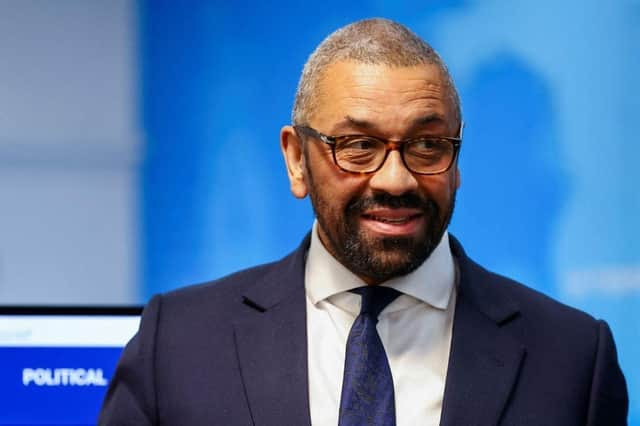 As a devolved administration, is that not what Scotland is? Mr Cleverly has acted, by insisting that meetings between Scottish ministers and foreign governments also be attended by UK officials, because of the persistence of the SNP regime in meeting foreign representatives to talk the UK down.
On visits to the US or to EU countries, Nicola Sturgeon liked to talk about how Scotland should be an "independent" country and how much better off Scots would be outside the UK. Who can forget Alyn Smith's performances as an MEP at EU meetings and his plea for the EU to "leave a light on for Scotland"? Improper behaviour requires correction, and the presence of UK officials at meetings between SNP ministers and foreign governments is the appropriate remedy in this case.Why should the UK government tolerate this undermining of our sovereign state by people leading an administration that receives extra funding, through the Barnett formula, from it? Foreign policy is an area reserved to the UK. Devolved administrations need to remember that.
Jill Stephenson, Edinburgh
I am delighted the UK Government has decided to clip the wings of "Air Miles" Angus Robertson. His jaunts overseas would have been perfectly OK if the SNP, and not the UK taxpayer, was footing the bill. Devolution does not give the SNP administration a mandate to open pretend embassies and strut the international stage, meeting minor officials in shows of delusional grandeur.
Why not concentrate instead on getting the fiasco ferries built, the steel plant disaster straightened out, or making an attempt to get Scotland off the top of the European League for drug deaths? What could be done with the money Mr Robertson has squandered on what are essentially ego trips?
Alexander McKay, Edinburgh
In view of the tumultuous state of affairs within Scotland's political scene, the time is certainly ripe for a change of the administration at Holyrood. The minority SNP Government has lost the trust of the people, and is in disarray. There is no way that we should have to wait until the spring of 2026 for the next Holyrood elections to be held.
The scale of the SNP's problems is simply unacceptable, especially given the resignations of key figures, the missing SNP funds, and the arrests and police investigations of leading members of the party.
The time is imminent for the despatch of what has been a controversial regime. We Scots are weary of their ongoing threat to break up the 300-plus-year-old Union. Whatever the consequences, unionists should insist that an election be called at the earliest possible opportunity.
Robert I G Scott, Northfield, Ceres, Fife
Free bus travel for the under-22s, free prescriptions for all and Baby Boxes, are only some of the current Scottish-specific benefits listed by Mary Thomas (Letters, 1 May).Their existence makes an excellent case for devolution, as it is – funding them is possible because of the generosity of the Barnett formula.
It is certain that Barnett money from UK coffers would cease to come after Scottish independence. And so, just to keep the Government's finances solvent, never mind satisfying the criteria for EU membership, it is certain that taxes would have to go up a lot more, along with reductions in public expenditure. The apparent inability of the SNP to manage its own finances openly and transparently, and to hold on to its auditors, bodes ill for the competent management of such a future.
I declare an interest as someone who is too old and of the wrong gender to be advantaged by any of the Scottish-specific benefits lauded by Mary Thomas, except to qualify for free personal care – which was introduced in 2002 by the Labour-Lib Dem coalition.
Hugh Pennington, Aberdeen
The Scottish ferry breakdowns and late building of new ones are all apparently down to the SNP-led Scottish Government. However, this pales into insignificance when a £3 billion UK aircraft carrier, which took eight years to build, is being partially stripped for parts following a major mechanical failure. While in dry dock the parts from this new carrier, HMS Prince of Wales, will be stripped to replace broken parts for its sister carrier HMS Queen Elizabeth!
According to a Royal Navy spokesperson this process is known as "equipment cannibalisation". Repairs to HMS Prince of Wales are now set to cost over £25 million, excluding a full complement of planes which have never materialised for either carrier!
Furthermore, with the realm of King Charles III and its multicultural subjects inadequately defended, we are being asked to shout acceptance of this king's massively expensive Coronation. It may indeed be a colourful spectacle full of medieval pomp and circumstance but it signifies nothing as broken Brexit Britain remains firmly in the past glory of empire.
Grant Frazer, Newtonmore, Highland
At a time when King Charles's Coronation is being portrayed as an opportunity to bring people of all races and cultures together in harmony, I am surprised that people in the UK and from around the world are being asked to swear allegiance to the king.
Surely the practice of paying homage to the monarch died out in the Middle Ages and has no real place in a supposedly constitutional democracy. To some people abroad it's likely to raise thoughts of a throwback to colonialism and is only now really seen in countries with authoritarian regimes. I question the wisdom of the move, which could create unnecessary tensions when the purpose of the whole event is celebration and enjoyment.
Bob MacDougall, Oxhill, Stirlingshire
There are contrasting views about the British monarchy: hardworking symbols of shared history and pageantry; or anachronistic embodiments of inherited privilege? What is certain is that Charles's constitutional entanglement with the minority Church of England as Supreme Governor is arcane and exclusionary. The King is free to lend patronage to any group he wants but the established Church of England is not the corgi-fancying society. Catholics are specifically excluded from succession to the throne; Anglican churches themselves are attended by fewer than two per cent of the English and the King's role tacitly endorses their leaders' opposition to LGBT equality.
We wish Charles Windsor and his supporters no ill but until there is a secular head of state, whether privately religious or not, the Coronation, with its holy oil and fragments of the "one true cross", will not feel inclusive to the majority non-Christian and non-religious British citizens.
Neil Barber, Edinburgh Secular Society
With the coming Coronation there has been much discussion about the future of the monarchy, with the familiar calls from some for an elected Head of State. I was wondering what sort of requirements might be specified for any person seeking to be elected to this role. My conclusion: who better than someone who has been prepared from childhood to do the job, learning from the person currently in post? So what would be the advantage of changing our system, the history and pageantry which attracts much foreign tourist trade which offsets its cost? Surely long preparation plus an inbuilt sense of duty far outweighs aspiration and any desire for status and kudos. That trumps the oft-cited democratic deficit.
The person seeking election to the role of Head of State for the UK would need to demonstrate: 1) Broad knowledge of constitutional law and parliamentary procedures; 2) An ability to work effectively across the political spectrum with no political affiliation; 3) A general awareness of current affairs both nationally and internationally; 4) Experience of working under close media and public scrutiny; 5) Highly developed personal communications skills; 6) Excellent diplomatic skills and experience of working with foreign dignitaries; 7) Respect for and understanding of the range of religious beliefs held by the populace.
And you would only be able to vote for someone who has put their name forward and has the funds to mount a campaign. Let's stick with a politically neutral monarchy, but modernised so most people would be able to support it.
Barry Turner, Musselburgh, East Lothian
I have read that the Coronation will cost £250 million. There is no reason why it should, given that most of the participants – Police, Armed Forces etc are existing salaried employees of the state.
Why not let the real professionals at organising jamborees, such as the Eavis family of Glastonbury fame, get on with the job, maybe combine it with Eurovision. The worldwide TV rights would make a mint for the Treasury.
Peter M Kent, Insch, Aberdeenshire
I think Camilla will remain a valuable asset to King Charles. However, the late Queen was absolutely correct when she expressed her wish that Camilla be known as "Queen Consort". Prince Philip was never addressed as "King Philip", nor Albert as "King Albert". "Queen Consort" is the most appropriate title to express Camilla's role and would not lessen the respect paid or duties asked.
James Watson, Dunbar, East Lothian
We welcome your thoughts – NO letters submitted elsewhere, please. Write to [email protected] including name, address and phone number – we won't print full details. Keep letters under 300 words, with no attachments, and avoid 'Letters to the Editor/Readers' Letters' or similar in your subject line - be specific. If referring to an article, include date, page number and heading.
Comments
 0 comments
Want to join the conversation? Please or to comment on this article.