Readers' Letters: Tory calls for Sturgeon's head are hypocritical
On November 20, Priti Patel, the Home Secretary responsible for law and order, was found guilty of breaking the Ministerial Code by bullying her staff, which had forced the resignation of Philip Rutnam, the Permanent Secretary.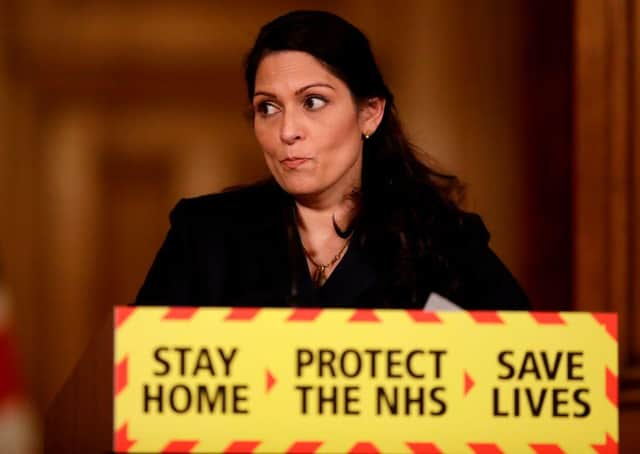 Home Secretary Priti Patel didn't resign on being found to have broken Ministerial Code
The separate accusations of bullying from three departments had led to the inquiry and when the Ministerial Code was ignored by Mr Johnston and Ms Patel, Sir Alex Allan, the head of the investigation, also resigned. Ms Patel had previously broken the Ministerial Code by having unauthorised meetings with Israeli politicians.
It would appear, therefore, a precedent has been established and there is no such thing as a Ministerial Code anymore and therefore calls from Tories for Ms Sturgeon to resign on the basis of forgetting a meeting seem like double standards.
Alastair Hunt, Church Way, Longniddry
In reply to criticism of all she said under oath when appearing in front of the Salmond inquiry committee and with reports now that a majority on that committee, after deliberation, have come to the conclusion that Nicola Sturgeon did indeed mislead the Scottish Parliament, Ms Sturgeon continues to state that she "stands by all of the evidence she gave to the committee earlier this month".
Well maybe so, for who can doubt she told the truth as she wishes it to be seen? However, given that evidence which was repeatedly asked for from the Scottish Government. which should have been supplied to the Committee by those who might be called her own "cronies" In her own "old boys' club" has never appeared, the whole truth, I would suggest, has yet to be told!
In waiting for the the Hamilton report I am reminded of the following quote from Galileo Galilei: "All truths are easy to understand once you have discovered them; the point is to discover them.''
Neil McKinnon, Glenalmond, Perth
This SNP government led by Nicola Sturgeon is rotten to the core, as is the entire machinery ruling Scotland. Police Scotland is in its pocket (the SNP created a single entity for this very reason), the Crown Office and the Lord Advocate (who sits in cabinet) is in its pocket and the Civil Service has been coerced into doing the government's bidding. But it's with the Civil Service where Westminster can get involved and it should now declare an investigation into the subjugation of same.
Stan Hogarth, Young Street, Strathaven
As I sat down this morning to the slice of humble pie served by my wife for my breakfast, I reflected on the "hapless committee" at Holyrood which I described last week (Letters, March 9). My feelings that they were unable to see through "innocent fictions" spun by some of the witnesses giving evidence has proved unjustified. The committee has risen magnificently to the task with the first tranche of decisions being leaked out on Thursday night. Hopefully further revelations will follow as they are able to consider what has been presented to them.
As I choke on the crust of the humble pie, I feel that we have all – by our letters and protestations – contributed to the discussions and feelings of this most unhappy experience for our nation.
(Dr) Alan Naylor, Rullion Road, Penicuik
The probity of First Minister Nicola Sturgeon is a matter of considerable discussion at the present time. And, if Ms Sturgeon's behaviour is found to have fallen below the required standard, then she will be held to account.But I really struggle to get my head around the fact that, while all this is going on, our Prime Minister, the man who leads the nation, who makes the big decisions, and represents the UK to the rest of the world, is an unashamed, unapologetic, compulsive liar, and this seems to be perfectly acceptable.We have had a lot of PMs in my lifetime, some good, some bad, some more economical with truth than others, but never has there been one who seems to revel in shameless and relentless untruth as his default position. He shrugs off opposition leader Keir Starmer with a contemptuous ruffle of his hair, and, with a huge majority, it is unlikely that his forked tongue will be clipped by his Conservative friends any time soon, so we can probably look forward to years of this. We have seen how Trump's lies have damaged the US in his time in office, and it looks like the UK is going the same way.
Les Mackay, Carmichael Gardens, Dundee
How refreshing it will be to note that the First Minister will not be able to lay the blame at the door of Westminster for her ills resulting from the Committee report that she "misled" the Committee! Even the magicians that are the SNP spin doctors might struggle with this one!
Richard Allison, Braehead Loan, Edinburgh
As it makes for total social justice that every "natural" monopoly of essential goods and services (posts, power, road, water, etc) should be owned and run by the community, ScotRail is an excellent and obvious candidate.
However, to avoid the problems faced by the former British Rail (strikes, overmanning, underfunding, competing trade unions, political manipulation and the like), I suggest the future ScotRail is owned by the people, but run by its staff – perhaps utilising the experience of the John Lewis organisation where the employees are partners and have a voice in management, sharing in a large annual bonus after a smooth and successful year. It really is time we utilised 21st century methods rather than 19th century ones.
Tim Flinn, Garvald, East Lothian
In a discussion about nuclear weapons on BBC1's Question Time (March 18), the SNP's Kirsten Oswald predictably used what I term "The Unclear Option" to make the separatist cause sound like a moral obligation for Scots. The SNP and many others maintain that Scotland leaving the UK and rejoining the EU will result in the UK having to remove its nuclear weapons and we can then all feel morally superior.
What they conveniently overlook is the fact that those weapons will still exist, but Scots will have no say in whether they are retained or not. Furthermore, in re-joining the EU we would be part of a union with France which, according to the Stockholm International Peace Research Institute, has 290 warheads versus the UK's 215. Scots voters would have no influence on French nuclear policy.
Whether you believe in unilateral nuclear disarmament, or that only by maintaining the nuclear deterrent can we have a voice in negotiating for multilateral disarmament, a vote for the SNP or Scottish Greens would be a cop-out and not a principled stance.
Mark Openshaw, Earlswells Road, Cults, Aberdeen
The division and hatred permeating Scotland over the past two decades with the rise of nationalism has made Scotland a very uncomfortable place in which to live and I don't recognise my country compared to the days of my youth and middle age. The media is daily full of loathing and bile, parliamentarians who should know better reduce themselves to baying animals, people despise those of a differing opinion and despite the outcome of any Yes/No vote in the future, I believe this will take generations, if ever, to resolve.
Scottish nationalism and its xenophobic, all-controlling mantra is subversively infiltrating every aspect of Scottish life to spread its hateful, one-state, communist-like regime – national police force, Named Person Scheme, Hate Crime Bill, railway nationalisation, state control of some businesses, control of the civil service, control of the judiciary etc. Separatists lap this up, can't or refuse to see past this ideology because they are driven not by common sense and logic but by emotion – the misguided emotion of some kind of "freedom". Followers want this "freedom" tomorrow without care or cause of the outcome and their leaders goad them on to try to achieve this Braveheart Brigadoon which is morally indefensible.
"The people of Scotland" have been abandoned by this so-called government. Nicola Sturgeon stated in 2016 that "nothing" is more important than independence and she has been proved correct – everything else has less importance, we see this on a weekly basis. Separatists are not concerned about a successful independent Scotland, it's separation at all costs, to hell with the consequences. They follow Nicola's dream for it's all they have. Another session of a nationalist socialist regime will damage our precious country further and voters need to think very carefully about where they put their X in May.
Douglas Cowe, Alexander Avenue, Kingseat, Newmachar
On Wednesday, Nicola Sturgeon was challenged at Holyrood to guarantee permanent jobs for the many teachers on zero-hours contracts in Scotland. She brushed the request aside saying she didn't see "any reason" teachers should be in such a position but it was local authorities who hire teachers, not the Scottish Government. Now, having berated the Tories for not addressing the issue of ZHCs, this seems to be simply passing the buck, as usual, trying to blame someone else.
It's odd, then, that on the SNP's own website they say "We believe the exploitative use of these contracts, where they are used just to avoid giving workers the protections they are due, should be banned." Again, as usual, they are all talk and when faced with the reality they shirk responsibility. Who actually believes anything they say and who votes for this behaviour?
Ken Currie, Liberton Drive, Edinburgh
We welcome your thoughts. Write to [email protected] including name, address and phone number. Keep letters under 300 words, with no attachments, and avoid Letters to the Editor in your subject line.
A message from the Editor
Thank you for reading this article. We're more reliant on your support than ever as the shift in consumer habits brought about by coronavirus impacts our advertisers.
If you haven't already, please consider supporting our trusted, fact-checked journalism by taking out a digital subscription.
Want to join the conversation? Please or to comment on this article.