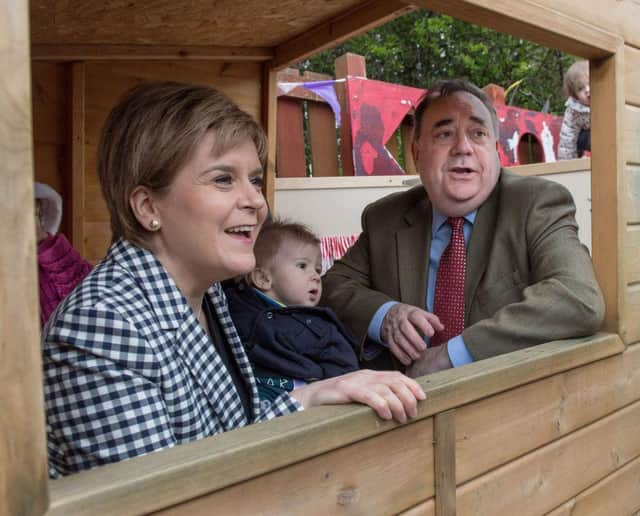 On January 8 2019 the SNP finally conceded that their handling of the complaints process was unfair to Mr Salmond and "tainted with apparent bias".
At some point prior to this the SNP government's legal team must have advised them to drop the case. When? There are reports that it could have been as as early as October the previous year. This is an issue which could be decided at a stroke by simply releasing the legal advice. Not once, but twice, a democratic vote of the Scottish parliament demanding the release of this advice has been ignored by the SNP. Generally, legal advice is regarded as confidential but this is not always the case. There are precedents for releasing it and therefore there is no impediment. Claims that it is not in the public interest to do so are self-evidently laughable.
If the legal advice was to collapse the case earlier than January 8 2019, the First Minister needs to be called to account not only for breaching the ministerial code, but also for wasting at least £700,000 of taxpayers' money. This could be ascertained simply and clinically with no need to judge whether you distrust Mr Salmond or Ms Sturgeon more or less. Release the legal advice which is essential for the inquiry committee to fulfil its remit.
Then perhaps people might start to believe the SNP's oft repeated claims to be "open and transparent".
Colin Hamilton, Braid Hills Avenue, Edinburgh
Alistair Bonnington (Analysis, February 24) makes a sound argument for a rethink on the roles of the Crown Office and the Lord Advocate.
In this continuing and destructive contest, I have a vision of a match between Alex Salmond and Nicola Sturgeon with the Lord Advocate as "unbiased" referee blowing his whistle and all three shouting "foul".
I thought the legal profession, including, the role of the Lord Advocate, was governed by the notion of impartiality and professional ethics. The practice of the country's chief prosecutor also being the Government legal advisor seems a "tangled web", open to conflict of interest. I hope the Scottish Parliament's harassment complaints committee will address this important matter.
Fiona Garwood, Sassoon Grove, Edinburgh
At the risk of dampening ever so slightly the enjoyment of those wallowing in righteous indignation over the current brouhaha may I point out that the Lord Advocate, including when Alex Salmond himself was First Minister, has always been a political appointee, that it is common practice for the principal law officers to be members of the government (as, for instance, is the Lord Chancellor at Westminster), that the present constitutional arrangements in Scotland were determined by Westminster and may be altered only by it.
S Beck, Craigleith Drive, Edinburgh
So, Gill Turner blames Journalists asking the wrong questions for the First Minister's astonishing anti-Salmond tirade during what was supposedly a Covid briefing (Letters, yesterday).
Perhaps she has missed all the other briefings when the Press have chanced their arm with Salmondgate questions which the FM has, quite correctly, refused to be drawn on.
On this occasion one hopeful toe in the water led to the floodgates being opened and, of course, the press took full advantage. One wonders whether this free for all had anything to with the imminent committee appearance of her predecessor?In any event, the BBC have been made to look like duped fools, and they should insist on the FM's absence in future.
Andrew Kemp, Mossbank, Rosyth, Fife
At First Minister's questions on Thursday, Nicola Sturgeon's riposte to Ruth Davidson's attack was to accuse Ruth, who is shortly going to the House of Lords, of, "furthering her career at taxpayer's expense".
All politicians are funded by the taxpayer Nicola – that includes you!
William Ballantine, Dean Road, Bo'ness,
Since the 2014 Independence Referendum the Labour Party has claimed that the reason for it demise in Scotland is due to working with the Scottish Conservatives & Unionists during that campaign. Labour is hiding from the truth. Its demise has been caused by several issues, including poor and extremist leadership, compounded by unappealing policies and ambivalence about the Scottish Nationalists' plans for separation. In the 2019 general election they were prepared to do a deal with Nicola Sturgeon and they would do so again.
Labour's insular approach was exposed after the two Labour candidates for the Scottish party leadership both refused an offer from Douglas Ross, the Scottish Conservative & Unionist leader, to work together on a "Unionist coalition" to stop independence after the Scottish elections in May.
Labour should stop blaming others for its demise and instead co-operate with the other pro-Union parties to expose the flaws of the SNP's independence arguments. Failure to do so could result in a second unjustified independence referendum.Despite the imminent unveiling of a new leader, Labour will still be stuck with the same old problem: it cannot be trusted to safeguard Scotland's place in the UK.
Tim Jackson, Whim Road, Gullane
It is yet again with a sense of despair that I read of Edinburgh Council's plans for George Street as a people-friendly setting, empty of cars, with street cafés and happy cyclists and pedestrians frolicking in the warm sun, enjoying the "European Boulevard feel". The reconstructed image provided shows this very delightful scene in all its faux-European beauty.
Unfortunately, the reality of an admittedly very beautiful city, in any period of the year other than a few days in summer, would be a fierce wind, blowing either from the east or the west straight along the street, frequently accompanied by rain, sending these happy boulevardiers scurrying into the nearest shop or pub. Banning cars from it would only result in more traffic in Queen Street, more buses in Princes Street and the only access to George Street being up a steep hill on both sides, causing inconvenience and extreme difficulty to older or physically impaired citizens. I wonder how keen the restaurateurs, the shop owners and the office workers in the New Town are about this plan? Perhaps as keen as the local residents here in Murrayfield for the draconian parking restrictions planned by the same council for an area that manifestly doesn't need or want them.
Meanwhile, many of the streets of Edinburgh remain almost impassable due to the potholes in the roads and the disastrous state of the pavements. The zealots in Edinburgh City Council, with their ten year "transformation project", need to be shaken out of their fantasies by the reality of life in an empty city centre. Edinburgh is one of very few world capitals where many residents still live and work in the city centre, and turning it into a fantasy Mediterranean city would benefit no one.
Brian Bannatyne Scott, Murrayfield Drive, Edinburgh
It seems to me that Edinburgh is being destroyed for all of us by badly thought-through plans.
The Spaces for People programme is driving ahead despite thousands of objections and despite the chaos caused to commuters, travellers and residents. Parks and Green Belt areas are being altered or built on, in the face of community opposition, ignoring guidelines that say we should have easy access to green outdoor spaces.
Streets that were originally planned to let residents move easily round the city are being closed or altered. Private companies are given permission for events that create devastation in our public gardens. Roads are riddled with dangerous pot-holes.
The SNP government is contributing to this downward spiral by underfunding our councils, so that now services are nearly non-existent. But, strangely, they can somehow push ahead with costly measures that few residents want, while failing to protect high standards of public services.
The same is true for every area of Scotland. With their cuts to services, contributing to low standards for all, the SNP supports Tory austerity.
Anne Wimberley, Belmont Road, Edinburgh
While resident in the USA many decades ago I was impressed by the "two flags on one pole" scenario, for example, the Californian Bear above the Federal Stars and Stripes.
Is this something that might be emulated here in a bid to have a Federal UK acknowledged? The Saltire in Scotland with the Union flag below: this might also go some way to solving the Welsh Dragon problem.
Margot Kerr, Drummond Place, Inverness
How disappointing for Scotland to have our game on Sunday postponed!I suggest the French should be given un "Carte Rouge" for failure to keep their team Covid free.
Ebyth Morton, Craigleith Drive, Edinburgh
I trust that Gordon Ramsey's opinion of Falkirk was formed when he was passing through.
Ron Oliver, Woodside Road, Elie
We welcome your thoughts. Write to [email protected] including name, address and phone number. Keep letters under 300 words, with no attachments, and avoid Letters to the Editor in your subject line.
A message from the Editor
Thank you for reading this article. We're more reliant on your support than ever as the shift in consumer habits brought about by coronavirus impacts our advertisers.
If you haven't already, please consider supporting our trusted, fact-checked journalism by taking out a digital subscription.