Readers' Letters: Statue plaque committee acting like dictators
Any racist abuse suffered by Sir Geoff Palmer should be roundly condemned. However, neither he, nor Edinburgh City Council, should use such behaviour as an excuse to avoid scrutiny of their decisions regarding the city and its past.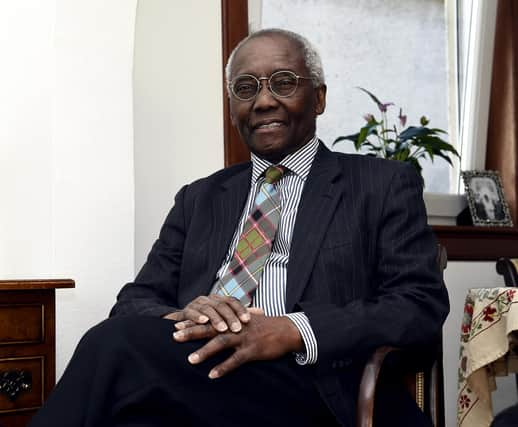 The council, in choosing "experts" to write the information board beneath the Henry Dundas statue in St Andrew Square chose to exclude those best-placed to provide detailed information on the actions of Dundas. Michael Fry – the historian who wrote the authoritative biography on Dundas – was removed from the committee preparing the plaque, presumably because his views didn't tally with the council.
Now the council refuses to say who is on the committee and what their credentials are. Instead, Sir Geoff Palmer (a chemistry professor with no history degree) is taking the lead. Palmer's assertion that "I'm not going to stop that because of people, either historians who think they are trained, or people who want to abuse me, that won't stop me" demonstrates breathtaking arrogance. Would he be equally bullish were a historian try to provide expert opinion on matters of chemistry? Dundas was undoubtedly a rogue, but some historians contend his amending of a parliamentary bill was crucial in ensuring MPs supported the abolish of slavery.
This, and other interpretations, need to be presented on the information board, to allow the people of Edinburgh to make up their own minds. By insisting there is only one acceptable view, Palmer and the Council are behaving in a dictatorial manner.
John Hughes, Forrest Hill, Edinburgh
Election polls indicate that Indyref2 is only sixth in voter concerns, hence it is vital that Holyrood adopt parameters that indicate when a post-Covid scenario has been achieved.
This would indicate that targets should be: 1) eliminate the NHS backlogs; 2) Set up a National Care System to meet the demands of Scots with a disability, the elderly and those requiring mental services; 3) Eliminate the education gap in Scottish schools; 4) Boost productivity to eliminate the GERS deficit; and 5) Repay the £500 billion debt arising from implementing COP26.Once voter concerns over these five parameters have been met, then it is surely time for Westminster to grant a second referendum,
Ian Moir, Queen Street, Castle Douglas
It is not often that events on the Channel island of Jersey are relevant to Scotland. The threat by France's maritime minister Annick Girardin that they might cut off electricity supplies to Jersey, however, is because France could do the same to the UK.
When wind speeds drop, as they did for three days at the start of the month, Scotland relies on importing electricity from England. This situation will only get worse once the Hunterston nuclear power station is closed at the start of next year. If in future the rest of the UK were short of electricity owing to the French switching off the connector, they would prioritise domestic supply over export to an independent Scotland.
Both Westminster and Holyrood must change their energy policies to ensure that we have a secure, reliable, plentiful and cheap supply of electricity, not the part-time expensive electricity generated by wind turbines.
Otto Inglis, Crossgates, Fife
May I suggest an alternative vision to the current ongoing matter of Scotland pursuing its Independence as a vision of a "Land of Milk and Honey". My sister, who lives in Edinburgh and has done for well over 40 years, tells me that those Scottish folks who do not share Nicola Sturgeon's goals do not air their views in public as it might bring them grief. Seeing some of the comments made on different platforms online, I can understand that. The SNP has succeeded in creating a view that those of us who live in England are "The Enemy". Any student of history will tell you that that is the first tactic of any unscrupulous politician; create "The Other" on which to focus misplaced anger, resentment and even hatred. The other big concern for the section of the people of Scotland who do not believe in an Independent Scotland, and are perfectly entitled to do so, is the arrival of a "One Party State" north of the Border.
Those of us living in England live with the same fear of further years of Conservative Governments and its undeclared aim of "Reducing the State" and the subsequent results of this policy. Council housing in England has all but disappeared. Hundreds of thousands of people surviving on foodbanks.
Britain desperately needs a new Written Constitution and the scrapping of the "First Past the Post system" of governing the country. The present system of running and governing the UK/Great Britain, is not fit for purpose. However, those in power and authority do not want to change the status quo. We must work together to achieve this.
Bill Watt, Earl Spencer Court, Peterborough
Gill Turner (Letters, 6 May) accuses me of not being in touch with reality in my assessment of it taking around 20 years from the decision to hold a referendum to Scotland achieving membership of the European Union as an independent state.
My assessment is based on the actual experience of the 2014 referendum process and of the post-referendum Brexit negotiations. It also draws on the March 2021 book Scotland's new choice: Independence After Brexit published by the Centre on Constitutional Change based at the University of Edinburgh and including academics from the Universities of Aberdeen, Cambridge, Cardiff, Stirling and University College Cork. In terms of the time to establish a Scottish currency and to "secure monetary policy sovereignty", I refer to the SNP's own Sustainable Growth Commission report of May 2018.
Ms Turner clearly has a different view but I note she has not accepted my challenge to give an alternative timescale or comment on any economic challenges she might anticipate during the process.
Nicola Sturgeon's statement that it was "utter nonsense" that Scotland's vaccination programme would not have been as successful as it has been had Scotland been outside of the UK and tied to the EU, omitted the fact that at the time the UK decided to obtain vaccine supplies independently from the EU vaccination programme and appointed Kate Bingham to lead the procurement taskforce the SNP were loudly accusing the UK government of cronyism, insisting that opting out of the EU programme, lives would be lost. It seems her episodes of memory loss are continuing.
Paul Lewis, Guardwell Crescent, Edinburgh
During the time that the SNP Government has been in charge of our education system the number of entries at Highers and Advanced Highers has fallen dramatically in some subjects. The total number of entries in French has fallen by 20 per cent and in German by 50 per cent. Given the fact that Scotland needs to trade with France and Germany, it is deplorable that exam entries in those languages have fallen so far. It should never have been allowed to happen. We have probably lost many of those language teachers as classes have shrunk and the subjects have been withdrawn. Over the same period (2005-2019), the population of Scotland has risen by 8 per cent. So our population has increased but our competence in French and German has sunk.The SNP are steering us towards Europe and away from the UK. As usual, however, there has been a lot of pompous guff and nothing of substance. French and German are disappearing from our schools and the SNP Government has presided over that decade-long decline. It makes you wonder if the whole separatist project is based on similar incompetence.
Les Reid, Morton Street, Edinburgh
The spread of wind farms across the country is frightening to behold but as demonstrated in Wednesday's article "Calls for help for Scottish Communities threatened by Ring of Steel wind turbines", what we are seeing at the moment is only the tip of the iceberg. Rural communities may be currently overwhelmed as more and more developers pile into Scotland, where National Planning Policy is very supportive of onshore wind farm development compared to the rest of the UK and because they believe that the Scottish Government will in all likelihood overrule local decision making and grant consent – but what of the future? There is no cap on numbers as far as the SNP is concerned and the Greens are gagging to double what we have already.
Urban dwellers who only notice wind farms on distant hillsides when they are travelling from A to B don't seem to care about the devastation being wreaked upon the Scottish landscape, or about the people or wild creatures who live there. They are more concerned with waxing lyrical about their support for wind energy in an effort to impress others who equally don't understand about the toxic hazards posed by rare earth mining for raw materials used in permanent magnets for wind turbines and the carbon emissions associated with the manufacture, transportation, construction and decommission process for these machines, to name but a few of the downsides to wind turbines.
When our once-beautiful countryside is finally reduced to something resembling the Desolation of Smaug by wind farm developers who also scour the land in search of gold, perhaps more of our citizens will wake up to what has happened... but by then it will be too late. Only fairy stories have happy endings.
Aileen Jackson, Knockglass, Uplawmoor
We welcome your thoughts. Write to [email protected] including name, address and phone number. Keep letters under 300 words, with no attachments, and avoid Letters to the Editor in your subject line.
A message from the Editor
Thank you for reading this article. We're more reliant on your support than ever as the shift in consumer habits brought about by coronavirus impacts our advertisers. If you haven't already, please consider supporting our trusted, fact-checked journalism by taking out a digital subscription.
Comments
 0 comments
Want to join the conversation? Please or to comment on this article.