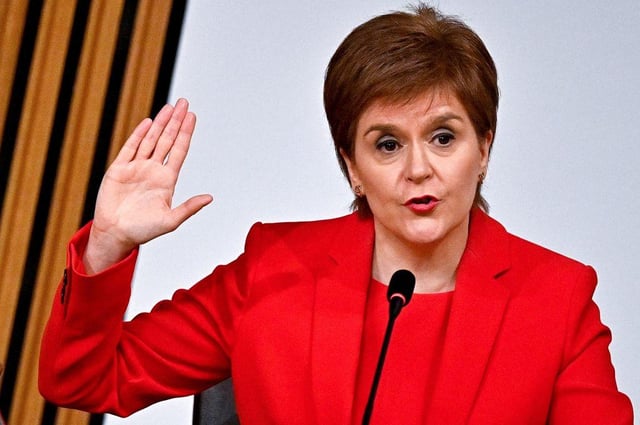 First Minister Nicola Sturgeon is sworn in yesterday (Picture: Jeff J MItchell/Getty)
Throughout the 20 years of devolution this has been the case and now, with the implementation of the UK Internal Market Bill, its very existence is at stake.
So much for Boris Johnson's "union of equals", destroyed by his "disaster" utterance on devolution. The truth is, the only disaster has been this Tory government's shameful handling of the deadly Covid pandemic and the shambolic withdrawal from Europe.
Grant Frazer, Cruachan, Newtonmore
As we Scots continue to observe the duel before the Holyrood Committee investigating the Scottish Government's mishandling of claims of misconduct against Alex Salmond, we may well feel some concern for Nicola Sturgeon s part in this intrigue. Did she lend any support towards her erstwhile colleague, tutor or friend? Or, as it would seem, did she cast him aside in the interests of her own career? That is a question only she is qualified to answer.
But now it seems that it is Ms Sturgeon who is on trial. The people of Scotland need to know the truth about this whole sordid affair. If Sturgeon fails to satisfy the Holyrood Committee's questions on these matters, she must accept her fate, and resign with immediate effect.
Any other conclusion to this whole business would be unacceptable to the electorate of Scotland.
Robert I G Scott, Northfield, Ceres, Fife
The SNP's wagons have been circled around their beleaguered leader. It is a sobering thought to recall the relatively and wildly insignificant reasons Henry McLeish was forced, under SNP pressure, to give up the office of First Minister. He left with dignity intact. The heavily pregnant Wendy Alexander was hounded out of her job also for an ''offence'' that was not within a million miles of the allegations and revelations now flooding Holyrood.
There is an ironic twist in that the two main protagonists now slugging it out at Holyrood led the campaigns to bring down both Labour politicians.
Alexander McKay, New Cut Rigg, Edinburgh
Murdo Fraser says that the issue of the Lord Advocate having a dual role as head of the prosecution service and senior law officer adviser to the government was "addressed in England decades ago" (Perspective, March 3). That's interesting because the minister in England responsible for the prosecution service is Suella Braverman QC MP. Ms Braverman is also the Attorney General and a member of the Westminster cabinet. Something odd here.
Gill Turner, Derby Street, Edinburgh
I have never previously watched the proceedings of the Scottish Parliament. On Wednesday I observed John Swinney's performance at Holyrood. At one juncture, as he was quite obviously reading a response to a question from Murdo Fraser, the deputy First Minister of Scotland looked like he was trying to translate Proust from the original into English on the hoof – and clearly failing. Whoever wrote that response, Mr Swinney, it certainly wasn't you. Throughout the whole session, Mr. Swinney's demeanour suggested a wee boy caught stealing sweets in the corner shop and trying to explain away his predicament. Is this truly the best Scotland can do?
Michael J Laggan, Newton of Balcanquhal, Perthshire
It is encouraging that the Royal College of Physicians in Edinburgh is at last recommending the decriminalisation of drug use, with the introduction of drug consumption rooms and heroin-assisted treatment programmes. A paper recommending such a policy was circulated to MSPs 14 years ago, since when drug deaths in Scotland, mainly due to heroin, have risen to be the highest rate in Europe.
Treating heroin addiction as a medical rather than criminal problem has been shown to reduce addiction and drug deaths in other countries. The UK Minister for Crime and Policy is wrong to reject such an approach. This does not mean legalising heroin, and indeed it would reduce the power of drug dealers, who should be vigorously pursued.
(Dr) David Hannay, Gatehouse-of-Fleet
In spite of the various crises it has gone through during the past 150 years – such as two world wars and the Great Depression – the UK economy has shown an average annual growth of 1.8 per cent. We grow richer because human ingenuity produces innovations who raise productivity and enable us to buy things more cheaply in terms of the man-hours it takes to afford them.
The recent financial crisis and pandemic are the periodic shocks we should expect. The financial crisis provided a shake-up of capital and resources; the pandemic accelerated trends already evident such as online sales and people working from home. Some city centre premises will re-open; others will be converted to meet the housing shortage caused by our planning laws.
The notion that we have our passed "peak wealth", leaving our children to be poorer than ourselves, is another gloomy prophecy from misanthropic Malthusians. Economies will adjust and wealth will continue to be created. This tiresome climate fad with its incoherent "green deals" will pass and humanity will continue to be better off in the future than it was in the past.
(Dr) John Cameron, Howard Place, St Andrews
Perhaps I can help out Andrew Gray with his difficulty in understanding that Scotland is indeed a nation, though not yet a state (Letters, Scotsman, Letters, March 3). This was brilliantly explained in 1992, as the campaign for a Scottish Assembly was gathering pace, by David McCrone in his work, Understanding Scotland: the Sociology of a Stateless Nation. Despite devolution, Scotland is still a stateless nation as our devolved parliament does not have the sovereign state fiscal and monetary powers it needs to build our social model or economy, but only such limited managerial powers as Westminster sees fit to grant us.
May I further assist over the matter of the inter-regional transfers to which Mr Gray refers, meaning the Barnett formula. Scotland pays its taxes, which are collected by the Treasury, but only around 40 per cent of the revenue is handed back to the Scottish Government. This is not a gift, or "largesse", but our own money being returned to us, minus our hefty UK contribution. Furthermore, for as long as Westminster seeks to keep us captive, it has a duty to ensure our wellbeing, should we require a larger share. Since a key unionist argument is that we are "better together'" Mr Gray can surely not baulk at that?
Mairianna Clyde, Merchiston Crescent, Edinburgh
In a sleight of hand worthy of Paul Daniels, the First Minister has decreed that secondary school pupils can return to school a full month earlier than previously planned. If anyone noticed a marked change in the data in the last couple of days, enough to precipitate this sudden change, then they kept it very quiet.
This announcement is further evidence that every decision Nicola Sturgeon makes is for political expediency rather than the wellbeing of the people of Scotland. The polls are moving against the SNP so throwing the schools open is a gambit to try to shore up their support. If it was a serious response to the science, she could have pointed out what has changed in the last week and then entered into a serious discussion with teacher organisations to plan a smooth return to school.
Ms Sturgeon has informed teachers that as frontline workers they can accommodate the difficulties. That difficulty would be teaching live children in class while simultaneously providing online material for those at home. With less than two weeks to prepare while working full-time at home.
This is not leadership; this is a panic move to preserve her position. Teachers have been thrown under the bus on the altar of saving the First Minister's job.
Carole Ford, Terregles Avenue, Glasgow
One would need to be particularly beholden to a divisive political group, as Ian McKee seems to be, to write the purblind things he did (Letters, March 2). Does he really believe that the Conservatives, for example, have "no policies of their own"? The SNP spend most of their time attacking Conservative policies when they aren't "demanding" more powers and then amply demonstrating their total inability to run a bath, let alone a country.
Mr McKee exalts the SNP for holding an election in May. Many other Scotsman readers have pointed out that our beloved leader's daily party political broadcast gives her a completely unfair advantage over the other parties, unlike any democratic state in the world. Eat your heart out, Kim Jong-Un! Is it a coincidence that the lockdown is being eased by the People's Front for the Liberation of Scotland on April 26 and the Scottish elections are to be held on May 6? Surely not? That must surely be pure cynicism on my part.
Mr McKee asks if anyone would be scared at the prospect of an election held in such circumstances and the sort of people who could end up in power if the SNP win. Well, the answer is: yes.
Peter Hopkins, Morningside Road, Edinburgh
We welcome your thoughts. Write to [email protected] including name, address and phone number. Keep letters under 300 words, with no attachments, and avoid Letters to the Editor in your subject line.
A message from the Editor
Thank you for reading this article. We're more reliant on your support than ever as the shift in consumer habits brought about by coronavirus impacts our advertisers.
If you haven't already, please consider supporting our trusted, fact-checked journalism by taking out a digital subscription.