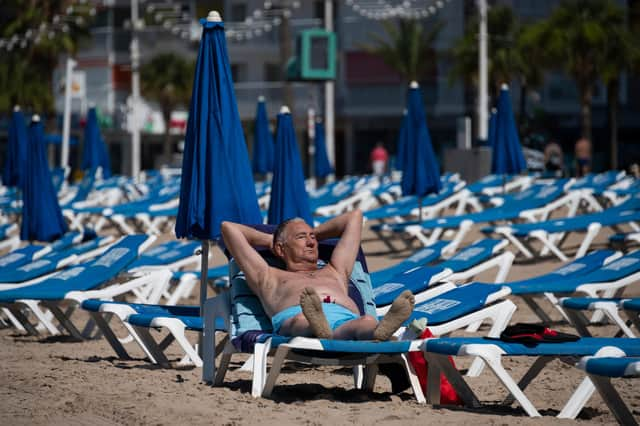 My issue is that as a resident in Europe I would not get a vote on the independence issue, even though my nationality would be changed by a Yes vote. My daughter's English partner, resident in Scotland, gets a vote. Something is not right here. In the EU, residents vote in municipal elections. Only nationals vote in national elections.
Sam Laird, Jesús Pobre, Alicante
John Mason MSP wants another vote on independence only if opinion polls show 70 per cent support (SoS, 9 May).
Very sensible, but more sensible would to require a two-thirds majority in the referendum. Who could disagree that breaking up the UK is a major constitutional issue? Not the SNP, whose own constitution requires such a majority for any change. In addition, any vote in the Scottish Parliament for a bill concerning such a referendum should also require a two-thirds majority (86). At present the SNP's draft bill does not contain a clause about a majority. The Prime Minister should make it clear that this would be the basis for any future referendum.
Steuart Campbell, Dovecot Loan, Edinburgh
The SNP are in a confused state as they regard votes for them as a vote for Scottish Independence, which is far from reality as repeated polls indicate that the Scottish electorate does not want to separate from the United Kingdom. The UK has worked well for over 300 years and our reputation in world terms is solid and reliable as a fair and democratic country and most citizens enjoy a comfortable lifestyle with excellent NHS services. The odds are against an independent Scotland maintaining UK standards and are too high to risk.
Dennis Forbes Grattan, Mugiemoss Road, Bucksburn, Aberdeen
Scotland already had full access to EU markets when we were members of the EU but only did 15 per cent of trade, so how do the SNP think rejoining the EU would increase it? We would also be up competing with the UK, have border controls and an even more remote "Union" with a 500 million population. Our Scotch Whisky trade benefited from £500m reduction in US tariffs as a direct consequence of leaving the EU. I was a Remainer, but not now.
Allan Thompson, Bearsden, Glasgow
Every time there is an unusual weather event the green brigade say it is climate change – unusual hot weather is global warming and unseasonal cold weather is also global warming. They refuse to accept April's cold spell disproves the global warming theory. One even said: "We can expect much more extreme and erratic weather." The climate soothsayers have obviously not paid attention to the UN Intergovernmental Panel on Climate Change which has repeatedly stated that there is limited scientific evidence to link human-caused climate change to extreme weather.
Clark Cross, Springfield Road, Linlithgow
Write to Scotland on Sunday
We welcome your thoughts. Write to [email protected] including name, address and phone number. Keep letters under 300 words, with no attachments, and avoid Letters to the Editor in your subject line.