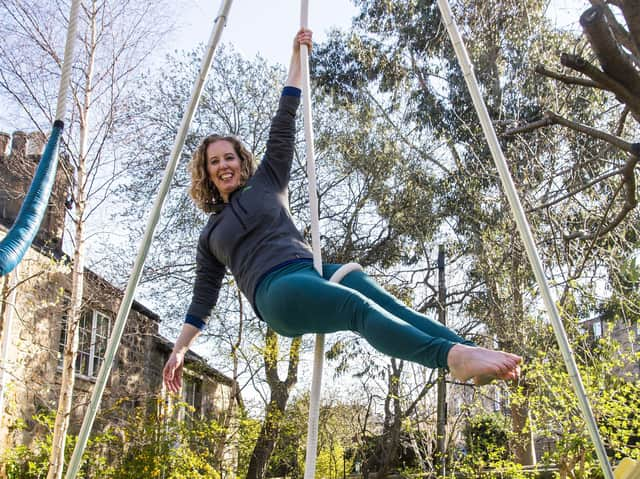 PIC LISA FERGUSON 13/04/2021 The Scotsman Westminster Correspondant chats with THe Scottish Greens Party Co-Leader Lorna SLater On the Holyroad - Scottish Election 2021 The Scotsman Scottish Election feature with ALexander Brown the Scotsman Westminster Correspondant
Yet another Central Belt initiative without the slightest regard for those living in rural Scotland!Surely it is time for the Green Party to accept that devolution has failed rural Scotland and campaign for separate Assemblies for the rural North and rural South (receiving the Barnett cash to support their local communities, leaving Holyrood to govern the rich Central Belt).
Ian Moir, Queen Street, Castle Douglas
Whatever the veracity of Andrew HN Gray's other remarks (Letters, 16 April), it is simply untrue to say Gaelic was never spoken in the Lothians. Place name evidence proves it was. Bass Rock( forehead) Gullane (shoulder) and Craigentinny (rock of the fox) are three obvious examples of Gaelic names and speech.
Colin McAllister, South Street, St Andrews
Nicola Sturgeon's claim that the UK Government will grant a second independence referendum if there's a pro-independence majority after the election is bizarre. From a wider UK perspective, it's quite simple – the Union is reserved and the UK Government stood on a platform of avoiding the "chaos" of two further referendums: Brexit and Scottish independence. The UK Government has no mandate to grant another referendum.
Trying to claim a referendum mandate by virtue of winning a Scottish election is absurd, since voters are being asked to sanction something which is clearly outside the competence of the Scottish Parliament. David Cameron was wrong to indulge this tactic in the past, although it was reasonable to hold a referendum on the basis that the question had never been asked previously. It would be completely destabilising to have a situation where the UK was at risk of breakup every time a devolved assembly had an election. No other developed democracy in the world would accept this as normal.
There is a clear democratic path to independence, and that involves making the case to the whole UK and winning a general election. Failing that, consistent polling in Scotland for pro-independence parties of, say, 65 per cent plus over a 20-year period after the last referendum may also justify a referendum. A 50/50 split just six years after the previous one does not. And as for the argument about needing a referendum due to a "material change of circumstance", this is flawed by the fact that things change all the time. The Union was forged precisely so that Scotland and England could face changes, good or bad, together.
Richard Nicholas, Parkwood Avenue, Leeds
As to be expected in the build-up to a general election, wonderful times ahead are being promised to us all, with gifts galore to tempt us to give our vote to one or another party. But why are we not also informed as to how this generosity is to be funded?
The provision of free school meals I think a good idea, but as for it "saving" families £650 a year, this surely is simplistic – someone has to pay. And has everyone forgotten the collapse of the Eire economy not that long ago, with housing developments left unfinished and unsold? Can an economist not look at the goodies on offer and explain them in the context of the cost to the Scottish Economy so that the electorate is properly and adequately informed? I would value that information and I know many others who would too.
David Gerrard, Spylaw Park, Edinburgh
The manifesto pledges from the SNP detailed by the First Minister once again demonstrate economic illiteracy at the highest level. The shameless "spend,spend, spend" pledges do not bear any level-headed scrutiny, as so stated by the independent Institute of Fiscal Studies. "Transformational" spending as she describes but then, in almost the same breath, a freeze on income tax rates, simply does not equate and when the deficit figures appear, it will be fantasy economics.
Nicola Sturgeon was Cabinet Secretary for Health & Wellbeing from 2007–2012 and has been First Minister since 2014. Her "transformational" spending promise equates to just £178 million for each year she has been in power and of course, begs the question of why it has taken her 14 years to even consider this. Free dental care will only potentially benefit those that can actually afford it as those that are unable to do so at present get it free. Beware of those bearing gifts is a very apt warning at this time.
Richard Allison, Braehead Loan, Edinburgh
Nicola Sturgeon is on a campaign trail for the impending Scottish Parliamentary elections. Her latest promises to the electorate are munificent when one considers the fragile state of the Scottish economy. She has been quoted as promising the electorate a £10 billion increase in Scottish NHS spending, a 25 per cent increase in mental health spending, and abolition of NHS dental charges. Also, the SNP will build 100,000 affordable homes, freeze rates on income tax, extend free bus services and double the Scottish child payments.
Marvellous stuff when one considers that her minority SNP Administration is reliant on the Westminster Exchequer for huge subsidies through the Barnett Formula, for example: 2018/19 £16 billion; 2019/20 £32bn; 2020/21 £38bn est. It is surely obvious that Ms Sturgeon is not really expecting to be successful in her quest for Scottish independence. If she were, her latest promises to the people of Scotland would be nigh impossible to achieve!
Robert I G Scott, Northfield, Ceres, Fife
In the 2016 Scottish Parliament election the SNP and Greens got 45 per cent of the constituency votes and 69 seats, enough to form a government and spend the next five years arguing for a referendum which they never got, because a 55 per cent turnout means only 1.3 million out of Scotland's 4.3m registered voters voted for the parties who want independence.
This year they are predicted to get 53 per cent of the votes and 81 seats between them, and if Alex Salmond's Alba party succeeds they could get 70 per cent of the seats, 90 MSPs and a "Supermajority". But if the turnout is the same that means only three in every ten voters has voted for them.
How can that be a mandate for a referendum to break up the UK and the most successful economic, political, cultural and secure union in history? All it is, is an excuse to keep banging in about something that people don't want and waste five more years not fixing Scotland's problems.
Allan Sutherland, Willow Row, Stonehaven
I was interested to see my friend (Count) Peter Pininski in your pages Heritage yesterday. He certainly speaks for descendants of Prince Charles Edward Stuart, of which there are many as the result of the Prince's illicit liaison with his Scottish mistress, Clementina Walkinshaw. Some dozen or so live in Scotland.
Steuart Campbell, Dovecot Loan, Edinburgh
Has anyone else spotted the uncanny resemblance of Colin/Cuthbert the Caterpillar to Alex Salmond?
Chris Forrest, Marchmont Avenue, Polmont
We welcome your thoughts. Write to [email protected] including name, address and phone number. Keep letters under 300 words, with no attachments, and avoid Letters to the Editor in your subject line.
A message from the Editor
Thank you for reading this article. We're more reliant on your support than ever as the shift in consumer habits brought about by coronavirus impacts our advertisers.
If you haven't already, please consider supporting our trusted, fact-checked journalism by taking out a digital subscription.