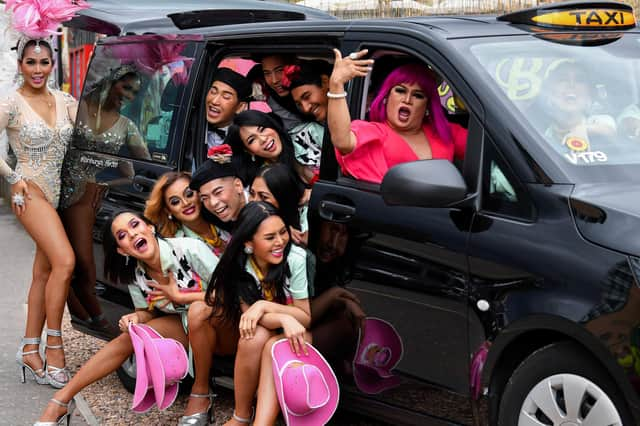 Don't expect the Ladyboys of Bangkok to squeeze into a taxi like this if they come to Fringe 2021 (Picture: Jeff J Mitchell/Getty)
Are we to be subjected to the arrival of uncontrolled and undefined numbers of visitors in our city in a few months time? Whatever happened to the discussion on the reformatting of the Fringe and Festival to strike a better balance between the relationship of locals needs and unfettered tourism? We could not have been away while this review took place, so what happened? Answers on an old fashioned postcard from the Med with warning on the next wave please!
Keith Smith, Priestfield Gardens, Edinburgh
Correspondent Leah Gunn Barrett thinks that Scotland could make the leap to emulate Scandinavian economies by cutting itself off from the Union. So the loss of the £20 billion of Barnett consequentials coming from the UK can, in her view, easily be replaced by the impact of "levers".
What would these levers be, except a mishmash of neo-Keynesian State sponsored follies? Today we have the new ferries disaster, unplanned hospital overruns,and massive losses at Prestwick and Bifab. In days gone by, government-backed projects like the Invergordon smelter, Stonefield vehicles (let's compete with Land Rover!), not to mention the unlamented unreliable Hillman Imp, all failed the test of free markets and competition.
As the Institute of Economic Affairs demonstrated in its publication Scandinavian Unexceptionalism, it is the entrepreneur spirit and work ethic that gives an edge there, something in practice discouraged by Scottish nationalists with their high-personal-tax agenda. The real comparison is with the EU which the SNP want to rejoin. Its average GDP (adjusted for purchasing power) is actually lower than that of the UK. And Scotland would have to pay to be a member (without the Thatcher rebate) were we "independent!" if, indeed, with our 8 per cent and rising Scottish fiscal deficit, we would even be allowed to be a part of the EU...
Peter Smaill, Currie Mains, Borthwick, Midlothian
A report published on the London School of Economics British Politics and Policy blog is causing panic in Westminster as the Scottish election campaign is in full swing.
The report was written by Geoffrey Chapman, economic adviser to the Department for International Trade, and Richard MacKenzie-Gray Scott of the British Institute of International Law. When it was reported in the press the blog was immediately deleted by Downing Street, stating: "This is not the view of the Department of International Trade or the UK Government."
The panic arises as the report concludes: "Considering Scotland has all the necessary machinery in place to become an independent state, we see no obvious reasons why Scotland would not succeed economically if it were to do so, especially if achieved within the bounds of the law."
This is a damning report, coming as it does from the Westminster establishment. From Tory elite dark money to the disaster of Brexit and broken promises, trust in the UK has gone. While Holyrood passes laws to safeguard children, Westminster promises extra billions for nuclear weapons!
As the Covid crisis recedes, independence is not a distraction to recovery as Unionist parties claim; it is in fact essential to it. A Scottish parliament with full executive powers is necessary to a successful recovery and to building a better, fairer and nuclear-free nation.
Grant Frazer, Cruachan, Newtonmore
Surprisingly, I agree with much of what Peter Hopkins says about the recently released video on behalf of the Alba Party (Letters, 15 April). I have watched the film and it's the most appalling kind of antediluvian, blood-and-soil claptrap. It is so cringeworthy that you're left to wonder whether their next iteration will feature Brigadoon. What is astonishing is that the master tactician, Alex Salmond, has put his stamp to a monstrosity which will ensure that in any future referendum, the 500,000 English people living in Scotland will vote in vast numbers against it.However, for Mr Hopkins to say that the reference to English oppression is "utterly untrue" is to fly in the face of history, as the long-protracted wars of independence will testify. But that is the point. This caricature of the independence movement is rooted in an event which happened in 1314 and has no relevance in a modern, outward-looking and inclusive Scotland.So yes, there are overtones in this film which are blatantly anti-English, but for Peter Hopkins to characterise all supporters of independence with the same bigotry and racism is deeply insulting and indicative of an attitude as blinkered in the other direction as the creator of this pastiche. Indeed, the large majority of us who support independence number many English folk among our friends and extended families.And on one final point, Robert the Bruce, who spoke Gaelic, Scots and Norman French, will be birling in his grave at his modern incarnation's tortured failure to correctly pronounce "Alba".
Gill Turner, Derby Street, Edinburgh
The problem with politicians of all shades is that they run out of relevant things to say. That is typified by the latest bonkers SNP policy (your article 15th April). One of the "problems" they have identified seems to be that not enough Scots speak Gaelic. Gaelic is not a native language here. The only native languages were Pictish, and Old Cumbric which is a sort of Old Welsh. Yet the SNP want to have all Scottish schoolchildren blethering away in this language which is spoken here by fewer people than Polish. Money is wasted branding police cars and ambulances with Gaelic even in places where it has never been spoken, like the Lothians and Borders, Shetland and Orkney. Why? Because the English don't speak it.
The only people who speak anything like Scots Gaelic are some west coast Irish. How much good will it do Scots to speak Gaelic? Much less than learning French, German or even Latin. At least Lallans (Scots) has linguistic links to other Germanic languages like Dutch and German. Lallans is a Scottish language with a rich heritage of literature – Dunbar, Barbour, Fergusson, Lindsay, Burns etc – but Gaelic seems to be a kind of nationalist fetish.
By all means, support Gaelic where it is still spoken, but populating schools throughout Scotland with Gaelic-speaking teachers? Even in Inverness, they had so little luck finding a Gaelic-speaking head for a school specialising in that language that they ended up employing a Swede!
Andrew HN Gray, Craiglea Drive, Edinburgh
I was very encouraged to read about the proposal to invest in Gaelic language teaching in schools. May I also suggest the same for adults. As a linguist, I have lived and worked in several countries, and always learned the language of that country. I am now settled in Scotland, but despite my best intentions, my efforts to learn Gaelic consist of a book and a CD sitting on the shelf. The discipline of attending classes might well make the difference.
Peter Gosling, Blacklunans, Blairgowrie
New Scottish Labour leader Anas Sarwar says he "doesn't believe in another referendum or Scottish independence". Isn't the truth that, Attlee's 1945 landslide apart, Labour has always relied on Scottish MPs to form a government in Westminster? England is lost in the bitter backwash of Brexit and Tory rule for the foreseeable future (largely because Labour voters in huge numbers defected to the Tories at the last General Election), and the Labour "branch office" in Scotland has to follow orders from London.
That must be galling for Mr Sarwar, as he knows that, after independence, Scottish Labour will have an excellent chance of forming a government at Holyrood fairly soon.
David Roche, Coupar, Angus
The latest Covid figures show that thanks to our efficient vaccination programme there is light at the end of the tunnel for Britain.
The seven-day new Covid cases rate for the UK is 15.6 cases per 100,000 of population. By comparison the figures for EU countries vary from Portugal on a low of 40.5 per 100,000 up to highs of 427 for Sweden and 428 for Cyprus. EU countries of a similar population to Scotland vary from Finland, with three times our rate, up to Croatia with a rate almost 20 times higher than the UK. Ireland is on an incidence of 56.8 per 100,000 which is more than 3½ times our rate. This success for Britain is down to the fact that being outside the EU gave us the flexibility to procure massive supplies of vaccine for ourselves rather than wait for the Commission, which both ordered late and failed to allow for a vaccine failing trials. When will the nationalists learn that leaving the UK in order to rejoin the EU is not in our interests?
Otto Inglis, Crossgates, Fife
Dog walkers are being asked to take care around the Cairngorms National Park this spring to allow capercaillie to thrive (your report, 14 April), Why pander to irresponsible dog owners? Make it compulsory for all dogs to be on the lead at all times and so protect not only the capercaillie but other birds, animals and people. We are far too soft with irresponsible owners, just look at the carnage dogs do to farm animals. An on-lead policy backed up by a £1,000 fine would solve the problem. As for who would police, simple – responsible dog owners.
Clark Cross, Springfield Road, Linlithgow
We welcome your thoughts. Write to [email protected] including name, address and phone number. Keep letters under 300 words, with no attachments, and avoid Letters to the Editor in your subject line.
A message from the Editor
Thank you for reading this article. We're more reliant on your support than ever as the shift in consumer habits brought about by coronavirus impacts our advertisers.
If you haven't already, please consider supporting our trusted, fact-checked journalism by taking out a digital subscription.