Readers' Letters: Raise taxes to provide more cash for Scottish childcare
Your coverage of the recently published Reform Scotland report advocating increasing the use of vouchers in the childcare sector was interesting ("Give parents full control of payments for childcare", 10 September). However, the report by former Tory adviser Gordon Hector misses the point about what is needed in childcare and across the wider public sector.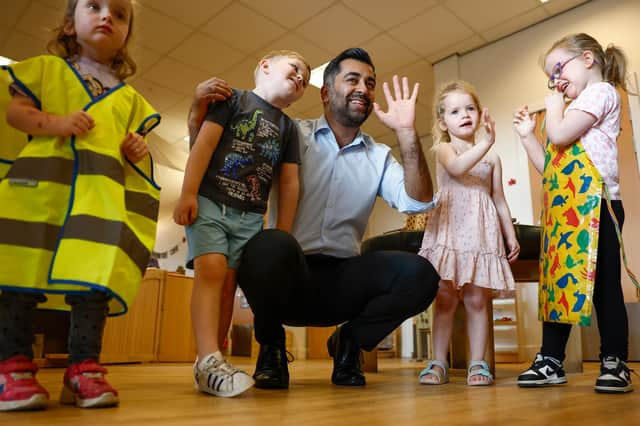 The Tory party Mr Hector worked for has consistently undervalued and attacked public services . One of the best examples of this is on taxation. Back in 2013 Tory Chancellor George Osborne cut the top rate of income tax from 50p to 45p. According to Unison this cut in tax for the very well off resulted in a loss of £8.6 billion in tax revenue, money which could have been spent improving childcare and supporting our NHS.The most sensible way to improve childcare and other public services is to get some more funds to develop them. A higher rate of income tax for those who can most afford it would be a good start in building the necessary funds to give the country first class public services.
The latest attempt by a UK Government agency, in the form of a "public consultation" by the "senior traffic commissioner for Great Britain", was yet another attempt to interfere with the way things work in Scotland but, in fact, seemed to be trying to fix a problem that didn't exist.
By quickly dropping the proposals in the light of opposition from all political parties in Scotland and local supporters' organisations – plus the SFA, SWFA, and SPFL (who issued a joint statement including the words "In Scotland, there are already appropriate powers held by PHV operators, Police Scotland and other partners to deal effectively with a very small number of incidents by a minority of fans") – we'll maybe see Westminster being a bit more hesitant before attempting any future interference in Scotland's affairs, where they are neither wanted nor necessary. Or maybe they'll just ask Scotland how we deal with things to save them the bother of trying to reinvent the wheel?
Ian Waugh, Dumfries & Galloway Indy Hub
Given the upheaval Scotland is suffering under our current SNP/Green government it is important to know exactly where we are heading. With almost all our public services in disarray what are the practical solutions being offered?
The answer, unfortunately, seems to be "few". Its vague flagship answer is now "Independence within the EU". The answer is opaque as few facts are known about borders, currency and all the other vital details. The EU may simply reject Scotland. If it wants us it will be costly, very costly, to a nascent state that almost certainly will be in deep financial trouble.
Finally, what would Scotland's "influence" be within a future EU with 36 or 37 members before we even joined? Independence within the EU is not actually going to happen without lots more pain.
Why can't the SNP and Greens be transparent about this rather than glossing over valid problems as if they were minor ones? Is it because few Scots will want to take them up on this offer?
Write to Scotland on Sunday
We welcome your thoughts – no letters submitted elsewhere, please. Write to [email protected] including name, address and phone number – we won't print full details. Keep letters under 250 words, with no attachments, and avoid 'Letters to the Editor/Readers' Letters' or similar in your subject line – be specific. If referring to an article, include date, page number and heading.
Comments
 0 comments
Want to join the conversation? Please or to comment on this article.