Readers' Letters: 'Protection' for battlefields not fit for purpose
The call from the National Trust for Scotland to political parties to provide greater protection for historic battlefields (Scotsman, 16 April) is to be welcomed.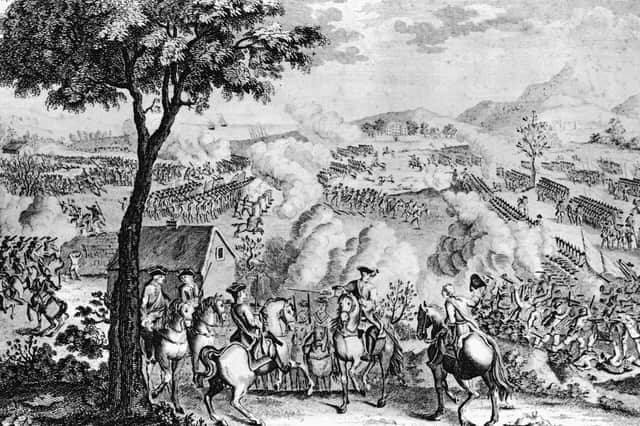 The Battle of Culloden, in which the British forces triumphed over the Jacobites hoping to place Bonnie Prince Charlie on the throne
Threats to their integrity from housing and other developments led to the establishment of the Scottish Battlefields Trust in 2014. As an independent, non-political charity, whose prime purpose is to speak up for the preservation of the scenes of battles that shaped the nation's history and character, we will be pleased to work with the NTS on our shared objective.
Historic Environment Scotland has designated 40 battlefields as being of national importance. Spread over 15 local authority areas, they range in date from the 1296 battle between Scottish and English knights and mounted men-at-arms near Dunbar in the First War of Scottish Independence, to the bitter Jacobite defeat on Culloden Moor in 1746.
From the outset, a major issue the Scottish Battlefield Trust has had to grappled with is the so-called "protection" of designated battlefields claimed to be afforded by the planning system. When seriously put to the test, this has turned out to be a mirage.
At Culloden, planning applications for housing and holiday accommodation have posed recurring threats.
Yet another possible threat has emerged in a vision document commissioned by East Lothian Council, which advocates the flooding of part of the site of Bonnie Prince Charlie's famous victory at Prestonpans to create an open-air water sports park. And so it goes on.
The Scottish Battlefields Trust sent a submission to all of Scotland's political parties encouraging them to include pledges to preserve historic battlefields in their election manifestos. Based on an American exemplar, it recommended government funding to support the purchase of key areas of designated battlefields by heritage charities, to be held in trust for future generations.
Further proposals included financial assistance towards the use of 21st century technology to interpret battlefield landscapes. Also, and perhaps most importantly, 100 per cent grants to meet the transport and other costs of school visits to the nation's historic battlefields. By this means, and at the sites where they were fought, young people would be given accurate accounts of the historic contexts of the battles, and told the stories of those who participated in them.
Chairman, Scottish Battlefields Trust, Kirkhill House, Queen's Road, Dunbar
I quite agree with Colin McAllister about Gaelic place names existing in the south-east of Scotland (Letters, 17 April) and why not? There are French place names in Scotland too, like Beauly and Chatelherault. Does that make Scotland a French-speaking country?
People name their houses and land-holdings after familiar places to them, or to mark their ownership, or to describe the place, thus, Peebles means "shieling" in Old Cumbric and Penicuik, "Hill of the Cuckoo". However, the texts from the past tell us who the people of south-eastern Scotland were and the records of the time say, quite explicitly, that the people south of the Forth were called "English", because they spoke English. Scots were those who spoke Gaelic and French spoke French.
Mr McAllister should devote some time to reading the charters of King David I, the king who moved English speakers up to the Buchan area from "Lothian" to learn about what language the people (not the aristocrats) here spoke a thousand years ago!
Craiglea Drive, Edinburgh
When more than 1,200 church leaders urge Boris Johnson not to introduce Covid vaccine certificates, saying they are an "unethical form of coercion", he should take notice. These people are masters of the art.
Gilberstoun Place, Edinburgh
Lorna Slater's article "Where's the climate urgency?" (Scotsman, 17 April) makes interesting reading. It refers to a green recovery and says Scotland must not be left behind. With regard to energy and making the transition to electrification, Scotland has been left behind. This is mainly due to the policy of both the SNP and Green Party opposing nuclear power plants being built in Scotland.
There is no mention of nuclear power in either the SNP or Green Party literature but the majority of engineers find it hard to envisage a future where we can decarbonise the electricity power grid in an affordable way without increasing our nuclear generating capacity by a significant amount. Scottish politicians should be advised that nuclear energy is the key component of achieving a "green recovery".
The British electricity grid is a single engineering entity and it is essential that synchronous generation support from nuclear plants is provided to ensure grid stability. Increasing renewable capacity on its own will not provide a stable grid system without gas and nuclear generating capacity in the system.
I would suggest that anyone who is concerned about the climate emergency should not cast their vote for parties who are not supporting nuclear energy. Without a significant increase in nuclear capacity it isvery unlikely that the target for net zero carbon emissions will be met by 2050.
Mortonhall Road, Edinburgh
How tragic it is to read that our blundering politicians in their efforts to "save the planet' will actually be contributing to an accelerating environmental disaster.
How can the 290 jobs being created to build wind turbine generator foundation jackets at the BiFab yard in Methil (Scotsman, 16 April) be desicribed as "green jobs"? It is patently ridiculous.
Specifically, as the Neart na Gaoithe offshore wind farm – the destination for the foundation jackets – should never have been approved in the first place.
The RSPB was so incensed by the Firth of Forth offshore wind farms during the planning process, it described them as "the most damaging wind farms for seabirds anywhere in the world" and the Firth of Forth as "of international importance to wildlife".
They were so appalled by the Scottish Government's cavalier attitude to birdlife that they took them all the way to the Supreme Court!
The RSPB also objected to the Moray West offshore wind farm, describing the environmental assessment submitted by the project as "incomplete and inadequate". They added that the initiative could "spell disaster for some of our most valued seabird populations".
Indeed, they described the proliferation of offshore wind farms in the North Sea as "the final nail in the coffin for seabirds".
Wiping out wildlife is a tragically abhorrent way to "save the planet".
It is disappointing to see The Scotsman resurrecting Alex Salmond's absurd "Saudi Arabia of wind" claim (17 April).
Saudi Arabia makes money selling oil to other countries. UK consumers pay money in subsidies to mostly foreign-owned energy companies.
Oil and gas are internationally traded commodities which are readily transported in large quantities over long distances. The capacity of a single large tanker whichcan travel anywhere in the world is equivalent to about 1,200GW. The UK's electricity infrastructure struggles to export 3GW from Scotland to England.
Emeritus professor of engineering, Legerwood, Earlston, Berwickshire
I read with interest that the SNP are making a manifesto promise to scrap NHS charges for dental care (Scotsman, 16 April) to ensure the "cost is not a barrier to accessing health care".
Charges for NHS dental care were introduced very soon after the NHS was formed in 1948 and free NHS dental examination were introduced by Labour in Scotland. NHS dental care is highly regulated and the Scottish Government stipulates the treatment available, the patient cost and the provisos under which the dentist can provide that care.
Whilst major strides have been made in the oral health of the nation over the last few decades the system is creaking and underfunded (by all governments).
Whilst the promise in the SNP manifesto on the face of it appears a laudable aspiration, in a post-pandemic world in full recession with the promise of no tax rises am I the only one to wonder where the finances as coming from, or is the £75m promised coming out of the popular robbing Peter to pay Paul chest?
In this situation what governments have done with great alacrity in the past is simply to alter the regulations and provisos and reduce the number of items available for NHS dental care. Unfortunately, government-funded NHS care provision is fiscally driven and not necessarily care driven and this form of subliminal clinical rationing of items available has existed in NHS dental care for generations.
This flagship headline seeking announcement requires major scrutiny as I fear without significant major investment and not a rearranging of the deck chairs on the Titanic fewer items will be available and only the patients will suffer. Caveat emptor.
Fairmile Avenue, Edinburgh
It was such a relief that Prince Philip managed to prevent William Walton's orchestral march Crown Imperial making yet another
"royal" appearance at his funeral.
Originally composed for the planned coronation of Edward VIII it should have been binned along with that ghastly little man.
We welcome your thoughts. Write to [email protected] including name, address and phone number. Keep letters under 300 words, with no attachments, and avoid Letters to the Editor in your subject line.
A message from the Editor
Thank you for reading this article. We're more reliant on your support than ever as the shift in consumer habits brought about by coronavirus impacts our advertisers.
If you haven't already, please consider supporting our trusted, fact-checked journalism by taking out a digital subscription.
Want to join the conversation? Please or to comment on this article.