Readers' Letters: Politicians neglect Scotland's coastal communities
As our politicians venture out on the campaign trails there are certain fundamental issues well away from the Central Belt and photo opportunities.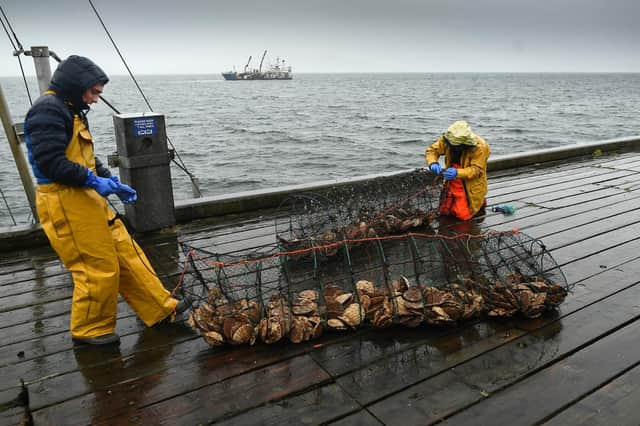 These areas are precious fishing grounds which will put enormous pressure on the available fish stocks elsewhere. Every job on a fishing vessel creates three onshore jobs and the resultant spend within our fragile Highlands and Islands communities is vital. One can only hope that our candidates in the forthcoming election will accept that there is potential for economic development in our coastal communities and that not all conversations will be based around the Central Belt and personalities.
DG McIntyre, Davidsons Mains, Edinburgh
In their TV debate, our leaders spoke of independence. They must get real. For the foreseeable future, independence is not an option. Even before Covid, it would have been extremely difficult. In 2018 the SNP Commission said that it would take five to ten years of austerity to overcome our dependence on the UK. In 2019/20, Scottish Government figures show we spent 12 per cent more per head than the UK, but paid 2.5 per cent less tax. Covid makes independence unthinkable. We await Scottish Government figures for 2020/21, but the Institute of Fiscal Studies used Office for Budget Responsibility figures to calculate a deficit of 26 to 28 per cent, falling to 11 per cent by 2024/25. We have no chance of borrowing on that scale. We must rely on the UK and Bank of England, as in the Royal Bank crash in 2008. That rules out EU admission.
Before we have another independence referendum, a Royal Commission on the Constitution should report to the people on a detailed proposal. We must never again vote blind as we did on Brexit. The Commission should go on to recommend more devolution throughout the UK, whether regional or federal, and reform of the Lords and the electoral system.
That will take time. The overwhelming priority is recovery from Covid. Holyrood already has all the powers it needs. In May, let's elect MSPs who will concentrate on the job with competence, dedication, creativity, decency, truth and humanity.
David Gracie, Regent Terrace, Edinburgh
The contribution to the Scotsman Letters page (31 March) by the renowned author Louis de Bernieres has drawn the usual responses from SNP supporters. However the contribution from Brian Bannatyne Scott (Letters, 2 April) is telling. He singularly submits no answers or arguments to the points raised by Mr de Bernieres but instead demonstrates the narrow minded and parochial attributes of an independence supporter. A rather pathetic and small minded attack on the writing skills of a lauded author but critical, and more importantly, Mr de Bernieres is advised not "to poke his nose into Scottish politics" and should "remain practising his mandolin in Norfolk".
Yet again we are subjected to the unpleasantness of the independence debate. Would I be surprised to see Mr Scott waving the placards at the Scotland England Border.
Richard Allison, Braehead Loan, Edinburgh
While the rhetoric of right wing parties has been offensive to many of us, we can agree to put some blue water between Unionists and the SNP over independence. Those of us who believe the spirit of democracy needs to prevail would agree that it is rather soon after the last Indyref to have another one.
While Brexit makes independence more attractive to many of us, we also need to question the SNP's version of "saying no to Project Fear" because so soon after the pandemic, Scotland's finances and trading relationships will need time to recover. Our recovery will be hindered if we have several years of further instability as Scotland and the UK squabble over a divorce deal. Those of us who disliked the glibness of the Brexiteers' gung-ho attitude to our economy must, if we are to be consistent, dislike the same gung-ho attitude of supporters of a second Indyref.
It is cynical to suggest that because the Tories have allowed Referenda to be won by tiny margins, that we should play the bruisers at their own game and kick democracy into touch. Rousseau warned that the spirit of democracy is eroded badly when voting systems allow for the dictatorship of small majorities. History suggests that he was right. Time will tell, but sadly, time is not actually a great healer.
Andrew Vass, Corbiehill Place, Edinburgh
In the midst of the climate change emergency, Viridor are proposing to erect the biggest incinerator in Scotland, in South Lanarkshire. Channel 4's Dispatches: "The Dirty Truth About Waste" exposed the failure of this industry to address the issue of recycling whilst polluting the environment and creating financial contracts which councils are now having difficulty withdrawing from. South Lanarkshire Council recently announced that the climate change emergency is their greatest challenge.
If that is the case then local voters must ask why the Council are supporting incineration, as contained in their recently launched Development Plan. The resultant CO2 greenhouse gas emissions are contrary to their own policy and national commitments. If we are to address the issue of waste, we need to view it as an asset and not a problem. Like sweeping the dirt under the carpet, the Council are burning our waste to avoid sending it to landfill when in reality they should be recycling all our waste. Burning recyclable materials is not 'Green' and creates a greater problem through the polluting emissions. If we value our green belt, our environment and our health, we should not be burning waste by polluting the air we breathe or the soil that sustains our livestock and produce. If we are to understand the impact we need a national moratorium now to establish the demand, need, and impact upon the economy and public health and impact of incineration on climate change nationally.
John Young, Dovesdale Action Group, Spinningdale, Stonehouse
When the Scottish Criminal Cases Review Commission referred the case of Abdelbaset al-Megrahi to the High Court of Justiciary it said there were clear indications he had been a victim of a miscarriage of justice. It considered six grounds of review and concluded that this miscarriage probably occurred by reason of "unreasonable verdict" and "non-disclosure". In the two decades since the original trial, evidence has emerged which makes it difficult not to agree with Nelson Mandela, who also said there had been a serious miscarriage of justice. UN observer Hans Köchler and others who attended the proceedings called the trial "shambolic".
Sheriff Graham Cox, the first of the Scottish judiciary to meet the two Libyan suspects, made no secret of his belief that the wrong men were in the dock – a view later endorsed by Scotland's senior law officer in the investigation, Lord Fraser. Finally, the al-Megrahi family has always been supported by Dr Jim Swire and the Rev John Mosey, whose daughters died in the atrocity.
Predictably, senior Scottish judges have refused permission for the al-Megrahi family to continue a legal battle to clear his name at Britain's highest court. Lord Carloway et al ruled the family's arguments did not pass the legal tests needed to refer the case to the UK Supreme Court.
As a famous tennis player used to say: "They cannot be serious!"
(Rev Dr) John Cameron, Howard Place, St Andrews
Scotland's bothy culture is at risk as visitors leave litter and vandalise trees (your report, 1 April). Crowds of teenagers flocked to The Meadows in Edinburgh to blast music and drink and leave their rubbish behind. Litter pollution is a major problem but what does the Scottish Government do? It puts up the price of carrier bags from 5p to 10p. Wow. The Scottish Government will introduce a Deposit Return Scheme (DRS) in July 2022 but bottle banks in council areas are a great success. So people, especially the elderly, will have to trek to their nearest DRS. The idiots who trash our streets, roadsides and parks are not going to be deterred by a 20p deposit or 10p for a bag since they will have paid at least £5 for their carry out. Fines for deliberate littering should be increased to £1,000. The publication and threat of this would, after a few well-publicised examples, solve the problem, not the softly, softly educational approach which has failed for over 50 years.
Clark Cross, Springfield Road Linlithgow
Through the year I find myself occasionally checking the date on reading pronouncements by the SNP, believing them to be spoofs. I kick myself for falling for today's headline ("Nicola Sturgeon says 'SNP is the most united party in Scotland'"). I shall be more alert to the truth behind political claims in the future.
Ken Currie, Liberton Drive, Edinburgh
Typically the Scottish Government are amusing themselves by speculating on a 17-mile plus tunnel from Skye to the outer isles (your report, 1 April). If they were really considering the wellbeing of the Western Isles and Scotland as a whole they should be thinking of demolition of the ruinously inefficient subsidy sink Calmac. If ever there was a warning against letting a nationalised industry becoming a self-serving vested interest, Calmac is it.
David Hogg, Glanville Place, Edinburgh
We welcome your thoughts. Write to [email protected] including name, address and phone number. Keep letters under 300 words, with no attachments, and avoid Letters to the Editor in your subject line.
A message from the Editor
Thank you for reading this article. We're more reliant on your support than ever as the shift in consumer habits brought about by coronavirus impacts our advertisers.
If you haven't already, please consider supporting our trusted, fact-checked journalism by taking out a digital subscription.
Comments
 0 comments
Want to join the conversation? Please or to comment on this article.