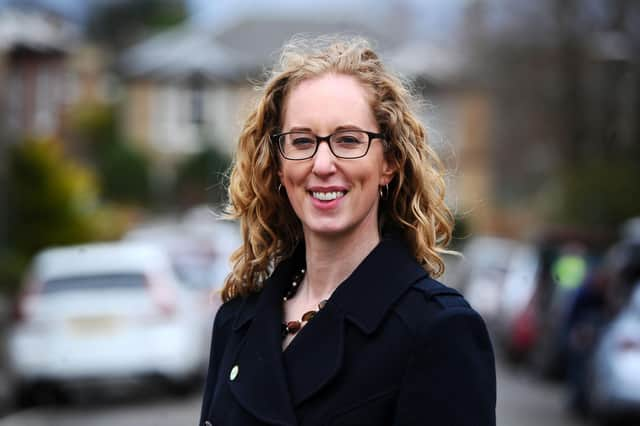 Scottish Green Party co-leader Lorna Slater (Picture: Michael Gillen)
However, in suggesting that to deny a debate on constitutional issues "is to accept that we trust Boris Johnson with important issues like energy policy..." I do not trust Westminster with energy policy and I do not trust the Scottish government or the Green Party as to date they have presented no credible energy policy.
There has been no debate regarding Scotland's future energy sector, assuming it can be defined separately from the GB, to show what will be the the result of closing our two nuclear plants.
The significance of not discussing this issue was highlighted over two weeks from April 11-25 when generating capacity in Scotland provided only approximately 16 per cent of demand from nuclear (mainly Torness) and gas generating plants (Peterhead), the remainder coming from plants in England and Wales, and European inter-connectors, mainly from nuclear plants in France.
I agree with Lorna Slater when she says "We must get real on climate [change] and do it quickly." I am convinced that it is inconceivable that we can decarbonise our electricity power grid affordably without increasing our nuclear capacity by a significant amount. Nuclear energy can provide the solutions for countries throughout the world to prevent global warming but it should be an issue which is urgently addressed and debated by politicians.
Any mention of nuclear energy was noticeable by its absence in all political literature in the weeks leading up to the Scottish election.
C Scott, Mortonhall Road, Edinburgh
I must be getting old. You see, in my day an election leaflet told you a party's policies on health, education, housing, transport, jobs etc.
I now have a glossy Conservative leaflet telling me to vote Tory as only they can stop the SNP and block another independence referendum. My Labour leaflet tells me only by voting Labour can we defeat the SNP and stymie a referendum. Yet they recoil at the prospect of working together.I bet this confuses first time voters.
John V Lloyd, Keith Place, Inverkeithing, Fife
The Scottish Calmac ferry contract debacle is a current glaring example of how the SNP is unable to run an efficient and transparent government and the programme is riddled with so many cases of gross incompetency and poor administration it is unbelievable.
The two ferries were ordered by the Scottish government in 2014 at a three-year fixed contract price of £97m (which was the highest bid of the six submitted!) and they were to be the pride of Nicola Sturgeon's government, with capacity to carry over 1,000 passengers (three to five times more capacity than needed).
In November 2017, the partially built MV Glen Sannox was floated with much fanfare (including painted windows to make it look more complete than it was) amid promises of its sister ship following soon.
Now, in 2021, the MV Glen Sannox is still less than half finished, has rust and water damage, and the sister ship (still only known as Hull 808) is not even out of the dry dock.
The three-year, £97m project is now said to be estimated to complete in 2023 at a cost in excess of £250m – with some luck. In the meantime, Caledonian Maritime Assets Ltd (CMAL) and the SNP continue to stumble from one disaster to the next with ageing ferries breaking down on various routes while the government owned contractor, Ferguson Marine, pays a 'turnaround director' more than £790,000 a year to 'resolve' the ferry building fiasco and is currently making losses of around £25m a month.
All in all, this botched programme will cost the taxpayer in excess of £200m- and where will it stop?
Ian Paynter, Inglewood Crescent, East Kilbride
The First Minister of Scotland has admitted on television that an independent Scotland would mean a hard border with the rest of the UK for the first time in over 300 years.
Imagine how that works with 60 per cent of our exports going to the rest of the UK compared to only 19 per cent to the EU. We in Scotland need to wake up to the economic and social disaster that a hard border with our main trading partner would cause.
As an employer of over 60 people in central Scotland but with 82 per cent of our goods heading to England, what sensible argument can be put forward to keep us here?
We keep being told about the economic prospects and the benefits of re-joining the EU. Do not be fooled; we would have virtually no say in our future with the EU as we would hardly have a seat at the table.
If Scotland were able to re-join the EU, we would have six MEPs out of 705 in the EU parliament. Contrast this to 59 MPs out of 650 in Westminster. On top of that, those trying to orchestrate our independence from the UK, will probably not be here to deal with the fall out of the worst divorce our country has ever experienced.
We in Scotland need to wake up to the reality of the disaster that an independent Scotland would be and make decisions with our heads, not our hearts.
Greg Paterson, The Beeches, Kirkcaldy
While the new brand "abrdn" chosen by Standard Life Aberdeen is both absurd and unpronounceable, sometimes, new names can be justified.
Many years ago, in the course of my business, I had to telephone a firm of chartered accountants in Edinburgh.
There had been a merger of not just one, but three sizeable practices and I was about to find out how they had yet to decide on a name.
To my initial "good morning", a young receptionist responded, "Ernst and Ernst, Whinney Murray, Turquands, Baron and Mayhew, good morning".
Little wonder that, within hours, it seemed, a new name was forged in the heat (no doubt) of the same derision that Standard Life Aberdeen is experiencing now. That name was Ernst & Whinney, which has now become EY, a master-stroke in brevity.
Maybe abrdn will decide to rebrand again. How about SLA, Standard Aberdeen, or staberdeen? No. Forget the last one.
Andrew HN Gray, Craiglea Drive, Edinburgh
News that the UK and Norway have failed to reach a fishing deal and the fishing industry warning that hundreds of crew members will be left out of work as UK fleets will have no access to Norway's sub-Arctic waters for their cod catches is just the latest Brexit disaster to hit Scotland's food and drinks industry.
The latest data from the Office for National Statistics shows how hard key food and drink exports have been hit, with February's milk and dairy sales plummeting by more than 96 per cent year-on-year, chicken exports falling 79.5 per cent and beef down almost 78 per cent.
Overall, there was a near 41 per cent slippage – with imports from Europe down by 17 per cent and from 1 July, all EU imports will be subject to VAT. Scotland's shell fish industry has been devastated as Europeans are not buying Scottish produce due to longer delivery times.
EFTA members, Switzerland and Norway have much better veterinary and trade deals with the EU than was negotiated by Boris Johnson and UK government.
In addition, the ending of freedom of movement will damage Edinburgh's tourist, hospitality and university sectors that normally rely on EU workers and researchers.
Despite all this, Labour and the Lib Dems have given up on getting back into the EU and are unlikely to change their stance any time soon as this will upset their core support in England.
Mary Thomas, Watson Crescent, Edinburgh
I read with wonderment and awe Leah Gunn Barrett's extraordinary letter ('Independent Scotland could bin big banks', Scotsman, May 1). Her plan is indeed amazing and ground breaking.
"An independent Scotland has an opportunity to build a financial system that prioritises public wealth creation over private greed" she writes. I only see a minor problem in these worthy aims of hers.
Statista's most recent figures show 'In 2019 exports from Scotland amounted to 86.48 billion British pounds, while imports amounted to 93.45 billion pounds, resulting in a net trade balance of negative 6.97 billion pounds.' So without oil to help, Scotland now has a significant deficit to finance.
GERS paints a problematic picture as well. For 2019/20 'Scotland spent £15.1bn more on public services than it raised in taxes last year' - BBC.
Since then Covid19 support has drastically widened this deficit
I know that independence supporters do not like GERS produced by the Scottish government, but we are still waiting for an authorised alternative.
So a newly established Scottish Central Bank will have to go to those banks its government wants to disband and ask for maybe £20 billion to close the first year's budget deficit and another £7 billion to help finance excess imports waiting for her "public wealth creation" to deliver a substantial surplus on the budget and trade balance.
I suggest this would be an uphill battle with no end in sight.
John Peter, Monks Road, Airdrie
While sport took a stand at the weekend, I understand that bullying on social media is difficult to control because people are anonymous.
But bullying is rife in our schools and there the bullies are known.
Perhaps if society dealt with bullies earlier and they faced consequences for their actions they would not feel so empowered to continue to bully via social media.
Elizabeth Hands, Etna Court, Armadale
We welcome your thoughts. Write to [email protected] including name, address and phone number. Keep letters under 300 words, with no attachments, and avoid Letters to the Editor in your subject line.
A message from the Editor
Thank you for reading this article. We're more reliant on your support than ever as the shift in consumer habits brought about by coronavirus impacts our advertisers.
If you haven't already, please consider supporting our trusted, fact-checked journalism by taking out a digital subscription.