Readers' Letters: Is it true Scotland can't govern itself?
David Davies was right to bring up this situation which has been dominating Scottish politics in the House of Commons ("Whistle- blower leaks SNP messages to Conservative MP who raises issue in UK Parliament- 17th March).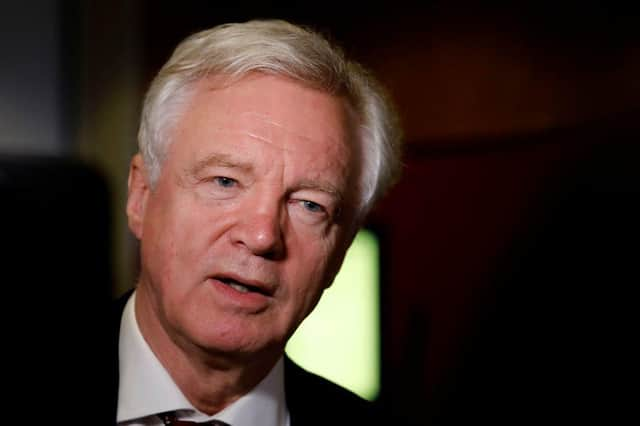 Conservative MP David Davis used parliamentary privilege to criticise the Scottish Government's handling of allegations against Alex Salmond (Picture: Getty)
We did not learn anything new, and he did not betray any confidences, but Davis was spot on with one of his central criticisms, namely that everyone in Scotland who is interested in this can find the relevant documents online, but the only people not permitted to use them as evidence or admit they have read them are the committee set up to investigate the matters. Davis goes on to say that it is the structures of government in Scotland that are wrong, and that the best way around this is to strengthen the powers of the parliament.
But there is an additional dimension that his own intervention has illustrated very well. There needs to be an external mechanism for overseeing the political process in Scotland, one in which those charged with oversight can have no conflict of interest themselves. Avoiding such interests in a small country where governance is now massively centralised is almost impossible. More powers will not change that. Ultimately, we need a means whereby people in Scotland can appeal to government at a UK level to deal with problems in which the Scottish Government itself might be implicated. If that sounds a bit like "Scotland cannot effectively govern itself", well, the shenanigans that are going on at the moment would suggest that indeed we can't. If we want to salvage our self esteem and pride as a country, we have to deal with this, even if the more delicate Scottish egos and sensitivities get trampled on.
Victor Clements, Aberfeldy, Perthshire
What a pity it has taken an English MP to blow fresh air and light into the dark corners of those running our affairs in Scotland. At last it seems the beginning of "Truth will out". I am an old man and have always had an interest in political affairs but even with all our myriad problems in Scotland, I never expected our country to be governed in such a way by such people. It is quite literally sickening.
Cleaning the Augean Stables is an easier task than washing away nationalism and restoring Scotland to a basically decent country that is not run by one-issue-obsessed, self-seeking narcissists.
Alexander McKay, New Cut Rigg, Edinburgh
With the very cautious relaxation of the Covid restrictions announced on Tuesday did our esteemed First Minister omit to announce the postponement of the forthcoming Rangers v Celtic football match?Graham Smith, Alnwickhill Road, Edinburgh
There is no doubt that the UK has suffered globally since the chaos of Brexit and with Scottish independence its influence will be further diminished.
However, flowing from Westminster, just weeks before the Holyrood elections, comes the cry of "Rule Britannia", wrapped in Union Jacks, announcing further false promises of democracy, money and jobs. It does seem incredulous that this debt-ridden Tory government should announce a large purchase of nuclear warheads, on top of the countless billions being spent on upgrading its submarines, along with a bridge or tunnel between Scotland and Ireland; not forgetting the derisory 1 per cent nurses' raise! The fact is, Scotland does not require or want any of this, especially expanding the nuclear arsenal.
As a richly endowed country, Scotland has the potential to become a small and successful independent nation with a voice in Europe, the UN and the world, like that of Ireland and other such nations. If only the London establishment would expand its horizons, acknowledging the true diversity of all its peoples and their democratic wishes, I am certain a British Isles confederacy could emerge. The independent nations of England, Scotland, Wales and Ireland, working with Europe, could exert a huge moral influence in the world.
Grant Frazer, Cruachan, Newtonmore
Oh dear, here we go again. Just I when I think we have exhausted all the arguments about the viability or not of nuclear defence, the zealots burst forth again (your report, March 16). Never mind that the UK government's intention to expand our nuclear weapon capability will be at the cost of much-needed investment in conventional defence, ensuring proper social care, ensuring that our hospitals and medical services are equipped to meet the next pandemic or an ageing population. Never mind that we have run up a colossal national Covid debt, have cut our overseas development spend because we were told we couldn't afford it… no, we elect to spend money on arms that we can never use.
Never use? That's the point of defence, isn't it? Ah, no, the argument runs, nuclear defence is so that no one would dream of dropping a bomb on us. That raises the question of why anyone would want to reduce our country to an apocalyptic, unusable wasteland, unless they were mad, in which case, they would do it anyway. We would be able to reduce their country to a wasteland as well, of course, which makes perfect sense. Mutual Assured Destruction, aptly known by the acronym, M.A.D. Great! But suppose merely having nuclear weapons actually makes us a target? We have weapons that someone needs to destroy so that they are protected from our malicious intent? Wonderful!
Then, you have to ask yourself, how many other countries possess nuclear weapons? How do these other poor people protect themselves? Maybe they take the sensible decision that, in order to defend themselves from the much more realistic prospect of invasion or terrorist attack, they need well-provided-for conventional defence and intelligence.
Well, never mind, the Prime Minister tells us that this is all so we can "stand up for our values". And what values are these exactly? Protecting women? Having a monarchy fit for the modern age? Caring for the vulnerable? Providing for everyone according to their needs?
Nuclear defence is a vanity project to ensure that, despite our ever-diminishing place on the world stage, we are still at the top table, an equal partner.
Trevor Rigg, Greenbank Gardens, Edinburgh
In his account of the criminal cases and extraditions arising from the Catalonian attempt at unilateral secession (Perspective, March 15), Dr Paul Arnell says nothing about the Spanish Constitution. That is odd because the basic confrontation between Catalonia and Spain has been caused by Catalan politicians defying the Constitution and breaking laws derived from it.
The Spanish Constitution was created in 1978 and approved in a special referendum of all the people of Spain. The people voted 92 per cent in favour of the Constitution and, of course, that includes the people of Catalonia. The democratic credentials of the Constitution are therefore beyond question.
However, in recent years the regional government of Catalonia has tried to expand its powers and authority unilaterally and has defied the Constitution in so doing. The central Government in the Cortes objected to those unilateral actions which were declared an infringement of the Constitution. The most dramatic of those infringements was the attempt to hold a referendum on the secession of Catalonia from Spain. That bid was declared to be illegal and led to riots, violence and the flight of the politicians who instigated it. The Constitution of Spain can be amended and there are procedures set down to enable precisely that. The proper democratic path for Catalans or others wishing to secede is to amend the Constitution so that unilateral secession becomes a lawful act. Simply trampling down the Constitution and breaking the laws derived from it is not the kind of action which any true democrat can approve.
According to Patrick Harvie, the Scottish Greens Co-Convenor, we have " just nine years to reverse climate breakdown". This is yet another prediction by climate alarmists over the years which time will pass by.
In 1989 the UN caused fear by stating that "entire nations could be wiped off the face of the earth by rising sea levels if the global warming trend is not reversed by 2000". Also in 2000, Dr David Viner of East Anglia's Climatic Research Unit said that "within a few years snowfall will become very rare in the UK". In 2006 Al Gore warned "we have less than ten years to make dramatic changes in our global warming pollution". In March 2009 Prince Charles alarmed people by saying "we have less than 100 months to alter our behaviour before we risk catastrophic climate change". In 2015 before his 100 months deadline had run out the heir to the throne reprieved the world by issuing a new "tipping point" deadline – now we had 35 years to "save the planet".
As with the Oxford Astrazeneca vaccine scare stories, it is hugely irresponsible to frighten people by making false claims.
Mr Harvie wants to completely de-carbonise Scotland. Completely de-carbonising our economy would reduce it to medieval levels. Industry and society cannot function without the hard working diesel engine – from compressors to container ships to hospital back-up generators. Every wind machine requires large amounts of gearbox oil. There are 649,000 households in Scotland in fuel poverty. Replacing gas heating with electric will hugely increase fuel poverty because electric heating is three times as expensive as gas. Does Mr Harvie consider this a price worth paying to fulfil his quasi-religious goal of a zero-carbon Scotland, which produces some 0.1 per cent of global CO2 emissions?
William Loneskie, Justice Park, Oxton, Lauder
We welcome your thoughts. Write to [email protected] including name, address and phone number. Keep letters under 300 words, with no attachments, and avoid Letters to the Editor in your subject line.
A message from the Editor
Thank you for reading this article. We're more reliant on your support than ever as the shift in consumer habits brought about by coronavirus impacts our advertisers.
If you haven't already, please consider supporting our trusted, fact-checked journalism by taking out a digital subscription.
Want to join the conversation? Please or to comment on this article.