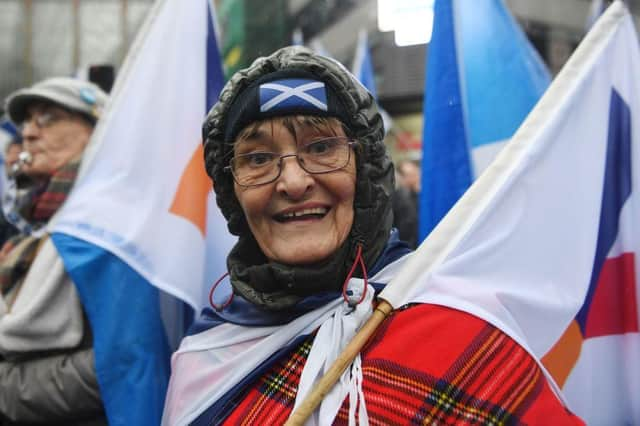 Are independence advocates lacking the big picture?
Independence is the obsession only for them and their fanatical base, not even for huge numbers who might vote for it thinking it sounds like a good idea just on the back of their rhetoric, and certainly not for a massive portion of the population. This, a life-changing decision that could potentially bankrupt our country and whole swathes of individuals, families and businesses. It could very possibly be a second Darien scheme but there would most certainly be no reunion of the parliaments to save us this time round.
Any decent organisation would respect an obligation to set out a fully detailed financial plan for a new venture with such incredibly high stakes, yet all the signs are that this is not going to be forthcoming and we are only five weeks out from the election.
All of this and the small matter of recovery from a global pandemic to be dealt with. This is selfishness and irresponsibility beyond belief.
High Cross Avenue, Melrose
As if we needed any confirmation of Nicola Sturgeon's ego, she has announced to the nation that she will serve a full five-year term if re-elected as First Minister. I hope her party agrees with this.
Alexander AvenueKingseat, Newmachar
There is much media noise about the current EU vaccination programme roll-out difficulties and unfavourable comparison against the apparent success of the UK programme. However, it is worth noting that the EU is one the largest vaccine manufacturing hubs on the planet (producing 106 million doses of Pfizer/BionTech, AstraZeneca and Moderna since December) and exporting the bulk of these (72 per cent or 77 million doses) to countries mainly in the developing world, also including 10m to the UK (under its contract with AstraZeneca), and even 1m to the US. To date the EU has only blocked one export order, of 0.25m doses to Australia. Similar vaccine production and export data for the UK is not publicly available, and it is highly likely that UK exports of the AstraZeneca vaccine (the only one currently manufactured in the UK for use) are zero, or close to zero.
Critics of the EU would do well to remember that UK "success" in its vaccination programme is in part due to EU willingness to export vaccines from its territory while its own population remained underprotected, and UK unwillingness to do the same. "No-one is protected until everyone is protected."
Francis Roberts (Letters, 2 April) raises the question of whether the Union is one of "equals". It would perhaps be more accurate to describe it as an "asymmetric" union. England has nine regions – according to the Office for National Statistics (ONS) – most of which are based roughly on ancient kingdoms (such as Wessex, Mercia and Northumbria) that pre-date the emergence of Alba (the prototype Scotland) in the 9th century.
Seven of those current English regions have larger populations (and therefore more taxpayers) than Scotland (only about half of whose population of 5.4 million are taxpayers). The three regions in south-east England have a combined population of almost 25 million (almost five times that of Scotland) and (containing "The City") are, by far, the biggest contributors of tax to the UK Exchequer. Indeed, they are, according to the ONS, the only net contributors to the Treasury among the 12 regions and nations of the UK. That tax is spent for the benefit of all parts of the UK.
Dr Roberts points out that assets, such as embassies, are not owned by one part of the union. Very true – however, extracting Scotland from the Foreign & Commonwealth Office and allocating a 9 per cent share of such far-flung embassies as Tonga, Turkmenistan and Ulaanbaator, might be tricky with, say, only a couple of locally recruited admin staff. Though what advantage Scotland gains from having a 9 per cent share of a service that it currently (as part of the UK) has 100 per cent access to is hard to fathom.
So perhaps not a union of statistical equals – but one that Scotland still derives considerable benefit from.
Albert Terrace, Edinburgh
Brian Wilson must be incredibly lacking in empathy if he is "staggered" by the fact that Nicola Sturgeon is talking about the issue which has been the main motivation and inspiration of her life (Perspective, 3 April).
He may not agree with her, but for many people it would seem that it would be grossly irresponsible, given the political situation in post-Brexit Britain, not to want to escape from the damage, both political and economic, likely to result from staying in the United Kingdom on its present course.
Guidance has been given by Nicola Sturgeon about travel throughout Scotland being possible from 26 April, but so far there has been no guidance about travel to England. Does Ms Sturgeon want to continue this hard border between Scotland and England as long as she can? Isn't this just another example of the SNP trying to divide Scotland from England when no division is necessary or advisable?
Justice Park, Oxton, Lauder
Lorna Slater, co-leader of the Scottish Greens and an engineer with Orbital Marine Power, writes as though Scotland, with 0.15 of global emissions, can solve the world's climate problems (Perspective, 3 April). She says that 82 per cent of workers were open to moving to a job outside the oil and gas industry. Of course they are, but Ms Slater offers no details or numbers of those (mythical?) jobs. A bit like Alex Salmond's promises that Scotland would be the "Saudi Arabia of renewables" but Scotland's 1,293 wind turbines were manufactured abroad and built with foreign labour.
Ms Slater makes the ridiculous statement that Scotland has the potential to provide 25 per cent of Europe's renewable energy. France has 56 nuclear power plants and Europe 176, so no chance of them wanting Scotland's expensive wind electricity, which is 5.6 times more expensive than gas.
Springfield Road, Linlithgow
Lorna Slater's suggestion that oil and gas stay in the ground ignores the fact that with the transition to electrification, mainly for transport and residences, these energy sources will be needed for the next 20 to 30 years in reducing quantities. She also quotes Nicola Sturgeon as saying that 97 per cent of our electricity came from renewables last year. This statement is not anywhere near correct and putting out this misinformation is not helpful at any time.
My own energy supplier, one of the big energy firms, notified me that electricity supplied by them last year came mainly from Natural Gas (48.1 per cent) and Renewable Sources (51.9 per cent). Other suppliers will have a different mix which will include nuclear, of which Scotland is still supplying more than 1.5 GW per year to the Grid from Hunterston and Torness.
The Climate Emergency is a very serious matter and it is essential that politicians are both honest and transparent with the information they make public. It is particularly troubling when politicians make claims that they can ensure that the country (Scotland or the UK) will reach Net Zero Carbon Emissions by such dates as 2040 or 2050 when they have no credible plan to achieve this goal.
Politicians talking about these issues may help, but only if factual information is put forward.
Mortonhall Road, Edinburgh
Golticlay, a wind farm of 19 turbines, north of Lybster, was rejected by Highland Council in 2017. The Scottish Government heard an appeal chaired by a Reporter appointed by the Scottish Government in 2018. Last week Minister for Energy, Connectivity and the Islands Paul Wheelhouse agreed with his Reporter and approved the scheme. This was against 246 letters of objection and three for approval. It is found that large wind farms are not providing the sustainable development, the infrastructure or the long-term jobs that we need. The Scottish Government needs to cease overruling our local communities and the Highland Council in planning decisions.
Dornoch Road, Bonar Bridge
There are three new groups of electors for the 2021 Scottish Parliament Election, according to the Electoral Commission's booklet delivered to all homes. They might be expected to have some interest in how the electoral system works. The booklet explains everyone has two votes, but not how votes are counted.
Sadly, the excellent guide to the Scottish Parliament Electoral System has disappeared from the Parliament website. It explained in some detail how regional list votes are counted and allocated to parties. There was nothing party-political in its content. Further, for anyone who really cares about education, the teachers' guide to the Additional Member System has also disappeared from the Visit section of the Parliament website.
This is profoundly worrying: it seems there is either incompetence at the heart of government, or a possible suppression of information to which the public are entitled.
We welcome your thoughts. Write to [email protected] including name, address and phone number. Keep letters under 300 words, with no attachments, and avoid Letters to the Editor in your subject line.
A message from the Editor
Thank you for reading this article. We're more reliant on your support than ever as the shift in consumer habits brought about by coronavirus impacts our advertisers.
If you haven't already, please consider supporting our trusted, fact-checked journalism by taking out a digital subscription.