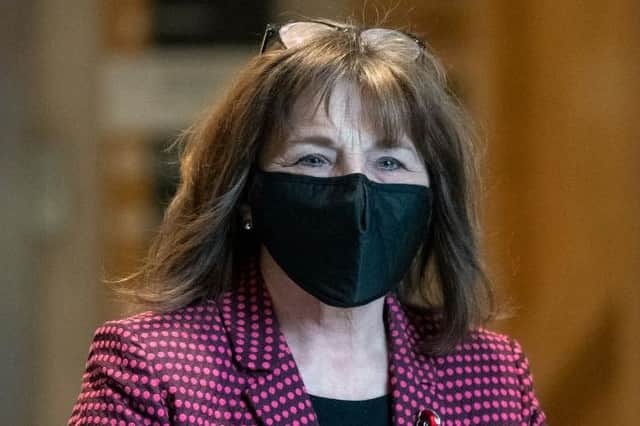 Scottish Health Secretary Jeane Freeman
The effects of the changes they claim to have made to their previous dodgy practices have yet to be fully appreciated. What is the case, is that earlier this year the SNP attempted to extend the response time to FOI requests from 20 to 60 working days and it was recently revealed that Health Secretary Jeane Freeman proposed FOI legislation be suspended altogether!
Most disturbing of all was the revelation that a FOI request to release forecasting analysis of possible Covid deaths from a second wave was simply refused! This is in keeping with their persistent refusal to publish – as does the UK government – the advice of the chief medical officers upon which they claim to base their political decisions.
It is also, of course, in keeping with their approach to the Alex Salmond inquiry. Witnesses are virtually gagged, or even forbidden to appear at all! Worst of all, the democratic decision by the Scottish Parliament demanding the release of the legal advice was simply disregarded – and a second Scottish parliament vote is "being discussed"!
Contrary to the claim that that it is "open and transparent", it should be clear to all but the most ardent diehards that this SNP government routinely denies access to information undeniably in the public interest by "obstruction and obfuscation". And these are not my words but those of the chair of the Salmond inquiry - an SNP MSP.
Colin Hamilton, Braid Hills Avenue, Edinburgh
What a week it has been for readers of The Scotsman. On Tuesday we were treated to Dr Richard Dixon's thoughts on what the COP26 conference in Glasgow next year must achieve. No comment on the extra emissions created by 30,000 attendees or that most countries have only made promises, not legally binding Climate Change Acts.
On Wednesday it was reported that Scottish Renewables, the propaganda machine for the wind industry, told Holyrood's Economy, Energy and Fair Work Committee that there has been a "fundamental failure of industrial strategy at government level for many decades". That won't please the First Minister. Also on Wednesday, Fabrice Leveque of WWF Scotland wants Scotland to set tougher targets to achieve net-zero emissions. Does he not know that Scotland already "leads the world"? He says Scotland must plant more trees but they will take at least ten years to absorb meaningful amounts of CO2. He praises electric vehicles, but what about the elderly and those who cannot afford them?
To add a bit of balance The Scotsman should invite The Global Warming Policy Foundation to do an article. They are a well-respected organisation with real facts and figures, not green dreams.
Clark Cross, Springfield Road, Linlithgow
I have no experience of the procurement or distribution of medical supplies. I have no knowledge of the standards required for PPE in hospitals. Neither do I have any contacts in the medical supplies industry. In fact, I have no clue whatsoever about how this particular sector operates.
May I, therefore, offer my services to UK Health Secretary Matt Hancock should he still need any unqualified personnel to take on any other multi-million pound contracts to supply PPE to the NHS.
I'm hoping he won't hold it against me that we have never met or that I have no friends who are Tory ministers.
D Mitchell, Coates Place, Edinburgh
Alan Davidson (Letters, November 27) states: "It is increasingly clear that Scotland's economic future would be better off by restoring our place within the EU...". Scotland as a country has never had a place in the EU. The United Kingdom, of which Scotland is a part, had, and still partly has, a place in the EU.
Scotland, bereft of its considerable flow of finance from the UK, could not meet the EU's financial criteria for membership of the EU. Mr Davidson and earlier correspondents seem to think that an independent Scotland could simply waltz into membership of the EU without a problem.
David Hollingdale, Easter Park Drive, Edinburgh
William Ballantine (Letters, 27 November) seeks to perpetuate the hoary old Project Fear myth that an independent Scotland would have to adopt the euro. Tell that to the people of Bulgaria, Croatia, Czech Republic, Hungary, Poland, Romania and Sweden. Also, the fact that for the 40 years of its membership the UK didn't adopt the euro, seems to have flashed by unnoticed.
Gill Turner, Derby Street, Edinburgh
To placate their following, SNP politicians are calling for a referendum next year. Can these politicians please have the courtesy to inform "the people of Scotland" in detail what the social, economic, financial and military implications of an independent Scotland will be? None of them appear to be willing to address these issues.
It is clear that those who want independence tomorrow have no concern for the real implications of separation and are driven only by the emotion of some sort of "freedom" from Westminster, and xenophobia. They might also want to explain what is free and independent of the dream of being shackled to Brussels and the cost of EU membership. Andrew Wilson seems to be the only separatist who comes close to realistically addressing the implications, but of course, he is ridiculed by fellow believers.
Douglas Cowe, Alexander Avenue, Newmachar, Aberdeenshire
The cut in the overseas aid budget to 0.5 per cent of national income as announced in the spending review is shameful and a move the UK will go on to bitterly regret.
This is devastating news for the poorest people in the world and breaks the Conservative election manifesto pledge of 0.7 per cent which, it should be remembered, is also enshrined in law. It will not only hurt them but will have a real impact on people in the UK as well.
Such a cut is simply bad economics, will end up costing more than it saves and is bad foreign policy that reduces Britain's influence and makes us poorer in the eyes of the world.
Meanwhile, Prime Minister Boris Johnson has committed to an increase in defence spending he claims as being worth £16.5 billion in new money over four years.
Such a move clearly shows that the right wing in the Tory party is well and truly in the ascendancy, putting military hardware ahead of helping the world's poorest. While Chancellor Sunak may claim that this overseas aid cut is temporary one should remember that income tax was only intended to be a temporary measure, and that was in 1799.
Alex Orr, Marchmont Road, Edinburgh
Those who condemn Rishi Sunak's proposed reduction in the UK's "foreign aid" budget, all of which is still paid from our borrowings, should read the confirmed reports over the past decades of how much has been wasted, or just disappeared, or was ineffective or unnecessary, or enabled the recipients to devote more of their own resources to internal oppression or external aggression, or went to failed states, or to others like India which a few years ago said it did not want it or need it and was embarrassed by it, or even to potential enemies like China.
They should also recall the words of the respected development economist and LSE professor, Lord Peter Bauer, back in the 1970s, that it was "an excellent method of transferring money from poor people in rich countries to rich people in poor countries"; and reflect on how many billions have been transferred since then and to whose real benefit.
Increasing numbers of Third World economists and entrepreneurs agree, asserting its effects are to maintain their countries' dependency cultures and to strengthen the status and power of their elites. Their sensible solution is to increase "trade not aid" by, inter alia, fundamental reform of policies like the EU's Common Agricultural and Common Fisheries Policies – which, of course, are supported by many of those like Nicola Sturgeon who jump to condemn Whitehall at the drop of a hat.
John Birkett, Horseleys Park, St Andrews, Fife
Challenged by BBC's Sarah Smith about Scotland having the third worst excess death rate in Europe, marginally behind England, and also Spain, Nicola Sturgeon dismisses this indisputable fact, implying now isn't the time to consider it. But surely it is?
We are in the midst of a second wave with significant numbers of Scots in intensive care and, tragically, dying daily. Plus, Christmas' relaxation of restrictions could herald a third wave. With the virus' impact still so serious, shouldn't Ms Sturgeon, with health and lockdown entirely devolved, be focused on what other small European countries have got right and how she could learn from them.
The nationalist leader's self-assured TV appearances have apparently been well received by the public. Perhaps what Ms Sturgeon wants to avoid now, with the Holyrood election not far off, is a serious reality check about her handling of the pandemic?
Martin Redfern, Melrose, Roxburghshire
Bearing in mind the warning from Professor Chris Whitty, the UK government's Chief Medical Officer, that kissing grandma at Christmas might prove fatal to her, there are quite a few public figures I would very much like to meet under the mistletoe.
Penny Ponders, Ingliston Road, Edinburgh
We welcome your thoughts. Write to [email protected]man.com including name, address and phone number. Keep letters under 300 words, with no attachments, and avoid Letters to the Editor in your subject line.
A message from the Editor
Thank you for reading this article. We're more reliant on your support than ever as the shift in consumer habits brought about by coronavirus impacts our advertisers.
If you haven't already, please consider supporting our trusted, fact-checked journalism by taking out a digital subscription.