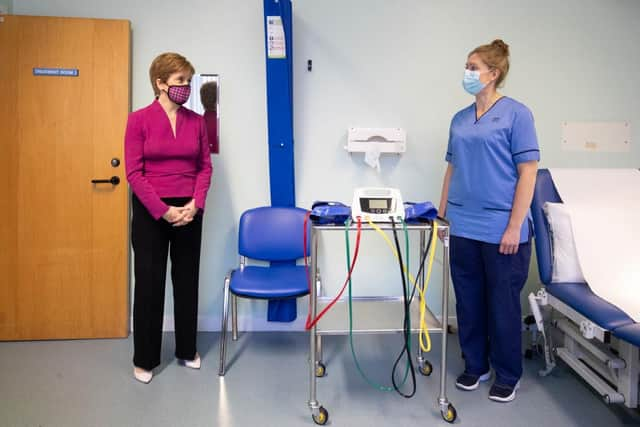 My understanding is that while the Scottish Government may set rates and, within certain parameters, alter rate bands what constitutes income for tax purposes is reserved to the UK Exchequer.
Is the proposed payment taxable income? Could it be argued that the NHS is the employer, not the Government, even though payment is made through the former or, as health services are devolved, is the Government the employer and the NHS merely an agency? If the Government is not the employer what is the nature of the payment? It cannot then be for services rendered in the normal course of employment; could it be a gift, say, in recognition for contributing to the common good and not taxable on that basis?
It has been suggested the Scottish Government could readily solve the problem by increasing the payment so that after tax it equalled £500. However, this would require a separate calculation for each recipient as various rates would be involved – quite a task. It was established some time ago that if an employer paid an employee's tax that became further taxable income of the employee and no one wants to go down that route.
I am sure there are many other aspects of this matter which will occur to the nimble minds of those involved in tax affairs and it would be good to hear from them.
S Beck, Craigleith Drive, Edinburgh
It's interesting how many letters in the Scotsman concerning the bonus to be paid to health and social care staff start with the notion that the money is not begrudged and then go on to directly contradict that statement. What appears to be at the root of the outrage of the government giving this bonus and extending their policy of free meals to all primary school children – a programme which, contrary to Fraser MacGregor (Letters, 2 December) has never been Tory policy – is that these initiatives are designed to attract voters to support the SNP. What a cynical suggestion.
Scottish Tory leader Douglas Ross, along with the Fraser of Allander Institute, has suggested that the simple way to get the entire bonus to the workers concerned is for the Scottish government to top up the bonus. It seems to have evaded the collective wisdom of these economic experts that because of the way that tax and fiscal arrangements are currently set up, this top up, for more than 390,000 people, would have to be paid from reserves, and would be taxed. That tax would not be returned to the government until 2023-24.
If tax and national insurance are taken from the actual bonus, £100 will be paid in the year 2020-21 and will come back to the Scottish Government and £60 will go directly to the UK Treasury. The workers will receive £340 net. And contrary to what Victor Clements says (Letters, same day), it would be perfectly possible and legal for the UK government to authorise non-payment of tax and to not take NI.
The Scottish Government have asked for authority not to collect the tax on the bonus which will come to them. The UK government have refused. So the Scottish Government get the lion's share of the positive publicity for less than the full cost of the outlays. The UK gets to snaffle £60 in NI from health and social care workers and are made to look, quoting David Bone (Letters, same day) "curmudgeonly and unkind". We get to decide who is smart and who is dumb.Gill Turner, Derby Street, Edinburgh
Jim Sillars at one time said that in the UK and Scotland, money grows on trees – when cash is short the Bank of England quantitatively ease a few billion more bank notes into circulation. There is no bank reserve to validate this money; at one time, long ago, there was a gold standard to control the issue of banknotes.
Our First Minister liberally using this device throws money at anything she thinks is a good, or deserving, idea. When the consequence of this generosity hits the taxpayers who have to pay the price, I doubt her position will be as secure as she thinks it is.
A A Bullions, Glencairn Crescent, Leven, Fife
Against a mostly negative response from the media, Nicola Sturgeon's direct and inspirational end of conference speech could not have made her position and that of her party clearer. Only as an independent nation can Scotland hope to recover from the ravages of Covid and the disaster of Brexit. As a progressive, social democratic country, with an international outlook, it would engage, work and trade with the rest of the British Isles, Europe and the world.
Next May it is up to the people to decide who is best able to govern Scotland, and indeed, the future choice will be between a Holyrood Parliament voted for by the Scottish people or a Westminster Parliament that the people of Scotland did not vote for. The time is near that with unity of purpose we secure an independent Scotland for the future benefit and prosperity of all its people.
Grant Frazer, Cruachan, Newtonmore
In 1961 I attended what was a first for me as a young man, a major political conference – the joint Liberal conference in the Usher Hall in Edinburgh. There was a major debate on devolution and I well remember our colleague delegates from Cornwall and Devon, so enthusiastic about the concept.
Then the next political explosion was that the Highlands revolted – the concept of a Highland Development Board sent George Mackie back for Caithness and Sutherland, Alasdair Mackenzie back for Ross and Cromarty, and Russell Johnston back for Inverness. Prime Minister Harold Wilson almost immediately instructed Willie Ross, the Secretary of State for Scotland, to get on with constituting a Highland Development Board.
There had been so many years of depression and neglect that Board was a shot in the arm for the Highlands and the Islands. And we looked for so much from that Board until we had an SNP administration at Holyrood. First was the demoting of the Board to be Highlands and Islands Enterprise.
Then it was under the wing of Scottish Enterprise. The organisation had its funds drastically reduced and the chairman was from the south of Scotland. Do you not believe me? What has happened in the BIFAB story? There are plenty fancy developments in the lower half of Scotland but the thought of one in the Western Isles which would give so badly needed employment seems to stick in the craws of the mandarins in Holyrood.
I am told that support for the SNP has grown at an enormous rate, but here in the northern extremes I cannot find many people who have been polled. Old political loyalties take a long time to die. I must admit that there has been an influx of folk from the south of Scotland here in the Highlands but our masters in Holyrood are not much different from those who ruled before in their attitude to their northern half. Why am I, in my latter years, so cynical?
Kenneth MacLeod, Greenwood Gardens, Inverness
If an independent Scotland inherits its democratic DNA from Holyrood then this newborn nation will never win a bonnie baby contest. In America, the wisdom of the founding fathers distributed decision making across different institutions. Here the folly of floundering Muppets has concentrated power over Scots in too few hands.
The Salmond Inquiry has exposed an insecure government with both the means and the desire to hind its inadequacies regardless of civil liberties. Self-interest has long since replaced any drive to self-determination.
Swithering John Swinney has shown the moral compass of a sewer rat as he wrestles with the release of legal advice. After defying the will of the Scottish Parliament twice he should at least stop calling himself a nationalist. Instead of showing integrity, Mr Swinney cowers behind the "the long-standing principle of legal professional privilege". Whose principle is it which provides the faceless with cover at such public expense?
Through the SNP government's fog of obfuscation one thing has emerged clearly; Alex Salmond has suffered an intolerable wrong. Revenge will bring him scant compensation. Changing this government's dirty nappy could in the end be the former First Minister's greatest service to Scotland.Calum Miller, Polwarth Terrace, Prestonpans, East Lothian
I am delighted to see that more than half a million people are learning Scottish Gaelic via the Duolingo app. During Lockdown and continuing still, my wife and I have been part of this growing army, learning to speak the marvellous language that is native to much of Scotland.
I have been aware for decades that I could neither speak nor read this indigenous tongue with a long history, and was somewhat ashamed of this. No doubt there will be grumblers reading this who maintain the language was never spoken over the whole of Scotland, but it was widespread enough to have to be prohibited after the '45, and it is known throughout the world as something essentially Scottish.
I was never offered it at school but I hope the news that it has become popular both here and abroad will result in a major revival. Learning it on Duolingo is the perfect way to start, as no one can complain about the government foisting it on anyone, and it is simply an interesting intellectual opportunity for fun. It would be a tragedy to see it die out and I encourage all Scots to give it a try.
It's not easy, and the spelling is a nightmare, but it's loads of fun and entirely worthwhile.
Slainte mhath, a chairdean (To your good health).
Brian Bannatyne Scott, Murrayfield Drive, Edinburgh
We welcome your thoughts. Write to [email protected] including name, address and phone number. Keep letters under 300 words, with no attachments, and avoid Letters to the Editor in your subject line.
A message from the Editor
Thank you for reading this article. We're more reliant on your support than ever as the shift in consumer habits brought about by coronavirus impacts our advertisers.
If you haven't already, please consider supporting our trusted, fact-checked journalism by taking out a digital subscription.