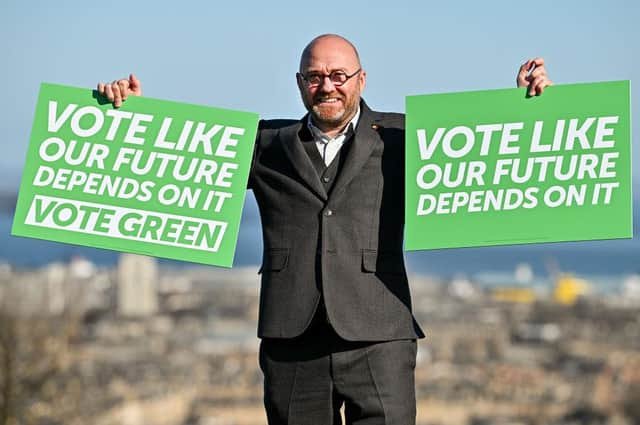 Scottish Greens co-leader Patrick Harvie helps launch party's 2021 Holyrood election campaign yesterday (Picture: Jeff J Mitchell/Getty)
But Scottish Greens do not have a monopoly on environmental issues. The UK Government has taken serious steps to tackle the climate challenge. It has reduced our greenhouse gas emissions and decarbonised our economy faster than any other G7 nation since 2019.The UK also became the first major economy to legislate to achieve net zero greenhouse gas emissions by 2050.
Since meeting net zero involves major issues for us all, a pragmatic, carefully managed approach is required. The UK Government has done so in bringing forward billions in policies designed to achieve net zero in all sectors of the economy. Chancellor Rishi Sunak's recent Budget committed a further £27 million to help Aberdeen's economy migrate from oil and gas to green energy.
But more needs to be done. With the UK presidencies of the G7 and the UN Climate Change Conference (COP26) in Glasgow later this year, the UK government will be at the forefront of international cooperation.
The Scottish Greens continually prop up the SNP in Parliament and are unapologetic in their commitment to Independence. They even abstained when parties in the Scottish Parliament voted to legislate to cut emissions in Scotland by 75 per cent over the next decade. They also voted for a Budget which cut environmental funding by £4m and against a Motion of No Confidence in the SNP's John Swinney over his failure to respect the will of the Scottish Parliament, whose members had voted for legal advice surrounding the Scottish Government's case against Alex Salmond to be released. So while the Greens say their priority is our environment, their commitment to propping up the SNP transcends this. How can the public trust the Greens as they discredit their cause by propping up this failing SNP Government which cares only about another divisive Independence referendum.
Bill Stevenson, Craigroy, Stenton, East Lothian
The judicial review secured by some religious leaders to claim that their churches uniquely be exempt from lockdown legislation, has been promised a written judgement within two weeks by Judge Lord Braid.
As James Duncan adroitly pointed out in his letter (March 13) the complainants were, "some of the odder and more self-important Christian denominations" and these self-centred and irresponsible demands have already been disowned by Church of Scotland officials as "speaking for themselves."
The court had previously heard argued that the exceptionalism of religious worship is underscored by a constitutional settlement separating church and state. Indeed the church is not the state and cannot make up its own laws.
Neil Barber, Edinburgh Secular Society, Saughtonhall Drive
Green Party Peer Baroness Jones and SNP MP Hannah Bardell ought to consider potential unintended consequences when calling for men to be under curfew after 6pm.
We now live in a society where people are arguably encouraged to self-declare that they are the opposite gender to the way they were born. Indeed, the SNP website says the Scottish Government proposes to amend the way a trans person obtains legal recognition because "the current process is viewed by many wishing to apply as demeaning, stressful and lengthy". The Greens say "The NHS should better recognise the increasing need for Gender Identity Clinics".
Won't a man who wishes to prey on women at night just declare he is a trans-woman?
Geoff Moore, Braeface Park, Alness, Highland
Following the illegal assembly first of Celtic, then of Rangers fans and now of women on Clapham Common, should the police not just use water cannon to disperse the crowds rather than making token arrests?
Colin McAllister, South Street, St Andrews
I was reminded how often the abrasive Margaret Thatcher admitted she depended on Willie Whitelaw to smooth things over when I saw John Swinney thrown under yet another bus by Nicola Sturgeon to save her own skin.
If every Prime Minister "needs a Willie" then every First Minister "needs a John", an affable incompetent who takes the blows and reminds everyone that replacing the Great Leader with any of her ministers is unthinkable. Swinney spends more time under a bus than a Stagecoach mechanic.
(Rev Dr) John Cameron, Howard Place, St Andrews
How does Scottish Conservative Leader Douglas Ross's commitment to abolish homelessness by 2026 sit beside UK Conservative housing policy? We all want to eradicate homelessness, any socially just society wants everyone to have the basic right of a home which meets their needs. Housing policy under the Conservatives in Westminster had made a huge impact in Scotland well before devolution. In the 1980s, under the Thatcher Government, legislation was introduced allowing council tenants the right to buy their council homes. This legislation depleted housing stocks, exacerbated poverty levels and created a housing crisis on a massive scale.
Evidence clear for all to see and the SNP in Government took action and abolished the right to buy in 2017, allowing council housing stocks to recover and in some areas, councils are now buying back. In an effort to move into recovery the SNP has delivered 96,000 homes, 66,000 of which are for social rent, since coming to power. Yet in complete contrast the Westminster Government have extended the right to buy to include Housing Association tenants, an outrage if we are ever to truly tackle homelessness. So how does Scottish Conservative Leader Douglas Ross's commitment to abolish homelessness by 2026 sit beside UK Conservative policy on housing?
Catriona C Clark, Hawthorn Drive, Banknock, Falkirk
It is insulting for Anas Sarwar (Perspective, March 16), and others, to claim that the SNP and the Scottish Government have not been focused on Covid recovery plans when a cursory internet search would show numerous plans for various sectors of the economy, health and education.
Nicola Sturgeon and her ministers have been working night and day guiding the nation through the pandemic while Labour and Tory politicians have undermined the national effort he is now calling for. The SNP Covid recovery plans include a national housing strategy supporting 14,000 jobs, increased record investment in health services, a three per cent rise for the lowest paid public employees and a progressive social service system targeted at helping children and young families while freezing Council Tax.
The biggest threat to a long-term recovery is Brexit. However, the Labour Party and the Liberal Democrats now support Boris Johnson's stance by turning their back on Europe in case they upset most voters in England.
Fraser Grant, Warrender Park Road, Edinburgh
Tory clairvoyant Michael Gove has predicted that Douglas Ross will be the next First Minister of Scotland. In other predictions: Brexit will be absolutely fine, Meghan Markle will be the next Queen of England, the Lib Dems will return home to prepare for government and Boris Johnson will admit he got something wrong.All theoretically possible but I won't be putting my shirt on any them quite yet.D Mitchell, Coates Place, Edinburgh
It looks again that the Scottish Fishing industry has been abandoned and left adrift by both UK and Scottish Governments. Huge financial pressures are being faced by our coastal communities dependent upon the industry. To sacrifice vital fishing grounds in support of offshore wind developments does not seem logical given that the industry (offshore and onshore) create over £800 million to the Scottish economy. Much of this is Brexit related but hopefully common sense will prevail.
DG McIntyre, Main Street, Davidsons Mains, Edinburgh
It has just been revealed after a freedom of information request that Cabinet Secretary Roseanna Cunningham contacted China over the cost of the giant pandas at Edinburgh Zoo due to the financial problems caused by the coronavirus lockdown (your report, March 13). The annual fee is about £600,000. Ms Cunningham said the pandas were "a great symbol of the friendship between Scotland and China". So her government appears to condone the ongoing problems in Hong Kong and the detention of millions of Uighurs in "re-education centres" in Xinjiang region.
China recently warned Taiwan that any attempt to seek independence "means war". What would she say if the UK government told the Scottish Government that any attempt to seek independence "means war"?
Clark Cross, Springfield Road, Linlithgow
Sometimes I buy a Kit-Kat and on rare occasions, like today, it is all chocolate and no biscuit. This is indisputable proof of the existence of God. Oh happy day
Steve Hayes, Aithernie Court, Leven, Fife
We welcome your thoughts. Write to [email protected] including name, address and phone number. Keep letters under 300 words, with no attachments, and avoid Letters to the Editor in your subject line.
A message from the Editor
Thank you for reading this article. We're more reliant on your support than ever as the shift in consumer habits brought about by coronavirus impacts our advertisers.
If you haven't already, please consider supporting our trusted, fact-checked journalism by taking out a digital subscription.