Readers' Letters: Flagging up a 'problem' with beef
Having ignored Scottish farmers' pleas to back the amendment to the UK Agriculture Bill safeguarding food standards in any post-Brexit trade deal, the Tories have a nerve to complain about a Scottish government official seeking to protect the Scotch Beef brand in shops.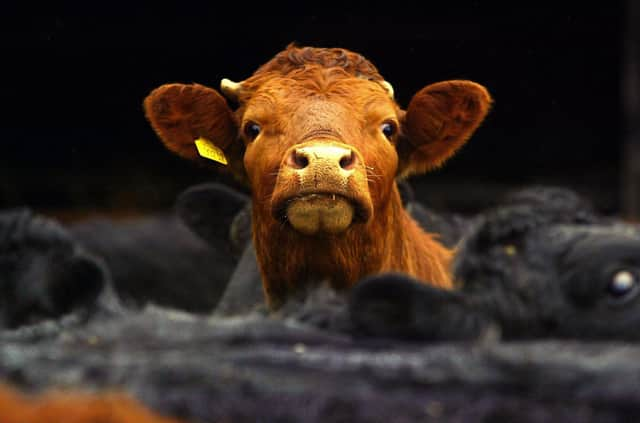 Only meat from cattle raised in Scotland can be labelled Scotch Beef and with Scotland's Farm Assured scheme, we have full life traceability. Plastering such products with a Union Jack does not convey this message. If you buy Scotch beef, lamb or pork, this is what you are buying. It has nothing to do with the constitution but is about supporting a sustainable high quality product and clear labelling is essential.
We should all be concerned about unnecessary food miles and encouraged to buy locally produced Scottish products whenever we can. If local branding doesn't matter then why do Tories call themselves Scottish Conservatives?
Watson Crescent, Edinburgh
The asylum has assuredly been taken over. A special adviser to the First Minister, paid for by our taxes, last month signalled her boss with the mind-blowing news that Aberdeen Angus beef is being sold in packs bearing a UK flag.
Forget the coronavirus pandemic claiming lives and causing panic; forget the businesses threatened with closure and a possible haemorrhaging of Scottish jobs; forget the crisis in our schools. No, SNP special advisers instead concentrate their energies on something so trivial that most would fall over laughing at the very suggestion. There, in a nutshell, is Scottish nationalism in action. This infantilism is part of the nationalist DNA.
Joyce McMillan (Perspective, 16 October) claims that "Boris Johnson's Covid failings and Brexit help explain why Scotland is heading for independence". Citing a study from Imperial College which calculated excess deaths in Europe, and highlighting the situation in England and Wales, Ms McMillan points out that "The relatively successful countries were those which were willing to lock down early when the need for restrictions became apparent", apparently forgetting that the NHS in Scotland is fully devolved and the Edinburgh Nike outbreak in February presented the Scottish Government with the perfect reason for an early lock down if Nicola Sturgeon had wanted to do so.
Ms MacMillan then states that "the UK Government even failed, with historic bad timing, to implement the recommendations of its own 'world-class' 2016 Cygnus pandemic preparedness exercise, including the purchase of emergency stockpiles of personal protective equipment". Again, Ms MacMillan seems to have missed the fact that the Scottish Government was a full party to the Cygnus Report and that the Scottish Government has the powers to act on its findings. Any lack of preparedness or shortages of PPE and other equipment in Scotland was a Scottish, not UK, responsibility.
Finally, she states that any break up, if it comes, will be "because of a profound and growing difference of political opinion" within the UK. She may not have noticed, but there are profound and growing difference of political opinion in Scotland. The not entirely rational implication of Ms McMillan's position being that if we disagree within Scotland it's all right, but if we disagree within the UK then we must break up the UK.
It's understood that Scottish Nationalists like Joyce McMillan want to break up the UK. It's an indication of the weakness of their case that they are unable to base it on actual facts and evidence or on even a basic level of logical consistency.
(Labour councillor), Ward 8, North Ayrshire Council
Boris Johnson is frustrated as EU talks slow ahead of the latest EU summit in Brussels (your report, 16 October). Previously, Johnson said he was "ready and willing" to abandon Brexit trade talks if there were no signs of a deal quickly. The two sticking points are fishing and State Aid. The EU wants to secure ongoing rights to fish in British waters. France should be told to relinquish the extremely generous rights they have enjoyed for too many years under the Common Fisheries Policy, rules which decimated the UK fishing industry.
State Aid is where a company receives government support and gains an advantage over its competitors. The EU legislated against this practice but other EU countries circumnavigated to their advantage – but not stick-by-the-rules Britain. The UK will soon be free of EU strangling diktats so if our companies need a helping hand with State Aid to get contracts at home and abroad, that is what should be done. State Aid rules meant that thousands of wind turbines spinning away in the UK were manufactured abroad and erected with foreign labour.
Let's put the Great back in Great Britain.
Springfield Road, Linlithgow
I didn't have to watch David Attenborough's latest documentary to know that we humans are the most deadly species on our planet. I think that every one of us should avail ourselves of the appalling facts about our wanton destruction of irreplaceable environments, and the huge part we play in the rapid extinction of species which we have wiped off the face of the earth to satisfy our greed, our vanity and simply for the thrill of slaughtering animals which have little defence against our lethal weapons. I have no religious beliefs, but there are times I wish a vengeful God would smite the culprits down when they cause suffering on such a massive scale in all corners of the globe.
Animals are sentient beings. They have the capacity to nurture and protect their young, and to defend their territories. Just as we do. It's their misfortune that we have invented multiple ways of killing them, and of inflicting pain and mental suffering. Only our extinction would release them from our cruelty. This may well happen, because we treat our planet, our home, with the same disrespect, and we're now facing a formidable enemy which is killing people across the globe. Perhaps our planet has had enough of us, and Covid-19 is its solution.
Wellbank, Broughty Ferry, Dundee
Scotland, and the world's, current serious medical and financial position, might benefit from examining past events. The financial situation can be compared to the 1930's Depression. Franklin Roosevelt's 1933 inaugural address started with these words: "So, first of all, let me assert my firm belief that the only thing we have to fear is...fear itself – nameless, unreasoning, unjustified terror which paralyses needed efforts to convert retreat into advance."
We may fear Covid-19 yet need not live in "unjustified terror". Roosevelt's New Deal employed 8.5 million on infrastructure projects (many outside in the open air). This workforce paid taxes and purchased goods which helped, over time, America's economic recovery and build roads and dams which still serve America today.
John Maynard Keynes' Open Letter to President Roosevelt also has some relevance today: "You are engaged on a double task, Recovery and Reform; –recovery from the slump and the passage of those business and social reforms which are long overdue. For the first, speed and quick results are essential. The second may be urgent too; but haste will be injurious, and wisdom of long-range purpose is more necessary than immediate achievement.'
Our reform today is the task of leaving behind now outpaced industries and unworkable service businesses while mothballing until some unknown date in the future those which will in time again be viable while keeping our workforce gainfully employed.
Furthermore, fear is conquered by sound knowledge and wise action. If every town in Scotland knew whether there were local Covid-19 cases and how they were likely contracted, many people would be free to shop with caution rather than hide at home in fear. This would boost local business and the whole population would come to know which actions to avoid.
Fear breeds fear and foolishness. We needs must be wise.
Minden Crescent, Dumfries
When invoking the spirit of John Lennon's classic, Imagine,I wonder if Eileen Budd (Letters, 13 October) had in mind the line "Imagine there's no countries" when promoting Scottish Nationalism and a border at Berwick. Or indeed the line "Imagine no possessions" when talking about Scotland's vast wealth. In fact, how on earth does "Imagine all the people, sharing all the world" fit in with the most famous of Nationalist phrases "It's oor oil"?
Grahamsdyke Road, Bo'ness
Ian Moir (Letter, 15 October) makes a mistake. Theincrease from 4p to 16p is 12p, three times 4p. Consequently the percent increase is 300 (not 400). Even so that's a shocking increase in the price of energy.
A laptop seized by the FBI from the son of Joe Biden showed him apparently smoking crack cocaine and offering to influence US foreign policy for money.
Joe Biden was one of the chief architects of America's "war on drugs" and the policy resulted in many people being given long sentences for minor drug offences. The current President has received significant press coverage for rumours regarding his family. I fail to understand the lack of coverage of pictorially documented allegations against the Democrat candidate.
A message from the Editor:Thank you for reading this story on our website. While I have your attention, I also have an important request to make of you.With the coronavirus crisis having a major impact on many of our advertisers - and consequently the revenue we receive - we are more reliant than ever on you taking out a digital subscription.Subscribe to scotsman.com and enjoy unlimited access to Scottish news and information online and on our app. With a digital subscription, you can read more than 5 articles, see fewer ads, enjoy faster load times, and get access to exclusive newsletters and content. Visit https://www.scotsman.com/subscriptions now to sign up.
Our journalism costs money and we rely on advertising, print and digital revenues to help to support them. By supporting us, we are able to support you in providing trusted, fact-checked content for this website.
Comments
 0 comments
Want to join the conversation? Please or to comment on this article.