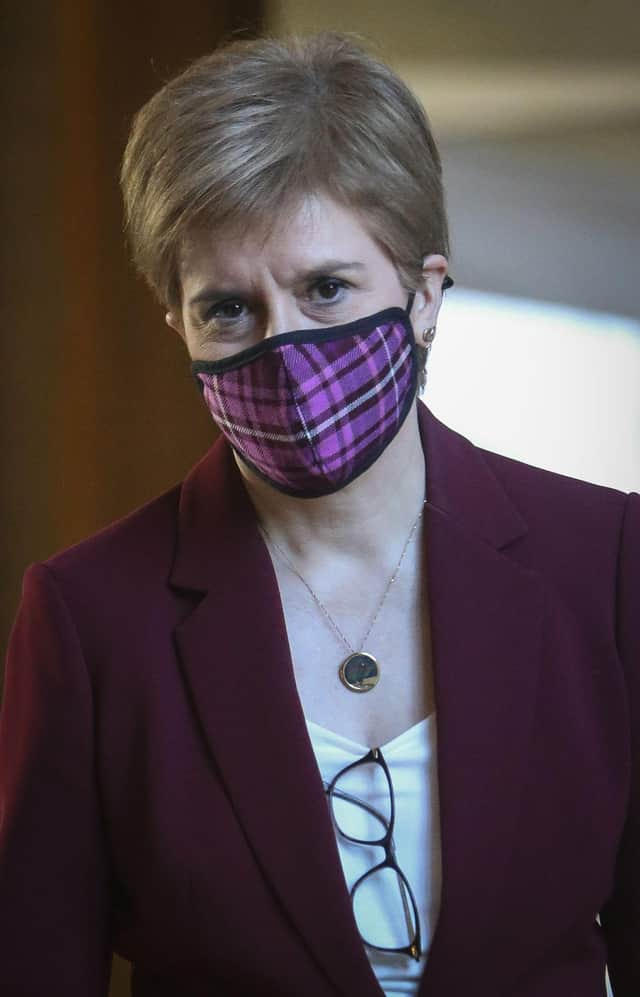 Nicola Sturgeon has hammered home the 'wear a mask' message
Who hasn't forgotten to reapply/put on their face mask at some point? Good for you if you've never erred, but I've done this at least twice, when getting up to go to the loo in a cafe and a restaurant.
Give this woman a break, for goodness sake… and anyone else who makes this brief blunder, for that matter.
The extensive coverage of this simple mistake on TV, radio and in the press is crazy.
Judi Martin, Maryculter, Aberdeenshire
Nicola Sturgeon's failure to wear a mask at a pub wake was arguably no more than careless and foolish – though somewhat dangerous in that she mixes with large numbers of people every day. Theoretically she should be fined, though this seems unlikely. Her lapse serves as a reminder, however, that her friend and former colleague, nationalist MP Margaret Ferrier, not only remains in her £80,000 plus job but has avoided even being charged after potentially endangering the lives of hundreds of people as a consequence of travelling hundreds of miles by train and wandering around Westminster while suspecting or knowing she had Covid-19.
Many may feel Ms Sturgeon should be forgiven for her stupid lapse; I'd suggest most of us continue to believe Ms Ferrier should not.
Martin Redfern, Melrose Roxburghshire
The Marquess of Bute and others broke Covid travel rules by travelling from London to his home on the Isle of Bute on 20 December and they were clearly breaching the law and so had to face the consequences.
Just three days later, he and others are charged by Police Scotland and a report has been sent to the Procurator Fiscal. Contrast such a rapid response by Police Scotland to the story of Margaret Ferrier, SNP MP, who not only travelled from London to Glasgow against advice but did so having tested positive for Covid 19. She travelled on September 29 (almost three months ago) and earlier this month Police Scotland advised that "an assessment" had been submitted to the Crown Office and the Procurator Fiscal Service and they were "carrying out further enquiries"! One must wonder what else Police Scotland need to know or ascertain, the facts are clear and she should no longer be in her job, never mind facing the potential of a small fine. However, she is an SNP MP and not a member of the aristocracy so all will be well!
Richard Allison, Braehead Loan, Edinburgh
In relation to Nicola Sturgeon admitting her mistake in not wearing a mask indoors in a hospitality setting, you might have thought that at a wake with older people present her senses would have been sharpened. Apparently not. This is what Welsh Assembly leader Mark Drakeford was talking about when he referred to "an accumulation of small misdemeanors" when asked to explain why the virus was spreading so quickly there. He was criticised for saying this, but ultimately, he was right. No-one does this sort of thing deliberately, but if millions of people were to slip up in a small way just very occasionally, then this would be enough to allow the virus to spread and maintain itself.
In terms of public health messaging, perhaps the First Minister should arrange to have that photograph put up on billboards around the country as an example of how easy it is to drop your guard. She has to own the mistake fully if she is to maintain credibility in her messaging at a time when the virus has just become more infectious than ever before.
Victor Clements, Aberfeldy, Perthshire
I've never voted Conservative in my life and I'm unlikely to start now. However, I would like to say how much I enjoy Murdo Fraser's regular articles in The Scotsman. While I do not necessarily always agree with what he is saying, I appreciate the fact that, unlike so many other politicians, he argues his point of view in a wholly reasonable, measured and non-antagonistic way.
Yesterday's article features a warm, very human message of hope to which I would think people of all political and religious persuasions could subscribe. Thank you.
David Hamill, Preston Road, East Linton
During the latter stages of Brexit negotiations last week, President Macron of France was vocal in his refusal to accept any form of negotiated deal between the UK and the EU which might be acceptable to other member states.Is it pure coincidence that this week his government has, in the lead-up to Christmas, closed the French side of the border between Calais and Dover, causing mayhem for thousands of lorry drivers, including French drivers, with perishable items on board for use in France, Spain and other EU countries? While the new strain of Covid has to be taken very seriously, surely steps should have been put in place long before now to test drivers coming into and out of France, and indeed, the UK. His excuses are somewhat of a distraction, pure pettiness and a case of "we shall teach the UK for having the audacity to leave the EU". He is causing untold harm to the trade of both nations at the busiest time of the year for companies on both sides of the Channel.
Michael J Fraser, Wood Avens, Tullibody
I see that Nicola Sturgeon has been compared to Oliver Cromwell for her cancellation of Christmas this year. This simply isn't fair.
Besides, I have seen the draft text of her next press conference: "Despite meagre and unkindly notice, thy yuletide festivities have henceforth been cancelled. A vile pestilential miasma has spread unperturbed despite thy numerous contaminants, covering of thy pox-ridden countenances and shuttering of shoppes. Thoust shall only be allowed to travel on the Christ Mass day to visit kith and kin and must return afore 12 on the witching hour of the same day. I also command that flailing of limbs, songs not worthy of the sabbath, the vile liquid of intoxication and merriment of any kind will also be banned henceforth until I shall see fit to see to their gradual recommence."
See, nothing to worry about.
David Bone, Hamilton Street, Girvan, South Ayrshire
We welcome your thoughts. Write to [email protected] including name, address and phone number. Keep letters under 300 words, with no attachments, and avoid Letters to the Editor in your subject line.
A message from the Editor
Thank you for reading this article. We're more reliant on your support than ever as the shift in consumer habits brought about by coronavirus impacts our advertisers. If you haven't already, please consider supporting our trusted, fact-checked journalism by taking out a digital subscription.