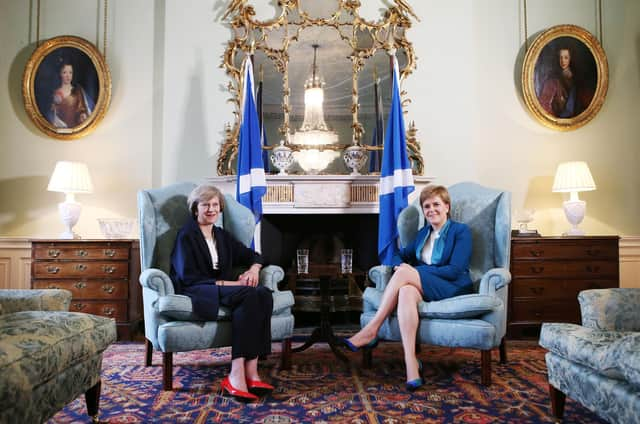 The current Conservative focus on Union Flag-waving – what Ms McMillan characterises as "flag inflation" – might not be to everyone's taste, but can hardly be written off as a "category mistake" at a time when hard social and economic realities are ignored by vast swathes of the electorate in favour of identity issues.
It is sometimes necessary, in other words, to fight fire with fire. The SNP have over the last 20 years deliberately and aggressively sought to supplant the Union flag, which symbolises 300 years of international cooperation with the Saltire. Bute House was ungraciously Union Flag-free when Theresa May visited and recently precedence has been given to the EU flag over the Union Flag outside Holyrood – an act in these days of European vaccine nationalism surely unnecessarily insulting to the 50 per cent of the Scottish electorate still supportive of the Union. A little Union Flag waving seems not unreasonable in these circumstances to encourage the unionist faithful and provide a clear brand identity for the elusive floating voter.
While flattering the social democratic strand within Scottish nationalism, Ms McMillan well knows, as does that other professed social democrat, Nicola Sturgeon, that without the "flag-wavers and face-painters" the SNP would still be in the political wilderness.
Finally Ms McMillan's almost forgotten hero, John Hume, might have observed "you can't eat a flag" but the most electorally successful British social democrat, and primary architect of the Northern Ireland peace process, one Tony Blair, knew the value of promoting a "Cool Britannia".
John Wood, The Croft, St Boswells
Joyce McMillan makes some excellent points about the Tories' obsession with the Union Flag and their diktat that all public buildings should be displaying it prominently. It's the action of a desperate government and is reminiscent of a mid-20th century dictatorship who require citizens to be making such gestures in a bid to wheedle out their opponents.
It's also an indication of this Conservative government's political naivety that they cannot understand that the Union Flag has been completely devalued over the years through its use by far right political parties, its adoption by England football fans as an English flag and even by its jingoistic waving at braying Tory Party conferences to the strains of Land Of Hope And Glory. They are clearly attempting to adopt it as a symbol of a post-Brexit UK without understanding that large parts of the UK did not buy into Brexit and did not buy into them.
The Union Flag may have symbolised unity during the Second World War and even during the cultural explosion of the Sixties when Britannia really was cool, when we were looking outwards rather than inwards, but it's not a symbol of unity any longer.
Thanks to Boris and his warped and narrow-minded Brexit future, far from it.
D Mitchell, Coates Place, Edinburgh
Joyce McMillan points out that "You cannot eat a flag." It might be apt to remind her that, while this is of course true, many brave people have died for it and continue to do so. However, I guess her response would be "More fool them!"
Mark Tennant, Innes House, Elgin
Mike Russell kindly shows how both he and his party are in bad need of a course in good manners. He claims that the Government shows a "lack of respect" for the Scottish Parliament when it published a 52-page review "aimed at strengthening the Union and its capabilities", having clearly had no time to read it (Scotsman Online, March 24). That is the kind of pre-judgement his party used to criticise the Holyrood committee that decided that his First Minister misled Holyrood. There's nothing like a whiff of hypocrisy, is there?
The Government – the British Government – is the Government of the whole United Kingdom. Its decisions relate to Scotland, as much as to any other part of the UK. That is what we elected it for. The powers that the Scottish administration exercise stem directly from Head Office at Westminster and it is for the SNP at Holyrood, not Westminster, to show some respect. It is our national Government at Westminster who are their bosses.
Andrew HN Gray, Craiglea Drive, Edinburgh
Scottish Greens MSP Ross Greer has branded the launch of Alex Salmond's new Alba party a "public meltdown of a disgraced has-been".Judging by his near in-tears performance on Sky News at his now certain loss of his £64,470 salary List seat in Holyrood, I wonder was he talking about Salmond or himself?
Mark Boyle, Linn Park Gardens, Johnstone, Renfrewshire
Scottish Conservative Leader Douglas Ross MP has confirmed he intends to remain an MP when he likely wins a seat at Holyrood in May. Dual mandates are ultimately unfair on constituents who deserve full-time representatives in both our parliaments. Mr Ross cited the fact that dual mandates are nothing new (including Alex Salmond's long stints in both Holyrood and Westminster) to justify his decision. But double-jobbing was unfair to constituents then and remains unfair to them now. At least Ruth Davidson has the decency and respect for her constituents not to take her seat in the House of Lords until the end of her term as an MSP.
In 2014 the House of Commons banned dual mandates in Wales and Northern Ireland, making Scotland the only devolved nation in the UK where MPs can hold additional mandates in their local devolved legislatures. Dual mandates are inefficient at ensuring fair and effective representation. Douglas Ross should choose one parliament and dual mandates be consigned to history.
Richard Wood, Cammo, Edinburgh
I am not a Tory but I will miss the straight-talking, the indisputable integrity, the forensic brain, the lack of any sense of narcissism, that will go with Ruth Davidson's departure from Holyrood. She would have made a fine, honest and plain speaking First Minister; exactly what Scotland needs.
Alexander McKay, New Cut Rigg, Edinburgh
As a lifetime supporter of Hearts, I must express my deep concern about the malaise which is gripping our great Club. The result on Tuesday at Brora is (I hope) the nadir of the current crisis. As a number of commentators more qualified than me have said, it is something which has been coming for some time. The Board has to realise that to retain support from the many thousands of us who have committed time and hard-earned money to the club, it needs to be turned round – now!
Although the season started brightly, the quality of the team's performances and results have progressively deteriorated. Indeed, it has been painful to watch games in the more recent past, although until Tuesday we have scraped by.On the pitch, there is a lack of confidence, of ideas, and in some cases a lack of talent and effort. With a few notable exceptions, we have a surfeit of players at the end of their careers, or who have not made it elsewhere. Also, where are the players from our much vaunted Academy whom we have been told on countless occasions are to form our lifeblood going forward? If they exist, we need them at Tynecastle, not wasting away in even lower Leagues. The buck has to stop at those responsible for the football side of the Club
By Ann Budge's own admission, she took too long to remove Craig Levein. She must not make the same mistake again. Although well on the way to winning the Championship, our position is illusory bearing in mind the decline in performance and the way that other team's results have favoured us.
Thus the Board should act now or tell Robbie Neilson that he must win the League by at least 12 points to save his job.
Bill Caw, New Row, Boroughbridge, North Yorkshire
Anas Sarwar has made a decent start as the new Labour leader in Scotland, but he is doing himself and his party no favours with dithering over the constitutional issue which will, despite his best efforts, dominate the forthcoming Holyrood election.
As Confucius would put it: "Man cannot sit on fence and juggle balls at same time."Thanks anyway Mr Sarwar, at least you have narrowed the field down: another ballot paper option to ignore.Andrew Kemp, Mossbank, Rosyth
Scots fervent to resume church-going have won a legal victory, but at what cost to the ideals of Christian fortitude and care for others?
Some Christians' faith might not be as strong as they would have us believe if they need each other's physical company to reinforce it, and if individual worship of the Christian god is inadequate, we might wonder how highly that god values sincere love and devotion.
The need some churchgoers feel to participate in frequent gatherings despite the risk to themselves and others makes me gladder than ever to be an atheist and not burdened with such a need.
Perhaps patience isn't such a Christian virtue after all.
Robert Canning, Bridge of Earn, Perthshire
We welcome your thoughts. Write to [email protected] including name, address and phone number. Keep letters under 300 words, with no attachments, and avoid Letters to the Editor in your subject line.
A message from the Editor
Thank you for reading this article. We're more reliant on your support than ever as the shift in consumer habits brought about by coronavirus impacts our advertisers.
If you haven't already, please consider supporting our trusted, fact-checked journalism by taking out a digital subscription.