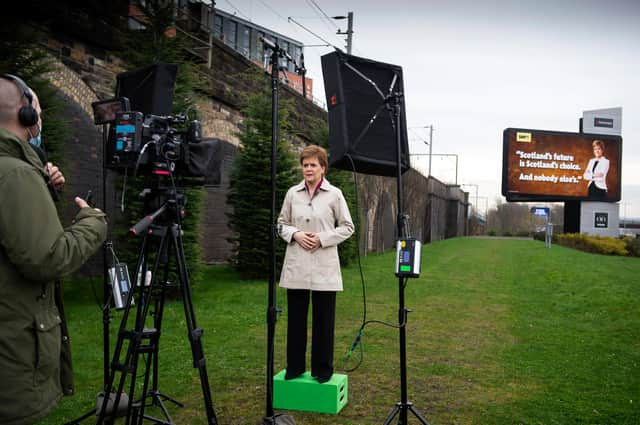 Nicola Sturgeon launches the SNP's virtual election campaign this week
This is proof, if it were ever needed, that the First Minister has had a political advantage over opposition parties by intertwining Covid statistics with political commentary on her daily show for the entire duration of the pandemic.
If this were not truly the case, then why have they stopped ?
Is there no other way we can receive Covid information ?
Ms Sturgeon has been a fixture on our TVs in every living room in the country for over a year and has built a popular following. She does this with a polished delivery, quoting lockdown rules, statistics of infections and deaths that are among the worst in the world and no better than the UK.
These can and will continue to be delivered by newsreaders and healthcare clinicians, but without the political posturing.
After 14 years of loaded diktats, we now see our once independent legal system being used as a political toy, our once independent Lord Advocate of a once independent Crown Office, sitting on the SNP Cabinet benches with all the powers of a ventriloquist's dummy.
The BBC too "feart" and cowed to be brave and impartial.
Scotland has come a long way in 14 years under SNP – but not in a good way.
Allan Thompson, Bearden, Glasgow
The Institute of Fiscal Studies report makes very worrying reading as it shows that the Scottish Government funding is 30 per cent higher than that of the rest of the UK, which is substantially down to the Barnett formula and Scottish taxation powers which are now devolved.
The SNP are making great claims during the run-up to the May elections that they intend increasing benefits and funding in Scotland... but where is the money going to come from?
In an independent Scotland we would have no alternative but to steeply increase taxes and arrange international loans at high rates of interest to survive without the support of the UK.
Dennis Forbes Grattan, Mugiemoss Road, Bucksburn, Aberdeen
Animal Aid is asking readers to withdraw their support from the Grand National by not placing bets on next weekend's three-day event.
Since the year 2000, 53 horses have been killed at the Grand National Meeting, with 12 of those horses killed in the main race.
The Grand National is still almost five times more lethal than other steeplechases and fewer than half of the crowded field of 40 horses manage to even complete the race. Many horses will suffer terrifying falls and get injured as they tumble over the fences.
Animal Aid has been at the forefront of exposing and campaigning against the racing industry for more than two decades. In 2007, we launched Race Horse Deathwatch – the only public record of the names and details of horses who were killed on all British racecourses. By the end of March 2021, more than 2,200 horses had been killed as a result of racing in Britain.
Please don't back the cruelty. Please don't bet on the Grand National.
Fiona Pereira, Campaign Manager, Animal Aid, Tonbridge
We welcome your thoughts. Write to [email protected] including name, address and phone number. Keep letters under 300 words, with no attachments, and avoid Letters to the Editor in your subject line.
A message from the Editor
Thank you for reading this article. We're more reliant on your support than ever as the shift in consumer habits brought about by coronavirus impacts our advertisers.
If you haven't already, please consider supporting our trusted, fact-checked journalism by taking out a digital subscription.